© 2023 Blaze Media LLC. All rights reserved.
Video: Yet another student gets physical with teacher for taking phone — but this time teacher fights back
Less than two weeks ago, TheBlaze reported about a Houston high school student caught on video punching a teacher in the face — apparently over a confiscated cell phone.
Well, a similar incident occurred Monday morning at a North Carolina high school, but this time the teacher fought back against the student.
What are the details?
Video sent to WRAL-TV shows a substitute teacher and a juvenile student arguing over the phone in a Rocky Mount High School classroom.
"Why does the rules not apply to everybody else?" the student is heard asking. "That's my phone!"

The substitute teacher — police identified her as Xaviera Steele, the station said — replies, "It does apply to everybody."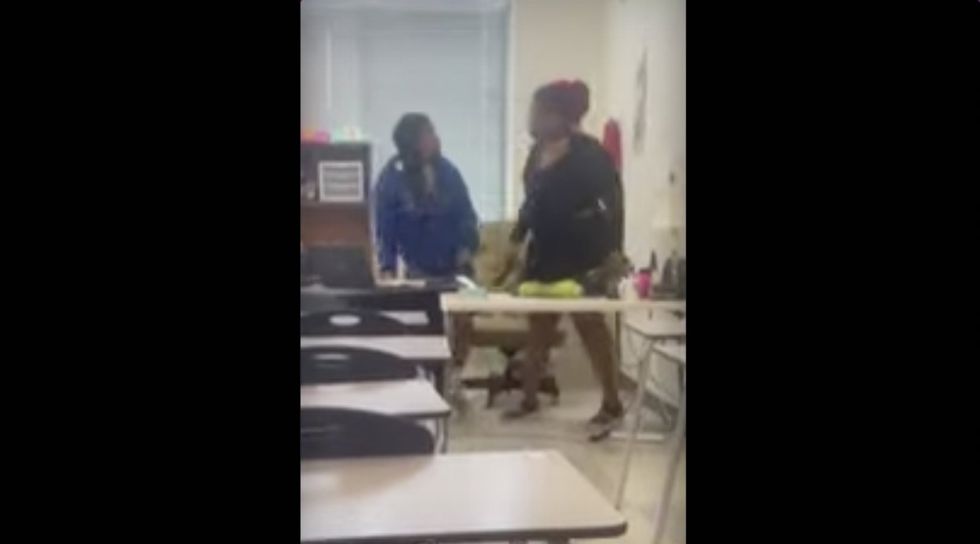 Image source: YouTube screenshot
"No!" the student answers back. "You did not keep nobody else phone!"
"Don't touch me," the substitute teacher says as the student appears to attempt to grab the phone from the teacher's hand. The teacher then shoves the student away.
With that, the student swings at the teacher with her right arm — and then it's on.
The fight didn't last long; the teacher easily got the best of the student, bringing her to the floor, throwing a few punches, and pinning the screaming student while hollering for someone to get another teacher into the room.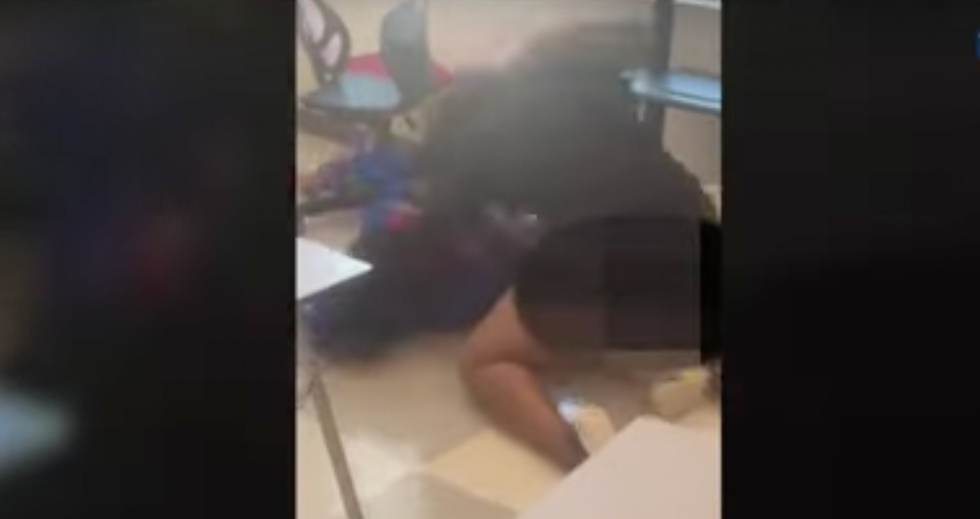 Image source: YouTube screenshot
Now what?
WRAL said Rocky Mount police are looking into the fight; no charges were filed as of Monday afternoon, and no injuries were reported.
Steele has been with Nash County Public Schools for approximately a year, the station said.
NCPS policy states that "if an employee is attacked by a student, the employee has the right to reasonably restrain the student and defend themselves to the point that they are free of the threat or attack," WRAL reported.
The district's phone policy states that "administrators may authorize individual students to use wireless communication devices for personal purposes when there is a reasonable need for such communication," the station said, adding that the teacher was within her rights to take the phone if it was visible, or if the student was using it.
Anything else?
Another substitute teacher, Bettie Atcherson, told WRAL that "as the adult, you have to contain yourself and not let them take you that far. If you're kind to kids, even the toughest kids, if you're kind to them and show that you love them [and] are concerned about their well-being ... nine times of 10, you won't have a lot of problems."
Although the station said she added, "But there are always exceptions."
Motive still unclear why a fight broke out when a substitute teacher took a students cell phoneyoutu.be
Like Blaze News? Bypass the censors, sign up for our newsletters, and get stories like this direct to your inbox. Sign up here!
Want to leave a tip?
We answer to you. Help keep our content free of advertisers and big tech censorship by leaving a tip today.
Sr. Editor, News
Dave Urbanski is a senior editor for Blaze News.
DaveVUrbanski
more stories
Sign up for the Blaze newsletter
By signing up, you agree to our
Privacy Policy
and
Terms of Use
, and agree to receive content that may sometimes include advertisements. You may opt out at any time.