A North Carolina woman who had never fired her gun before took aim and pulled the trigger Tuesday morning, wounding a burglar who busted into her home — and now the crook is behind bars.
What are the details?
Tarika McAllister, 29, woke up before 6 a.m. to her dog barking and a loud bang at the back of her home on Bear Lane in Dunn, WRAL-TV reported.

Then she saw a man taking some of her belongings and trying to steal her dog — and she was all by herself, the station said.
McAllister hollered at the man to get out, to no avail, WRAL said. So she opted to let her gun do the talking.
McAllister told WRAL she had never before used the gun she stores — but that was about to change.

"All I did was turn around and grab the gun," McAllister told the station. "I was fumbling with it. It's my first time using it."
Despite the terror of it all, WRAL said McAllister had the presence of mind to turn off the safety and take control of the ordeal.
"I just lifted it up, and I started shooting at him, wherever he was moving to, I just shot him out of the house," she told the station.

WRAL said Malihk Giles was found about 200 yards from the home with a gunshot wound to his right lower leg and a superficial gunshot wound to his right side.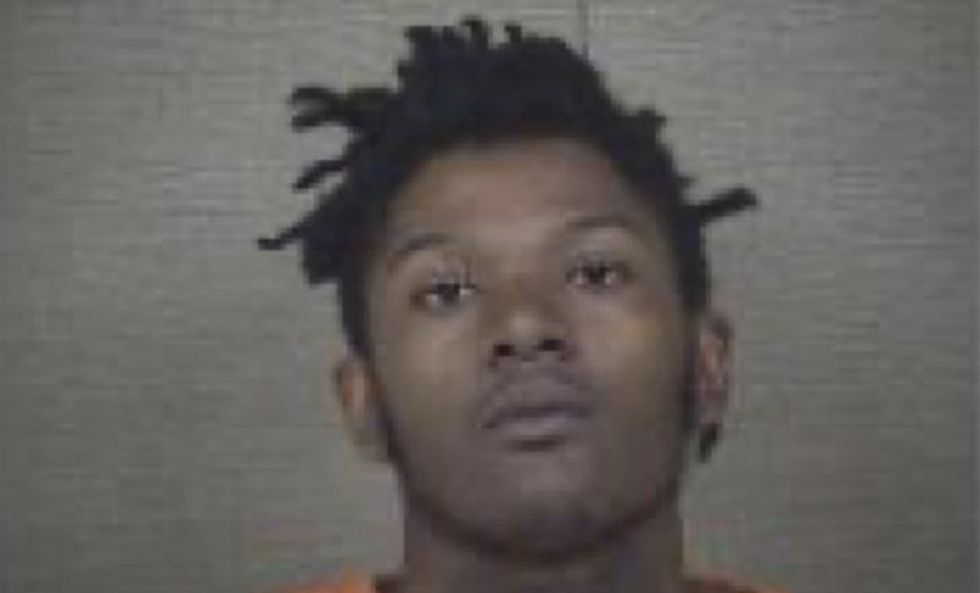 Malihk GilesImage source: Harnett County Detention Center
Giles was taken into custody, the station said, and after his wounds were treated at a hospital, he was taken to Harnett County Detention Center under a $75,000 secured bond on charges of first-degree burglary and possession of stolen property. Giles, 20, was still in jail Friday morning.
McAllister and Giles do not know each other, WRAL said.
She says women should arm themselves for protection
McAllister added to the station that women should arm themselves for protection.
"I know a lot of women are scared of guns," she told WRAL. "I feel those are the best protectors for us because we can't fight a man. We can't fight an intruder off."

McAllister said three weeks ago a man tried to steal from her house, but she was able to scare him away, the station said.
Although she admitted that she's "still shook up" and it's difficult to be by herself right now, McAllister told WRAL she feels "stronger" now — and better prepared if another home invasion occurs.
"I took action, and I'm very proud of myself that I stood up for myself, as a woman," she told the station, adding that "I did what I had to do, and I'm glad I did what I did."
'I did what I had to do': Harnett Co. woman reflects on shooting man who broke into homeyoutu.be