Daisy Barringer, a self-proclaimed freelance editor and writer who is verified on Twitter, said that she hoped Tesla CEO Elon Musk would burn to death in one of his Teslas after she insisted he flashed a "white power" hand sign during his recent "Saturday Night Live" hosting duties.
Barringer's tweets are now protected at the time of this writing.
What are the details?
Barringer took supreme exception to Musk flashing the "OK" hand sign — which many in the woke crowd claim is a white power sign — during a Saturday segment on the popular comedy sketch show.
She wrote, "Wait. Whaaaaaaaaa… did Elon Musk just … like… aggressively flash the white power sign during the Weekend Update? Please tell me I'm insane. Please. No really. Going to need you to tell me I'm insane."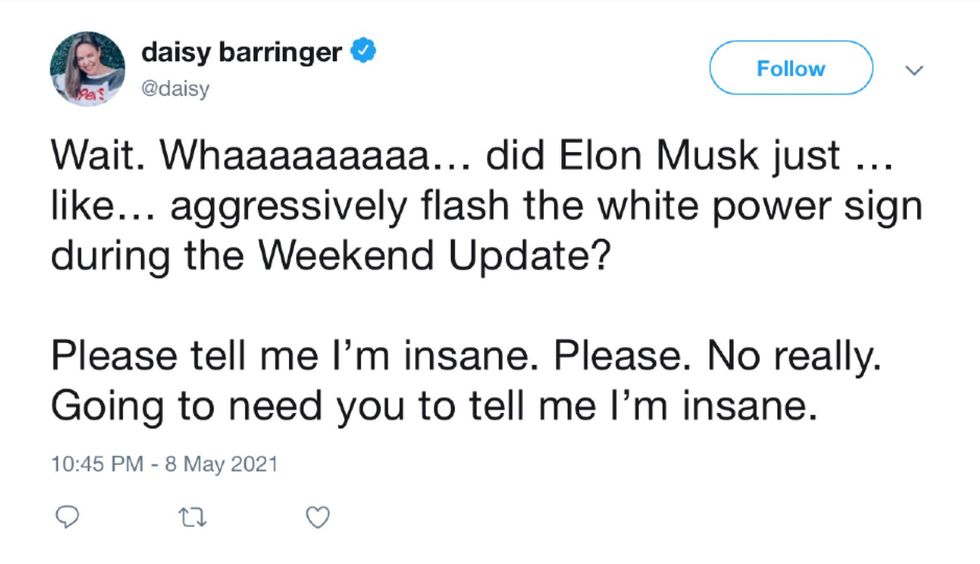 Image source: Wayback Machine screenshot
"Listen, usually when I say I hope someone dies in a fire, I'm being hyperbolic," Barringer continued, the Daily Wire noted. "But, like, Tesla's do burn for four hours straight, so like ... I'm not gonna be mad about it. I kept watching because I really hoped one of the cast members was going to walk to the front of the stage at the closing and punch him out."

She later added, "Definitely never thought Saturday Night Live would send me into a tornado of existential despair. But here we are. I almost don't have words but I will say I hope his Tesla catches on fire and he dies."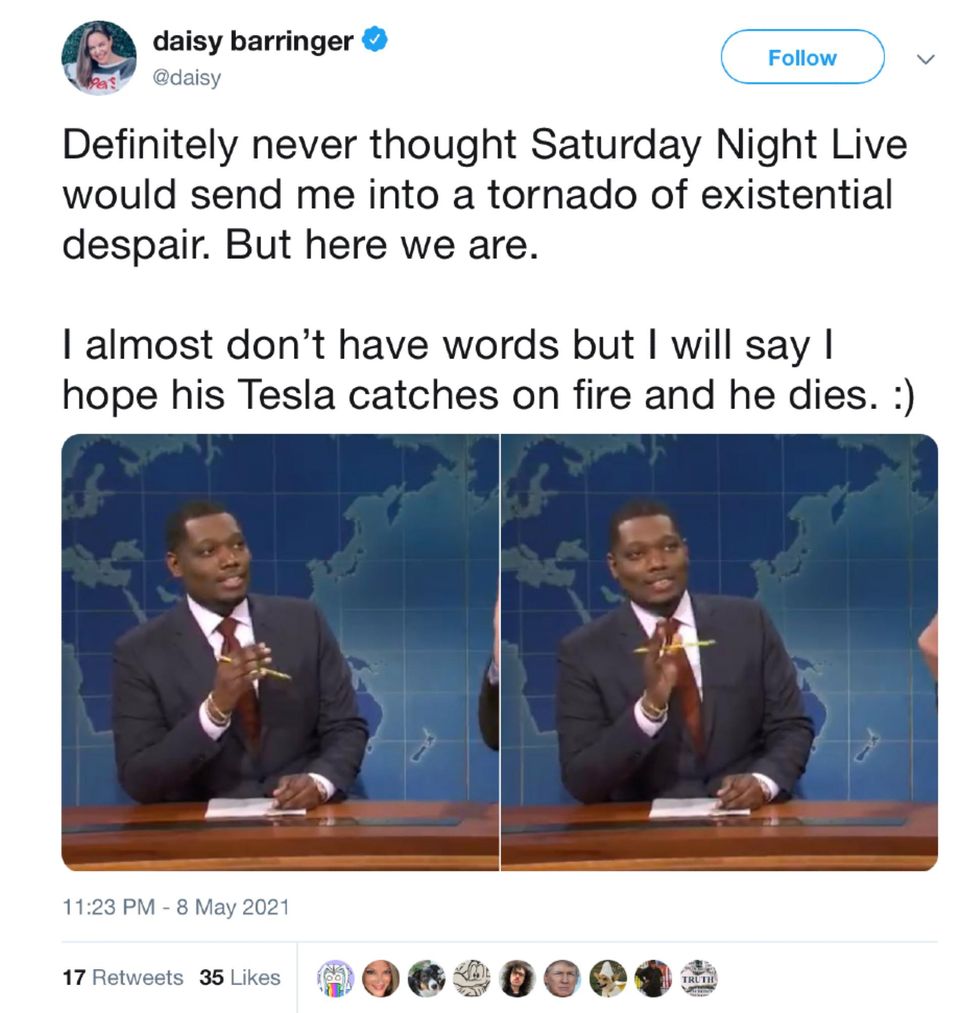 Image source: Wayback Machine screenshot
What else?
The Daily Wire reported that Barringer also insisted that Musk was not just ignorantly flashing the "OK" sign — he was intentionally promoting white supremacy during the appearance and called out people on social media who were reportedly defending him.
"SUPER shocking that the white supremacists are searching Twitter to 'correct' people about the never-been-more-obvious Elon Musk white power sign," she added. "It's like ... I want to just roll my eyes, but that's the last thing to do with Nazis."
"Omg the people excusing Elon Musk saying it's the 'okay' symbol," Barringer added. "Wow wow wow. I guess they never learned about context. Why would [he] be saying okay at all, much less forwards and backwards."

Weekend Update: Financial Expert Lloyd Ostertag on Cryptocurrency - SNL www.youtube.com