© 2023 Blaze Media LLC. All rights reserved.
New survey says young Americans trust professors more than they trust military, police, or church leaders
Older Americans vastly differ
A new survey from the Pew Research Center reports that younger Americans trust their college professors more than they trust the military, police, and church leaders. Older Americans, however, have more trust in public servants than they do in college educators.
What are the details?
The survey, which was published Tuesday, was part of a study called " Trust and Distrust in America." The Pew Center conducted the study in 2018 on a sample group of 10,618 Americans from four different age groups — 18-29, 30-49, 50-64, and 65-plus.
According to the findings, 74 percent of those in the 18-29 age bracket trusted college professors, while just 69 percent trusted the U.S. military, 67 percent trusted police officers, and 50 percent trusted religious leaders, respectively.
The Pew Center also reported that "Americans under 30 are substantially less likely than their elders to express a great deal or fair amount of confidence in the armed forces."
The study also reported that about 70 percent of young adults are confident in the U.S. military, compared with 81 percent of those in the 30-49 age bracket, 90 percent of those in the 50-64 age bracket, and 92 percent of those over the age of 65.
Campus Reform reported that "81 percent of adults between the ages of 30 and 49, 90 percent of adults between the ages of 50 to 64, and 92 percent of adults age 65 and older responded that they trusted members of [key institutions]."
Older Americans said they trusted police officers more than the poll's younger counterparts by an 18-point margin, and trusted religious leaders by a 21-point margin. Young adults in the survey reported that they trust educators by a margin of 11 points over older Americans.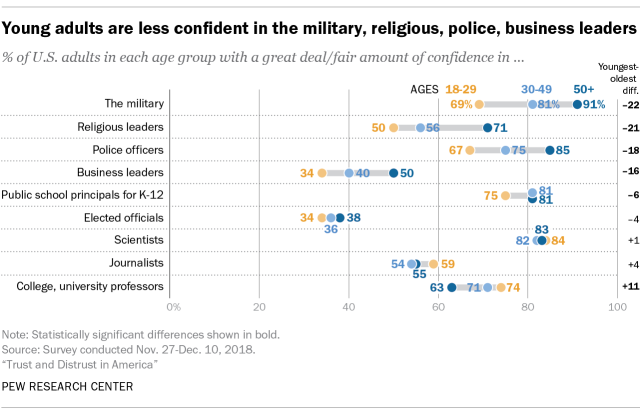 What else?

The Pew Center also reported that younger Americans on the whole are much less distrusting of their fellow Americans.
Seventy-three percent of Americans under the age of 30 believe that Americans "just look out for themselves" the majority of the time, and 71 percent said that most Americans "would try to take advantage of you if they got a chance."
About 60 percent of the younger share insisted that most people "can't be trusted," having a decidedly more pessimistic view of their fellow U.S. citizens when compared to the findings of their elders.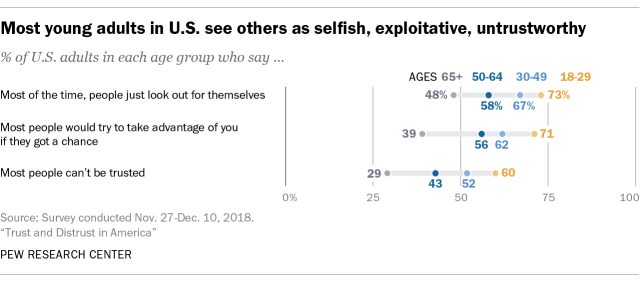 However, many younger Americans don't see "certain trust-related issues" as "major problems" for the United States.

Adults under the age of 30 are reportedly less likely than those in older age groups to say U.S. residents' "confidence level in the federal government is a very big problem." Adults in the same age bracket are also less likely to see large problems resulting from a lack of bipartisanship in the government.
Want to leave a tip?
We answer to you. Help keep our content free of advertisers and big tech censorship by leaving a tip today.
more stories
Sign up for the Blaze newsletter
By signing up, you agree to our
Privacy Policy
and
Terms of Use
, and agree to receive content that may sometimes include advertisements. You may opt out at any time.