"It will only get worse with Biden's policies," the supervisor said. "He needs to reassess."
Lines described an "unprecedented amount" of migrants coming across the border, unlike anything he has seen over previous presidencies during his tenure of over 30 years.
Local Yuma farmers, speaking to Fox News, said that the foot traffic of migrants making journeys through their fields is damaging crops, which they alleged account for over 90% of the nation's leafy greens.
"Our fields are monitored and audited and tested for different pathogens," a farmer named Alex Muller said. "You can't have people walking through the field," he added.
Yuma, Arizona, has seen unprecedented and massive increases in encounters at its border crossing under President Biden.
According to U.S. Customs and Border Protection, in 2020, the land crossing saw just 8,437 encounters. In 2021 under Biden, that number jumped to a whopping 114,043. Then, in 2022, the number increased to 309,569.
Extrapolating on the encounters of the first fiscal quarter of 2023, current trends would result in approximately 320,000 border encounters by the end of the fiscal year.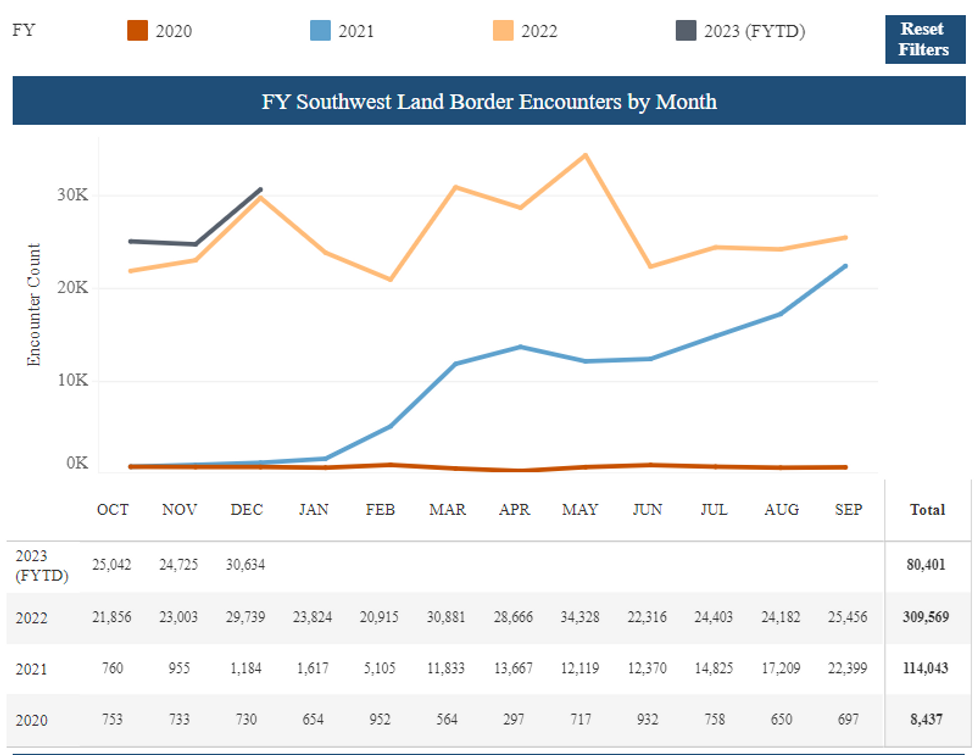 Image Courtesy U.S. Customs and Border Protection - Nationwide encounters - Southwest Land Border - Yuma Sector
"The problem that we're foreseeing right now is there's a couple of big waves coming," another farmer and Yuma resident told Fox News. "Yuma can't support that. It will overwhelm the system here," the farmer claimed.
President Biden made his first trip to the southern border during his presidency in January 2023, visiting El Paso, Texas, to enforce Title 42, which has the intended purpose of suspending "entries and imports from designated places to prevent spread of communicable disease."
Like Blaze News? Bypass the censors, sign up for our newsletters, and get stories like this direct to your inbox. Sign up here!