The official Team Trump campaign store has a new product for sale this weekend, a tee-shirt based on the President's most recent nasty nickname for a fellow politician.
The new product is is th "Little Pencil-Neck Adam Schiff" tee-shirt, and we don't know how sales are doing but it definitely got buzz.
Here's the original tweet, which includes an animated gif we assume isn't available on the actual shirt:
Little Pencil-Neck Adam Schiff He spent two years knowingly and unlawfully lying and leaking. He should be forced… https://t.co/YwmXYSHzK5

— Official Team Trump (@Official Team Trump) 1553894369.0
The shirt has caused some outrage on social media, as all things that exist do, and of note among blue check types in the media.
Sure! This is all fine! https://t.co/SGe48TA187

— Chris Cillizza (@Chris Cillizza) 1553951825.0
There were rather a lot of folks who brought up First Lady Melania Trump's "Be Best" anti-bullying campaign.
Another time that Democrats brought up the First Lady also involved shirts, when they sold one on their own website mocking her over a jacket she wore while boarding the plane after having visited children at the border (where she did not wear the jacket.)They're also still selling anti-Kavanaugh t-shirts, bashing the sitting Supreme Court Justice. And let's not even get into what individual campaigns come up with.
That Melania one is no longer in the DNC store, by the way, but they do have this one.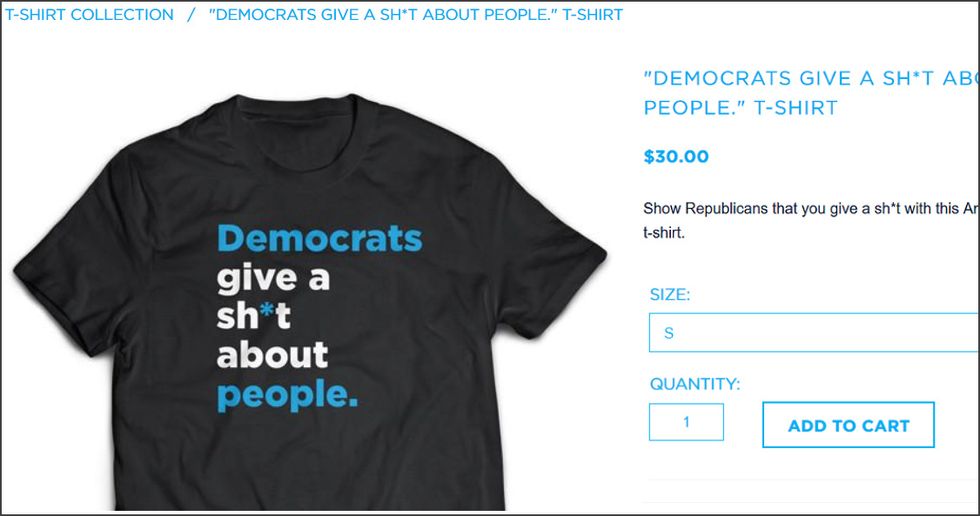 The implication is that you don't, you see. Republicans don't. People who don't for Democrats don't.
You know, because they're classier.