© 2023 Blaze Media LLC. All rights reserved.
22 Dems voted to censure Rashida Tlaib, but what was their real motivation?
Earlier this week, Democratic Rep. Rashida Tlaib (Mich.) was officially censured by the House for, in the words of Rich McCormick (R-Ga.), who sponsored the resolution, "promoting false narratives regarding the October 7, 2023, Hamas attack on Israel and for calling for the destruction of the state of Israel."
Although there was a push by Democrats to kill the censure resolution, 22 Democrats voted in favor of the disciplinary measure.
Although this may seem like a win, Sara Gonzales isn't all that enthused, calling the censure a mere "slap on the wrist."
Further, she's not convinced that the 22 Democrats who voted in favor of the rebuke did so for the right reasons.
On October 17, Tlaib tweeted: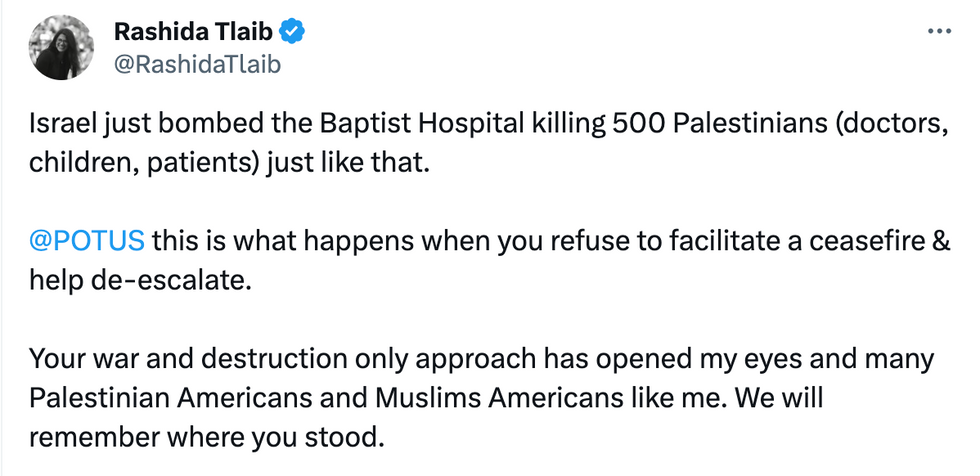 Not only is the information false – the strike was quickly shown to have been conducted by Palestinian militants, not Israel – but Tlaib also put the blame on Joe Biden.
"That was not the only time she … [doubled] down on blaming Joe Biden," adds Sara, who thinks that's the real reason "Democrats are on board" with the censure.
"You can't speak ill of the dementia patient in chief," she mocks.
Glenn Beck's head researcher, former military analyst Jason Buttrill, however, isn't so sure Tlaib's vituperations against Biden were the motivating factor behind the 22 Dems who voted to censure her.
"I think this has seriously opened some eyes," he says optimistically, adding that the conflict between Israel and Hamas "has forced masks to come off on certain people" – Rashida Tlaib being perhaps the most obvious one (along with Ilhan Omar, of course).
"Sometimes in horrible situations, you can eventually get to some good towards the end," he says, "and maybe the good, at least, you know, with the global left [is] it'll force those radicals completely out of the picture."
We certainly hope you're right, Jason.
Want more from 'The News & Why It Matters'?
To enjoy more roundtable rundowns of the top stories of the day, subscribe to BlazeTV — the largest multi-platform network of voices who love America, defend the Constitution, and live the American dream.
Want to leave a tip?
We answer to you. Help keep our content free of advertisers and big tech censorship by leaving a tip today.
News, opinion, and entertainment for people who love the American way of life.
BlazeTV
more stories
Sign up for the Blaze newsletter
By signing up, you agree to our
Privacy Policy
and
Terms of Use
, and agree to receive content that may sometimes include advertisements. You may opt out at any time.