© 2023 Blaze Media LLC. All rights reserved.
Horowitz: Now is the time to counter the Rainbow Jihad's assault on marriage
It started out with the sentiment of "just give them their marriage certificate and let them think they are married." It rapidly expanded to "bake the cake, or else," forcibly taking babies and placing them with same-sex couples, and flooding our education system with literature promoting Adam and Steve on an equal footing for parenting. Then there were the drag shows, castration, and the full smorgasbord of transgenderism. On deck? We can only imagine. Which is why public sentiment is finally turning back against the Rainbow Jihad. Consequently, now is the time for conservatives to press the momentum and finally fight back against the broader assault on our values.

It was once thought that support for the broader homosexual agenda was an impervious juggernaut that would just grow stronger every year. And indeed, in every survey over the past two decades, support for the concept of "same-sex marriage" grew to the point that even a majority of Republican voters expressed acceptance of it. Now, according to a new Gallup poll, for the first time in years, support for the morality of such relationships has dramatically slid back in just one year.
Overall, according to the May survey of about 1,000 adults, support for these relationships diminished from 71% to 64%. But the drop was most acute among Republican voters, where it regressed from 56% in 2022 to a minority position of 41% this year. That is the lowest number since 2014.
These findings are very significant because the wording of the question by Gallup is framed around the more hard-core moral objections rather than the legal, political, and social problems with placing Adam and Steve on the same playing field as Adam and Eve. The exact question was: "Regardless of whether you think the issue should be legal … please tell me whether you personally believe it is morally acceptable or morally wrong."
It's no secret that America has become increasingly more secular, so the fact that more people find these relationships morally wrong, including an additional 6% of Democrats, is quite telling. Politically speaking, the question was never whether we should ban people from living together as a violation of our moral ethos. It was whether that relationship should be fully recognized as a marriage, triggering all of the legal and social consequences thereof. What if people were asked: Should states be forced to place adopted babies in a home with two men on equal legal footing as a home with a mother and father? What if they were asked whether states should be forced to issue birth certificates indicating that same-sex couples parented the kids on equal footing as biological parents, as required by the Supreme Court in Pavin v. Smith, two years after Obergefell?
The point is that the 2015 Obergefell decision was not about the morality of homosexuality. That was more related to Lawrence v. Texas in 2003. It was the notion that there is a constitutional right to recognize their relationship, which they have always been free to pursue, as a marriage. But the question they could never answer, though, is this: If this was all about equality and protection of rights, how is it justified to redefine marriage for two same-sex individuals but not for other relationships? If marriage is no longer limited to one man and one woman, why should it not include polyamory, polygamy, and incestuous relationships?
As Chief Justice Roberts noted in his Obergefell dissent, Kennedy's insertion of the adjective "two" into his edict redefining marriage as between any two individuals of the same or opposite sex makes it clear that personal social preference now trumps legal consistency.
"Although the majority randomly inserts the adjective 'two' in various places, it offers no reason at all why the two-person element of the core definition of marriage may be preserved while the man-woman element may not," wrote the chief justice in Obergefell v. Hodges. "Indeed, from the standpoint of history and tradition, a leap from opposite-sex marriage to same-sex marriage is much greater than one from a two-person union to plural unions, which have deep roots in some cultures around the world. If the majority is willing to take the big leap, it is hard to see how it can say no to the shorter one."
We understand that because of Obergefell, there is now a "right" to force states to codify every behavior activists place into the ever-growing sexual acronym into civil rights. Thus, even if one has no problem with gay marriage per se, at this point it is obvious why Obergefell itself must be overturned. It is not a shield for those engaging in such behavior; it is a sword against all of us in society who are forced to elevate just one form of "alternative" relationship to the absurd level of a marriage.
Legally, with the Dobbs opinion overturning Roe, it is indefensible to keep Obergefell in case law. Dobbs re-established the standard of "deeply rooted in history and tradition" as a perquisite to asserting an unenumerated right. Say what you want about abortion, but it was rooted in our history for much longer than the concept of a same-sex relationship being a marriage. There is no reason conservatives shouldn't work diligently to set up a direct challenge to Obergefell in the federal courts.

The eternal lesson conservatives should derive from the broader auspicious polling on gender ideology (of which gay marriage absolutely is a part of) is that when you actually fight the issue in the legislative realm, it moves the polling. After years of the gender-bending agenda going unrivaled on the political playing field, this year most red states began passing laws barring men in female sports and private female spaces, as well as barring the castration of minors. That in itself has moved public opinion, just like the actual Obergefell Supreme Court ruling moved the public the other way.
Interestingly, the last time there was a meaningful drop in GOP support for same-sex relationships was between 2003 and 2004.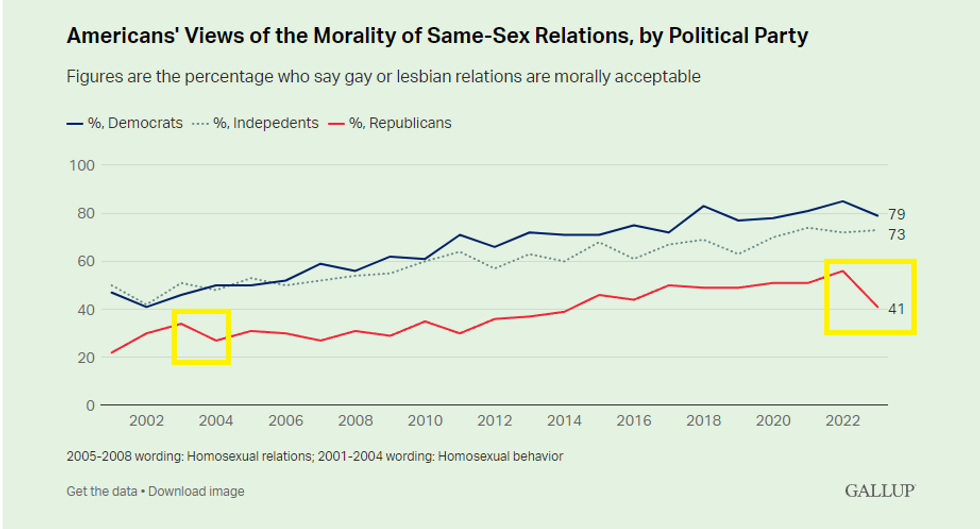 That was the year Republicans successfully passed marriage amendments in a number of states, and the percent of support for recognizing same-sex relationships dropped 7%. Now it has dropped 15 points in one year. Indeed, culture can be downstream from politics itself. It's called leadership.
It's not just Republicans who are softening their tolerance for the gender bending. A comprehensive PRRI poll shows that the percentage of people believing there are only two genders jumped six points in two years, including 14 points among Gen Z. A poll from the Daily Mail showed that a majority of all groups believe the gender ideology has gone too far, including 60% of independents and even half of young voters.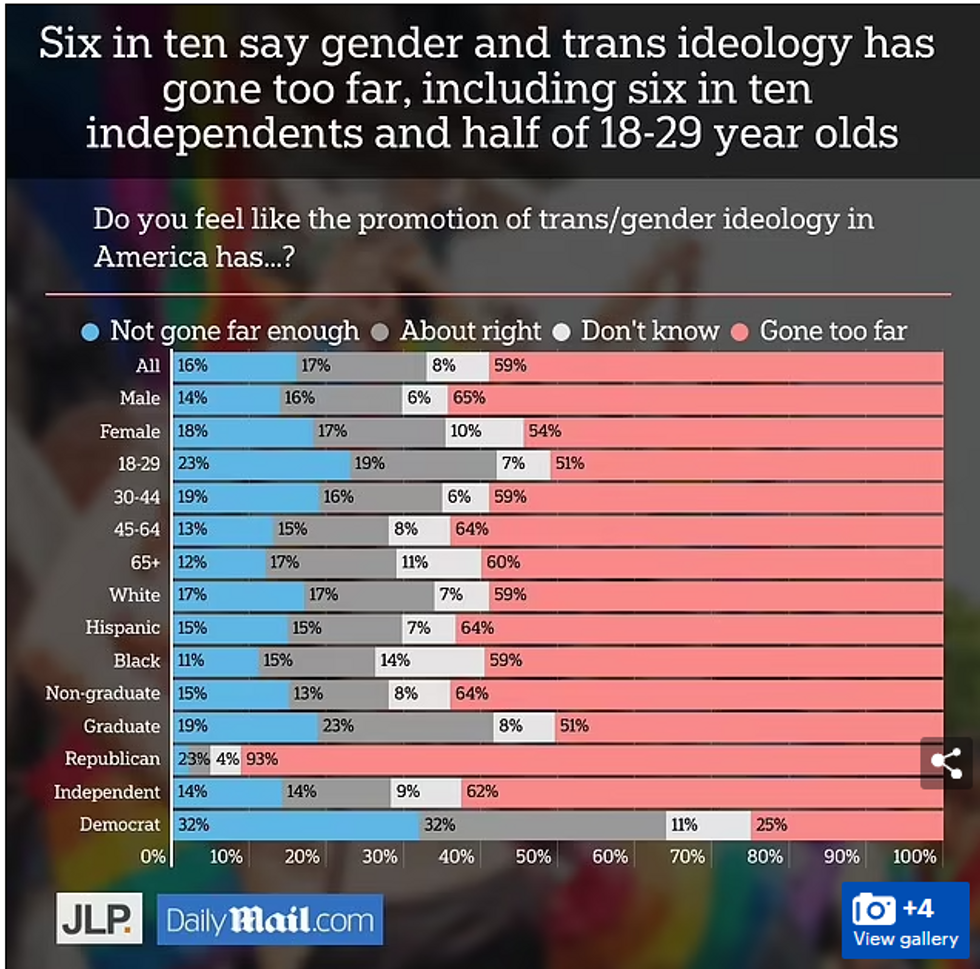 In other words, failure on this issue is not inevitable. It is a choice. Republicans sabotaged our momentum on this issue a generation ago, and it led to Sodom and Gomorrah. God is now giving us another chance to do this right. Let's not screw it up.
Want to leave a tip?
We answer to you. Help keep our content free of advertisers and big tech censorship by leaving a tip today.
Blaze Podcast Host
Daniel Horowitz is the host of "Conservative Review with Daniel Horowitz" and a senior editor for Blaze News.
RMConservative
more stories
Sign up for the Blaze newsletter
By signing up, you agree to our
Privacy Policy
and
Terms of Use
, and agree to receive content that may sometimes include advertisements. You may opt out at any time.