© 2023 Blaze Media LLC. All rights reserved.
Horowitz: The insanity of marketing mass vaccination to those already recovered from COVID
Aside from the government treating children as if they are at risk from this virus, the most consequentially unscientific policy from our government is the treatment of convalescent COVID patients as if they are not immune to the virus. Government has refused to lift any restrictions on those already infected and treats them as less immune than those who are vaccinated, still encouraging them to get the vaccine. In fact, the science says just the opposite.
Last week, even Jordan Peterson, a public figure admired by many people suspicious of the government-corporate monopoly, tweeted out that he is getting vaccinated because he believes his antibody levels from prior infection are too low to protect him.
Off to be vaccinated today. Despite having Covid last May, my antibody levels appeared insufficient to prevent re-infection. Hope Ontario opens up soon.

— Dr Jordan B Peterson (@Dr Jordan B Peterson) 1620913520
This speaks to just how much the government and media have censored the information about T cells and how even a mild infection conveys long-term robust immunity against reinfection. One study found the immunity to last even 17 years later from SARS-1-infected patients who never even had COVID-19. Let's put aside the fact that the vaccines themselves have not been proven effective beyond a few months so far and thus would suffer the same perceived flaw of waning immunity as previous infection. The reality is that it's already proven that natural immunity is broader, more robust, and enduring than anything from a vaccine.

Even in vaccine-obsessed Israel, researchers from Tel Aviv University concluded that their research "puts into question the need to vaccinate recent (up to six month) previously-infected individuals." A study of 6.3 million Israelis showed that the estimated protection for those already infected was 94.8% from reinfection and 96.4% from severe illness, as compared to effectiveness of 92.8% and 94.4%, respectively, from the vaccines. There was just one death in the entire country of someone who supposedly already had the virus, and he was over 80 years old.
One of the challenges people foresaw with vaccines for a virus that mutates a lot like the flu is that the immunity against the spike protein might not work against mutant strains. But studies thus far have shown that natural immunity is even more robust. A new preprint study from French researchers tested blood samples from health care workers who never had the virus but got both Pfizer shots against blood samples from those health care workers who had a previous mild infection and a third group of patients who had a serious case of COVID. They found, "No neutralisation escape could be feared concerning the two variants 53 of concern in both populations" of those previously infected. At the same time, the effectiveness of even prior mild infection against the South African variant appeared stronger than in those who had the Pfizer shots.
It simply makes no sense that natural immunity, which is much broader, would be worse than vaccination. Remember, we don't collect convalescent plasma from vaccinated people; we collect it from previously infected people. Thus, even if one believes the risk of side effects from the vaccine is low, it's definitely higher than the benefit of vaccinating a convalescent COVID patient, which is zero. In fact, several preprint studies are raising questions about the safety of the vaccines, particularly for those whose immune systems have already been primed by the virus.

A University of Manchester study of 2,000 vaccinated adults, 26% of whom already had the virus, found that "prior COVID-19 infection was associated with increased risk of any side effect" as well as "increased risk of severe side effects, leading to hospital care."
Dr. Peter McCollough, a clinical cardiologist and professor of medicine at Texas A&M University College of Medicine, Dallas, said on my podcast last Friday that because convalescent patients already have their immune systems primed for the spike protein, and based on several studies, that "doctors believe COVID-19 recovered are contraindicated for all COVID-19 vaccines."
Another study from U.K. researchers (Raw, et. Al.) found that those with prior infection reported more moderate side effects from the vaccine in almost every category than those who had no prior infection.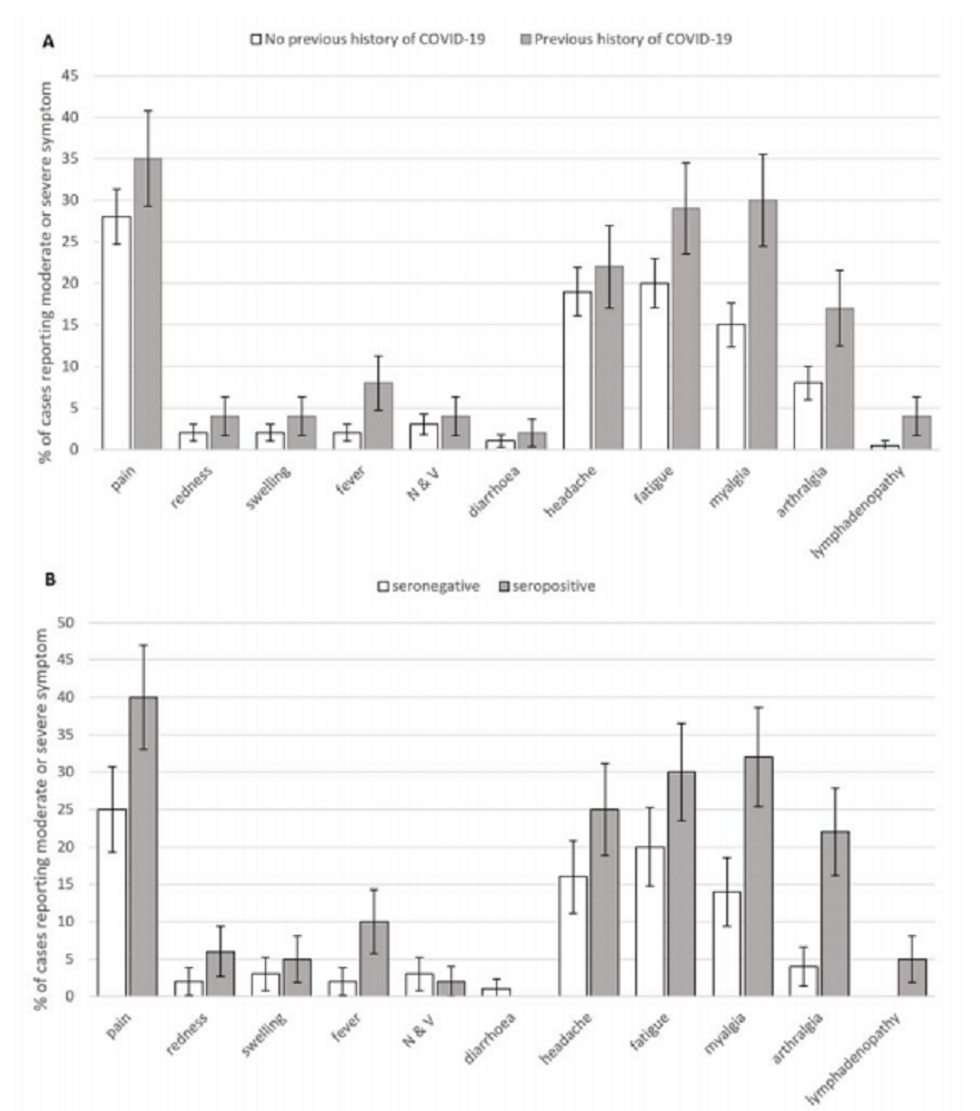 In addition to extra risks from the side effects, findings of a study from researchers in Spain and Mount Sinai in New York suggest that the second Pfizer vaccine in particular might harm the already robust T cell immunity of previously infected individuals. They found that "in individuals with a pre-existing immunity against SARS-CoV-2, the second vaccine dose not only fail to boost humoral immunity but determines a contraction of the spike-specific T cell response."

The authors therefore recommend that "individuals with pre-existing immunity against SARS-CoV-2 should be spared the second dose of the vaccine, at least temporarily, to prevent a possible contraction of their spike-specific memory T cell immunity."
Why in the world would we take natural immunity that seems to protect with T cells for at least 17 years and risk possibly depleting it and suffering more adverse reactions with no proven benefit?
Now that we know the CDC and Fauci have been lying to us about masks for months and made a capricious and arbitrary about-face in a matter of days, why should we trust anything else they say about the virus and vaccines?
Want to leave a tip?
We answer to you. Help keep our content free of advertisers and big tech censorship by leaving a tip today.
Blaze Podcast Host
Daniel Horowitz is the host of "Conservative Review with Daniel Horowitz" and a senior editor for Blaze News.
RMConservative
more stories
Sign up for the Blaze newsletter
By signing up, you agree to our
Privacy Policy
and
Terms of Use
, and agree to receive content that may sometimes include advertisements. You may opt out at any time.