© 2023 Blaze Media LLC. All rights reserved.
Horowitz: Who needs Biden? Trump shaming governors who don't promote boosters
For those of you sick of the oligarchy of both political parties promoting COVID fascism and endless failed vaccines, you won't find any relief with a Trump presidency. At a time when even the Europeans appear to be moving away from the failed boosters, Trump is doubling down on promoting them, even though he already has natural immunity from prior infection. Is his strategy to campaign against his base?
Perhaps Trump now subscribes to the view of Pfizer CEO Albert Bourla that two shots offer little if any protection, but he is now dumping on GOP governors who fail to disclose their booster status. That's right: It's not enough to declare their support for two shots; Trump would like each governor to declare whether they had a booster.
"I've had the booster. Many politicians—I watched a couple of politicians be interviewed and one of the questions was, 'Did you get the booster?' because they had the vaccine, and they're answering like—in other words, the answer is 'yes' but they don't want to say it because they're gutless," Trump told One America News Network. "You gotta say it—whether you had it or not. Say it. But the fact is that I think the vaccines saved tens of millions of people throughout the world. I've had absolutely no side effects," he added.
Well, after all, Trump is the only person in the universe, so if he did not experience side effects, then nobody else did. I mean, really, Mr. Trump? This sounds even more obnoxious than Mitch McConnell's lecturing us about the polio vaccine or RINO Indiana Gov. Holcomb demanding that we get boosters. I guess RINO West Virginia Gov. Jim Justice, who is begging Biden for a supply of fourth shots, is the most "courageous" governor in Trump's eyes.
It is bizarre that Trump is promoting boosters even for those with natural immunity at a time when even the NCAA has moved in the direction of recognizing immunity from prior infection. Trump also recognizes that younger people shouldn't get the shots, a plain indication that he knows there are some clear risks to taking the shots. Even more tacky is the fact that Trump has been relatively quiet all year, then chose to speak up now, when the shots appear to be failing the most.
At a time when we need to rally against weak GOP governors who are promoting the shots too much and defeat all mandates against bodily autonomy, Trump is dumping on the few decent governors actually standing for his base?

Ironically, even the Europeans are waking up to the concerns of pumping endless boosters into people's bodies. Just a month after suggesting boosters would be needed every three months, the European Medicines Agency is warning people that such a move is not cost-free. Aside from known and unknown risks of side effects, they are warning that boosters could weaken people's immune systems in what is widely known as "original antigenic sin." Has Trump ever studied this concern? Even the WHO stated this week that "avaccination strategy based on repeated booster doses of the original vaccine composition is unlikely to be appropriate or sustainable."
Indeed, Trump has picked an inauspicious time to go "all in" on Pfizer. The shots clearly have no degree of efficacy against the new strain. Public Health Scotland is showing that for the last week in December, 85.8% of all cases were among the vaccinated. Although Scotland has a very high vaccination rates, most of the new cases (figure 2) are among children and younger adults who have lower vaccination rates. Case rates per 100,000 are about 2.5 times higher among the double-vaccinated than among the unvaccinated and about 1.4 times higher among the boosted (table 11).
Thus, from the get-go, even three shots produce negative efficacy, and given that other data show the boosters wane even quicker, why is there no concern that the more shots one gets, the more it will create rapidly accelerating negative efficacy (binding but not neutralizing antibodies) over time?
If anything, the numbers are even worse than this data suggests, because we know that the most vulnerable time is during the partially vaccinated period, where the T cells are depressed but before the antibodies ramp up. PHS counts those within 21 days of the first shot as completely "unvaccinated."
As for hospitalizations, the double-vaccinated appeared to be more than twice as likely to be hospitalized with acute COVID and almost twice as likely to die of COVID than the unvaccinated.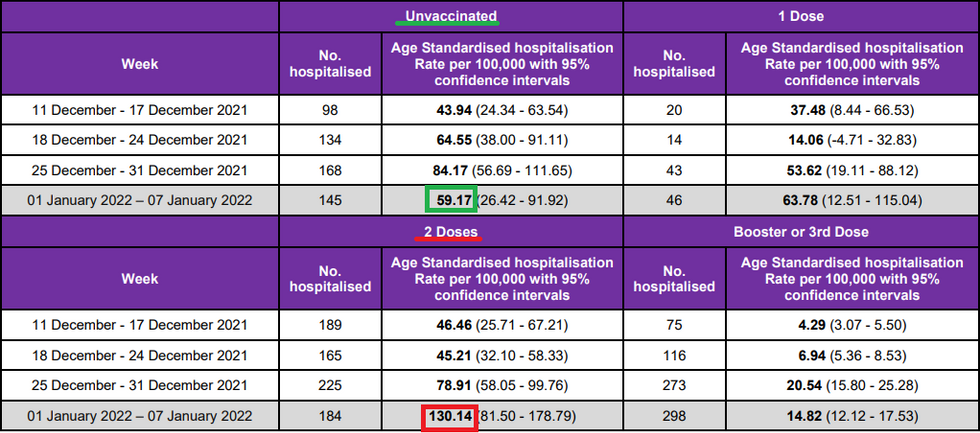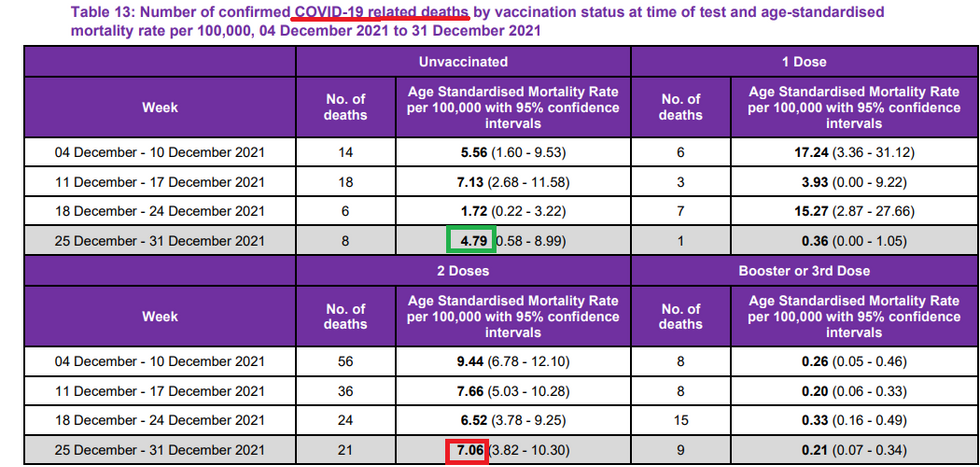 While the death rates among the boosted were much lower, they are counting those within 14 days of their third shot among those with two shots, thereby making the double-vaxxed worse and triple-vaxxed appear better during the immune suppression period, just as they did between the unvaxxed and those with the first dose. The fact that the double-vaxxed go negative even against critical illness and death demonstrates that in the long run, the boosters are a dangerous game.
How could Trump in good conscience promote boosters?
Well, therein lies the problem. It's not about the science for him, or even about the optics or the politics. I don't think I'm speaking out of turn here by ascribing his motive to desiring to take credit for his legacy of Operation Warp Speed. It's all personal. He doesn't want to view what he believes to be his greatest legacy as an utter failure.
However, what the former president needs to understand is that nobody blames him for not seeing the scam of Big Pharma at the time and trying to make the shots available as soon as possible. However, to double down and triple down on failure
after
the safety signals have been breached and after the shots no longer work is unforgivable.
Want to leave a tip?
We answer to you. Help keep our content free of advertisers and big tech censorship by leaving a tip today.
Blaze Podcast Host
Daniel Horowitz is the host of "Conservative Review with Daniel Horowitz" and a senior editor for Blaze News.
RMConservative
more stories
Sign up for the Blaze newsletter
By signing up, you agree to our
Privacy Policy
and
Terms of Use
, and agree to receive content that may sometimes include advertisements. You may opt out at any time.