CNN personalities are completely unapologetic for CNN's disgusting blackmail of a private citizen.
On Sunday, President Trump tweeted a GIF of him clotheslining a WWE wrestler with a CNN logo Photoshopped over his face. Taking the president's dumb joke personally, CNN released a statement that said the tweet "encourages violence against reporters." Not content to criticize just the president, CNN began a search for the private citizen who created the video.
CNN "reporter" Andrew Kaczynski tracked the guy down. He is a Reddit user who goes by the username "HanAssholeSolo" and has previously made several racist or anti-Semitic posts to Reddit to troll other users. Fearful for his identity to be revealed by CNN, HanAssholeSolo issued an apology for his internet posts and asked CNN to preserve his anonymity.
Instead of simply agreeing to his request, CNN took his identity hostage.
After posting his apology, "HanA**holeSolo" called CNN's KFile and confirmed his identity. In the interview, "HanA**holeSolo" sounded nervous about his identity being revealed and asked to not be named out of fear for his personal safety and for the public embarrassment it would bring to him and his family.
CNN is not publishing "HanA**holeSolo's" name because he is a private citizen who has issued an extensive statement of apology, showed his remorse by saying he has taken down all his offending posts, and because he said he is not going to repeat this ugly behavior on social media again. In addition, he said his statement could serve as an example to others not to do the same.
CNN reserves the right to publish his identity should any of that change.
The message is perfectly clear: If this Reddit user issues any more offending posts, repeats his "ugly behavior" on the internet, or makes fun of CNN again, CNN will out his identity. Some have called this blackmail. Others have called it a threat. CNN calls it "journalism."
Does anyone at CNN recognize what they did was wrong?
This line is being misinterpreted. It was intended only to mean we made no agreement w/the man about his identity. https://t.co/9FL6EvTikx

— andrew kaczynski ?? (@KFILE) July 5, 2017
Not the reporter.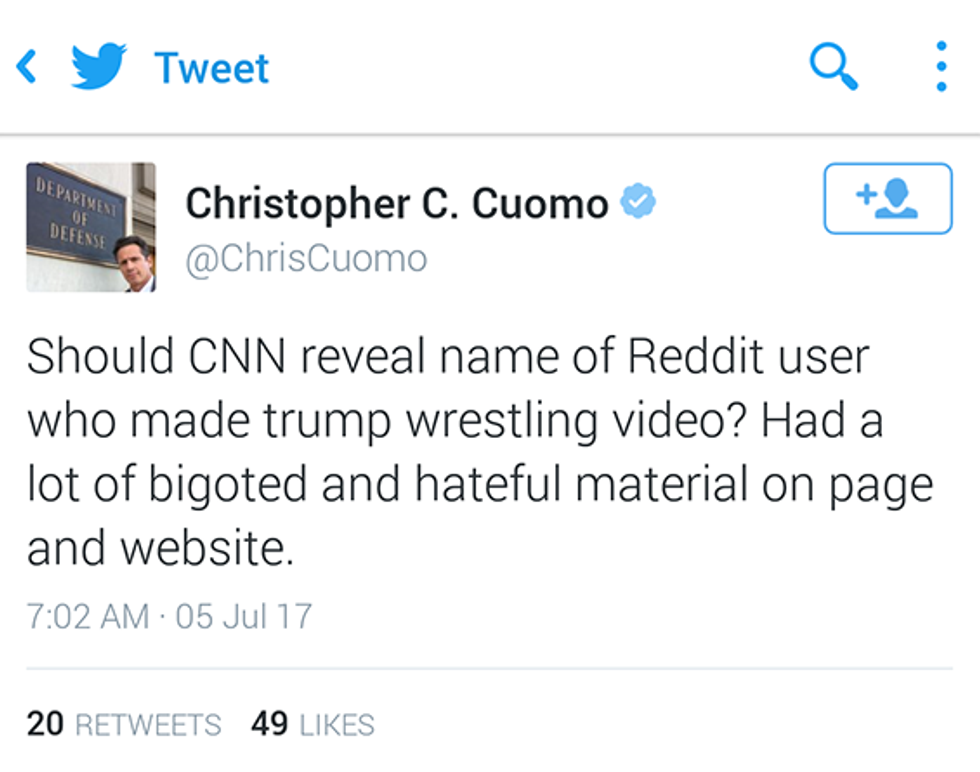 Not "New Day" host Chris Cuomo, who deleted his tweet because it's "not a simple tweet discussion."
we know the age. deleted tweet because this not a simple tweet discussion: how handle an apology? when expose someone? is clip the issue? https://t.co/KgO6NbIVAM

— Christopher C. Cuomo (@ChrisCuomo) July 5, 2017
Nor his co-host, Alisyn Camerota on "New Day." Camerota actually doubled down by explicitly saying "we at CNN are honoring [his request for anonymity] because he apologized."
And definitely not CNN producer Donie O'Sullivan.
This is great reporting by KFILE. Horrible, racist keyboard warriors change tune once identified.

— Donie O'Sullivan (@donie) July 5, 2017
A couple of things about that last comment. First:
.@CNN went after him because he made fun of @CNN in a gif, not because he's a "horrible racist keyboard warrior"

— Legal Insurrection (@LegInsurrection) July 5, 2017
Secondly, O'Sullivan makes clear the point isn't to make news; it's to make people CNN dislikes "change tune." That is not journalism.
Journalism is supposed to be a public service; its purpose is to inform people of the changing world around them. As the American Press Institute states, "the foremost value of news is as a utility to empower the informed."
The CNN story on HanAssholeSolo's GIF does not empower readers with the truth — it exists to disempower the creator of a GIF that hurt CNN's feelings. This story does not uplift or inform, but instead belittles and seeks to destroy.
This is not journalism. It's bullying.
How do we stop the mainstream media from warping the national narrative? We push back together. With the truth. Be the first to receive CRTV's free weapon against the worst the media has to offer. Introducing WTF MSM!?