At the risk of sounding like a broken record, Customs and Border Protection has just reported that November set a new record for family units invading our border.
It feels like it was just last week when I wrote about the record border numbers from September and just yesterday when I wrote that the October numbers blew out the previous record. Now we have blown out the October numbers.
Overall, in November, 51,856 individuals were apprehended at the southern border between points of entry, while another 10,600 were apprehended at the points of entry. Those overall monthly numbers were only surpassed four times during the Obama administration. But the real kicker is the continued skyrocketing number of people coming with children, which demonstrates this is all about gaming the system and not legitimate asylum. A total of 30,154 family units were apprehended, 25,172 between points of entry and 4,982 at the points of entry. One can only imagine how many bad guys were able to slip in without being interdicted because border agents were busy apprehending these families.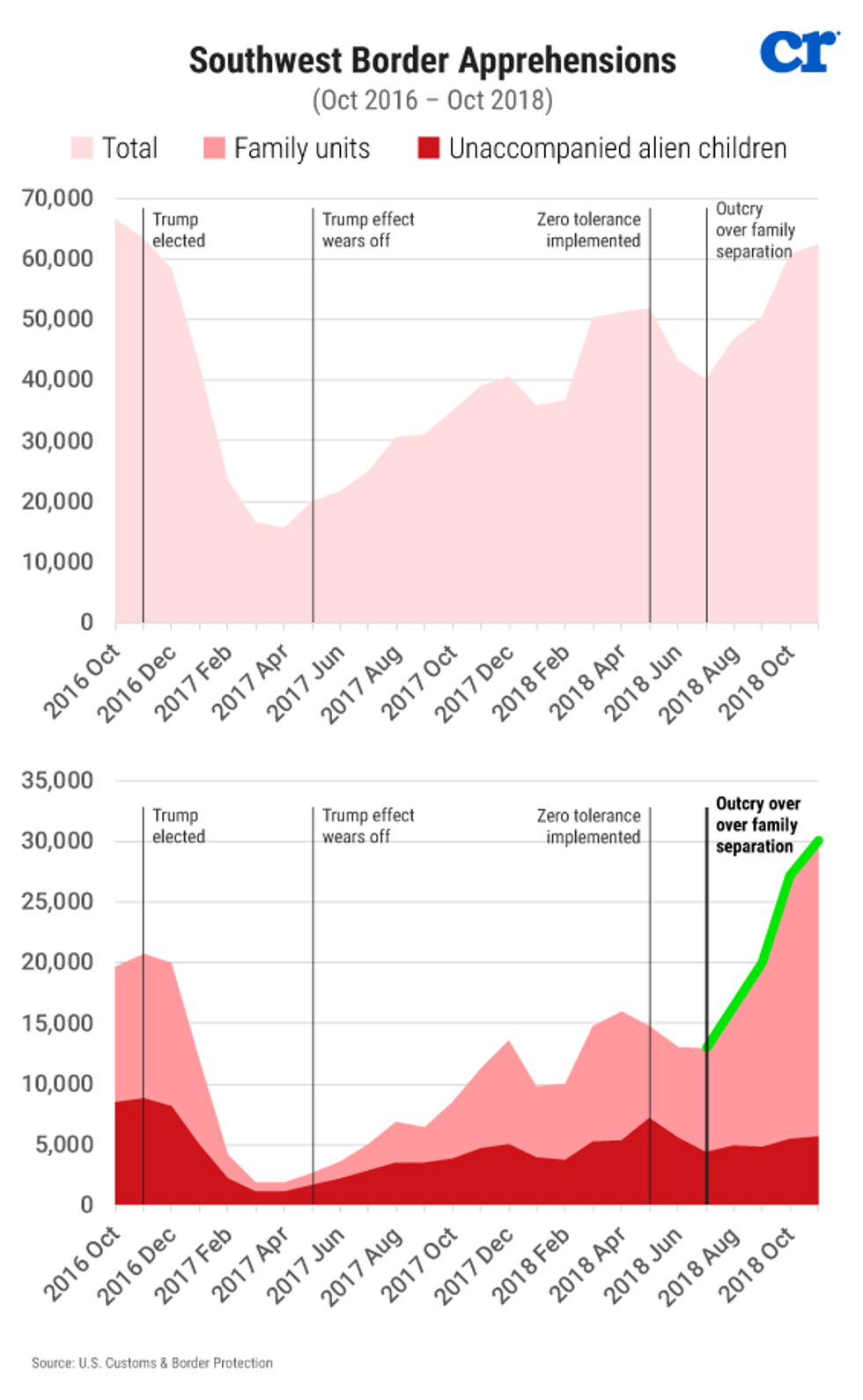 While the number of unaccompanied teenagers has remained relatively steady after the initial rise last year, the number of family units apprehended between points of entry skyrocketed by almost 2,151 percent since the rock-bottom numbers of the Trump effect in the spring of 2017. The numbers tripled just since the early summer, when the entire political class engaged in public virtue-signaling over "separating families." Now they can all hang their heads in shame knowing that they are responsible not just for the immeasurable public charge and public safety concern to Americans but all of the hardships that are endured by these kids at the hands of the cartels. Virtue-signaling without any facts is no virtue at all.
More specifically, there was an 1866 percent increase in family units coming to the El Paso sector in fiscal year 2019 so far over FY 2018. This is a very disturbing trend given that the violent Cartel Jalisco Nueva Generacion (CJNG) and several warring factions operate there. El Paso used to be less of a human smuggling corridor than San Diego and Tucson; now it has become the number-two route behind the Rio Grande sector in the far east of Texas.
Worse, Middle Eastern immigrants have been known to cross this part of the border, and the influx of bogus asylum-seekers that is now occupying the Border Patrol in the region will strategically distract BP from interdicting some of the more problematic migrants. CJNG was designated by the Justice Department as a top transnational organized crime threat in October because it is "one of the largest, most dangerous drug cartels currently operating in Mexico" that is "responsible for trafficking many tons of cocaine, methamphetamine and fentanyl-laced heroin into the United States, as well as for violence and significant loss of life in Mexico."
There is still some speculation that CJNG, or a rival cartel attempting to frame CJNG, might have been responsible for a grenade attack on the U.S. consulate in Guadalajara. CJNG vehemently denied the attack, which makes sense because they don't want our government to finally turn our military might against the cartels, as we should have been doing for years rather than getting involved in tribal wars in the Middle East. These cartels have their agents and enforcers in every major city in our country thanks to our disregard for our own border. They are fueling a lot of the violence in Chicago.
You can imagine that with an 1866 percent increase in migration of family units through this territory, it has tied down border agents and opened up a clear avenue for CJNG or other cartels to bring in record numbers of drugs, criminals, and possibly terrorists through the gaps created by our "compassion." As Brandon Judd, president of the Border Patrol Council, explained to me, "Taking agents out of the field creates artificial gaps in our coverage and allows cartels to smuggle [in] their higher-value contraband, such as opioids and criminal aliens or persons from special-interest countries, through the gaps."
If you want to know why we have a drug crisis, the catch-and-release magnet bringing in bogus asylum seekers and empowering these cartels through cash flow, tactical logistics, and serving as their drug mules is the single biggest reason.
Which brings us back to our political leaders. During his inaugural address, President Trump lamented, "We've defended other nations' borders while refusing to defend our own." December 21, when the newest continuing resolution expires, will be his time for choosing – his time for fulfilling his promise.
When deciding whether to veto the final budget bill, Trump must contemplate whether he wants to be the president who finally stopped the invasion at our border or the president who oversees an even larger invasion than Obama did. He must decide whether he will be the man to finally put the drug cartels out of business or the man to pave the way for these cartels to send even more impoverished Central Americans over our borders while killing our people with drugs and flooding our urban areas with the most violent transnational criminal gangs.
#mc_embed_signup{background:#fff; clear:left; font:14px;}
/* Add your own MailChimp form style overrides in your site stylesheet or in this style block.
We recommend moving this block and the preceding CSS link to the HEAD of your HTML file. */