Maryland has been one of the hardest hit states from the illicit drug crisis misdiagnosed by the political class as a prescription opioid crisis. New data released by the state demonstrates the absurdity of Congress focusing on releasing drug traffickers from prison, facilitating a border invasion, and coddling sanctuary cities that harbor criminal alien traffickers while treating doctors like criminals and stable pain patients like addicts. At its core, this is a national security problem, not a health care problem.
According to the Maryland Department of Health, a record 2,282 people died in Maryland from overdoses of drugs and alcohol in 2017. Of those, 1,594 were from fentanyl, the synthetic illicit drug that is 100 times more potent than heroin and is manufactured in China and Mexico and smuggled and distributed throughout the U.S. by criminal alien drug cartel networks. And guess what else skyrocketed? Deaths from cocaine, which aren't even opiate-based. Fatalities from cocaine, which were already high in the Baltimore area, shot up from 464 in 2016 to 691 in 2017. Prescription deaths actually went down slightly from 418 to 413, and as indicated by the numbers, multiple drugs are counted in many of the toxicology reports. Which means, as we've noted before, the majority of prescription deaths are not from stable pain patients and those properly prescribed Oxycontin, but from drug addicts who are already mixing it with other illicit drugs. [For more on the government's misdiagnoses, listen to my shows here and here.]
This trend has continued into the first quarter of 2018, with 500 of the 653 unintentional drug and alcohol-related intoxication deaths in Maryland involving fentanyl.
Thus, we have an illicit polydrug crisis, not a prescription crisis, at least not driving the massive surge in deaths since 2014. As the Maryland report indicates, deaths from Cocaine, which is all a drug cartel issue, not a doctor issue, started surging in 2014, the exact time of the surge in the border from Central America. The number of cocaine-related deaths increased 110% between 2015 and 2016, and increased 49% between 2016 and 2017. Most of the deaths were the result of mixing cocaine with heroin and fentanyl.
Also, almost three times as many decedents were male than female, even though women comprise more of the chronic pain patients. Once again demonstrating that this is not rooted in a prescription problem, but a cultural problem fueled by the cheap availability of the deadliest drugs thanks to a change in immigration policies in Obama's second term.
Take a look at this chart from Maryland, which is worth a thousand words, and you will see what almost everyone in Congress and in state governments is missing about the drug issue.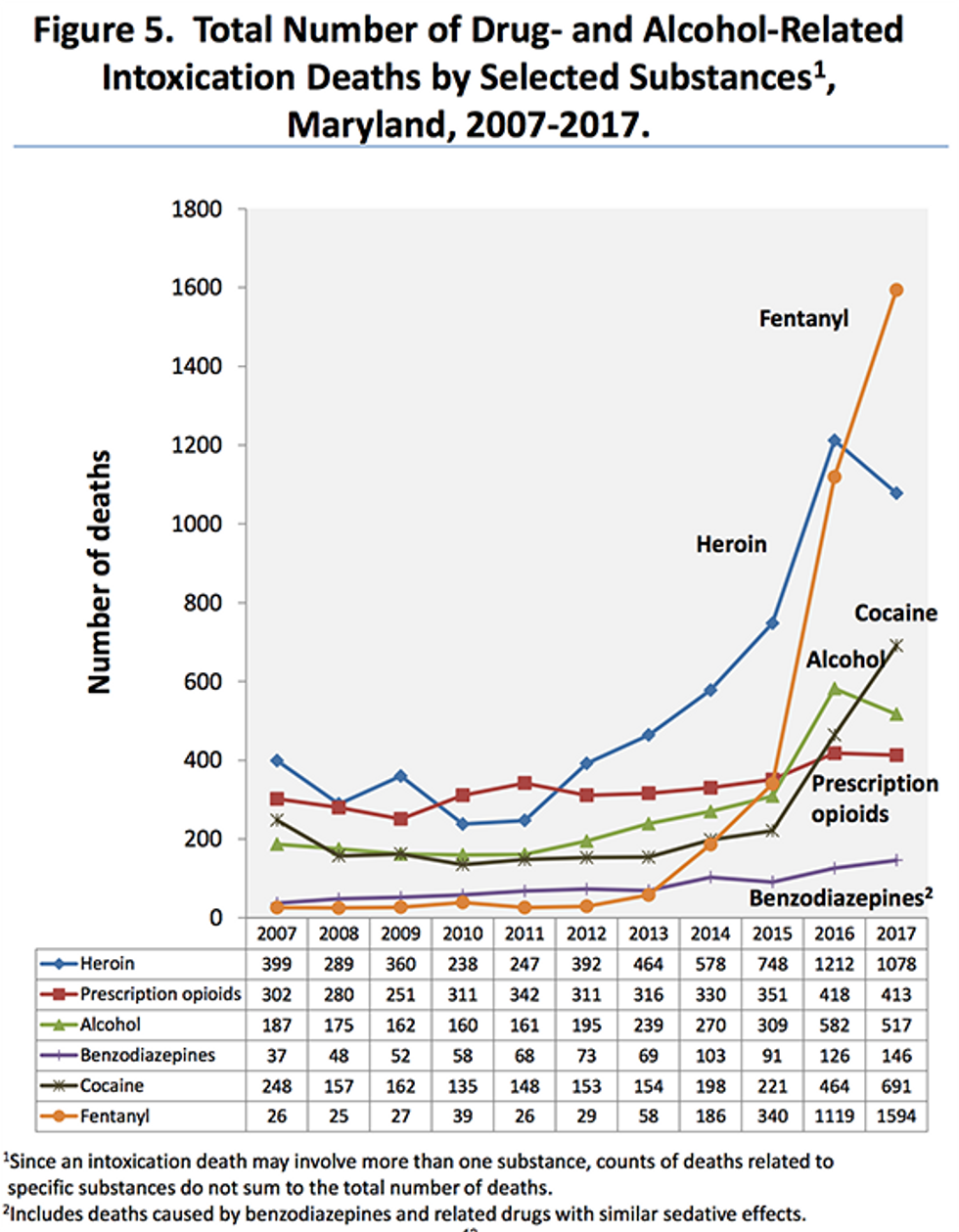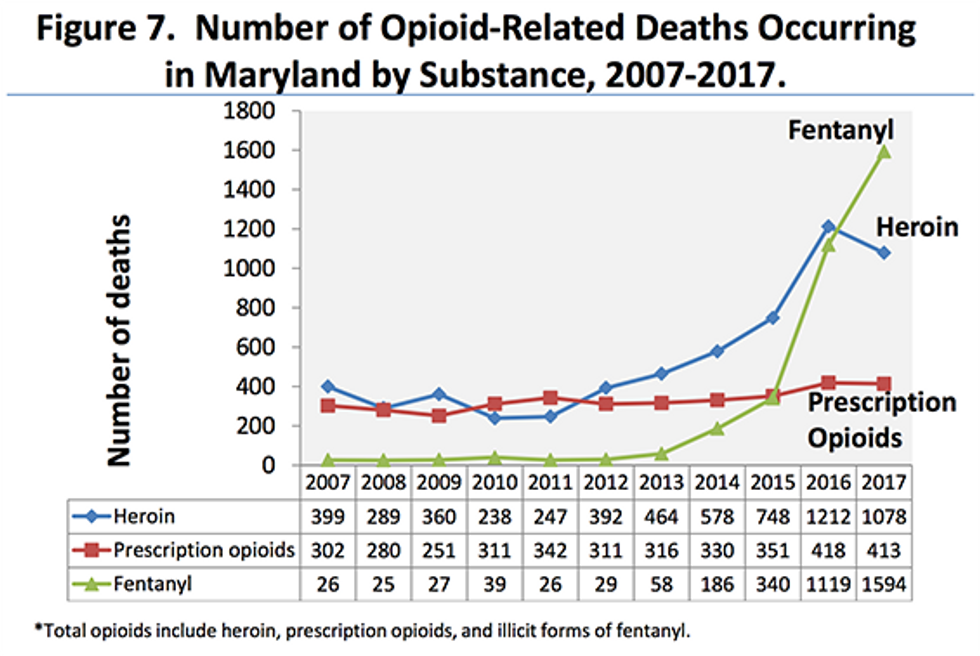 The politicians focus almost exclusively on health care and clamping down on legitimate pain patients (and even post-surgery patients) but don't realize that this is all an illicit drug problem fueled by open borders and transnational crime. Which is why they won't address the most important question: Why the surge began precisely from 2012-2014 when prescription drugs were in use for decades and were actually on the decline since 2009.
Even some of the uptick in prescription deaths, based on Maryland data, was clearly driven by illicit drugs mixing in because the report shows that deaths solely related to prescriptions actually dropped sharply over the past three years.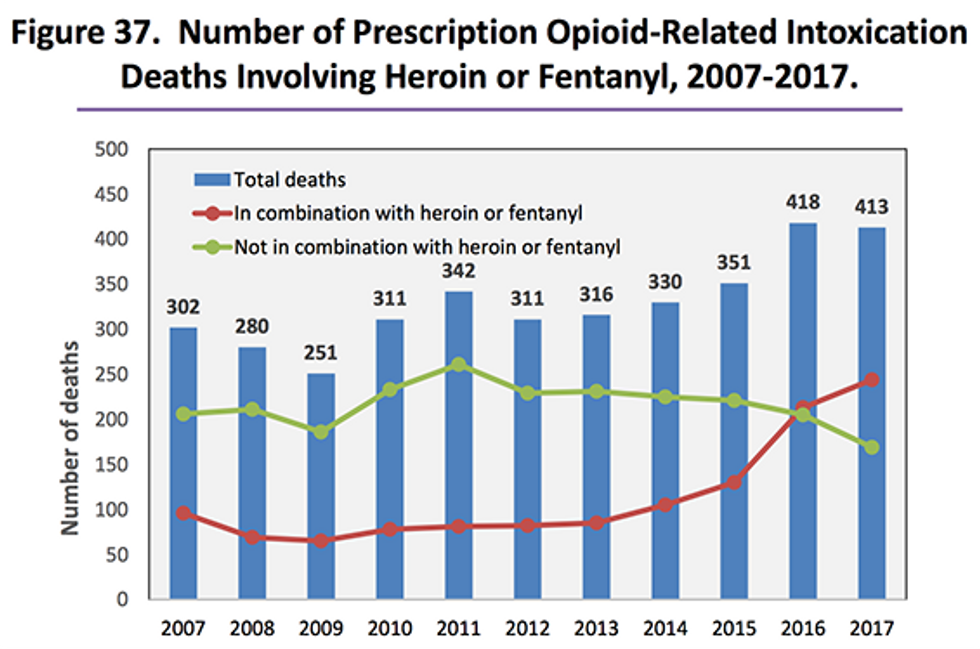 Which is why there was a doubling of casualties from benzodiazepines over the same period, even though sleeping pills have nothing to do with opioids. The point is this is a drug abuse problem, not a drug use problem, as the policies are making it out to be.
This also is why Cecil County, Maryland had the second highest rate of overdose in the state even though it's a tiny rural county. Cecil County is a transit point for the largest drug trafficking hub in the east along I-95, headed north to the major northeastern cities.
Why are drug networks, most of which are comprised of foreign nationals at the primary level, able to operate with impunity in Maryland?
Remember, the three largest jurisdictions in Maryland are Baltimore City, Montgomery County and Prince Georges County. They are all sanctuary cities that refuse to hand over drug traffickers to ICE. This has contributed tremendously to the growth of criminal alien drug trafficking networks in the area. Prince Georges County is also overrun with drugs from the large population of Central American teens that have come in since 2014. MS-13 has saturated the county and has become a primary distributor of deadly drugs. It's no surprise then that Baltimore has become one of the cocaine and heroin capitals of the country.
The only thing that is certain is that national and state governments will continue to wage war on doctors and pain patients while accommodating the very policies that are responsible for most of the drug deaths in America.
#mc_embed_signup{background:#fff; clear:left; font:14px}
/* Add your own MailChimp form style overrides in your site stylesheet or in this style block.
We recommend moving this block and the preceding CSS link to the HEAD of your HTML file. */