Last night, there was a little-noticed breakthrough in the immigration debate emerging from the first forum of the GOP presidential candidates.  No candidate was willing to openly support higher levels of immigration when prompted to discuss the issue by moderator Jack Heath in New Hampshire.  And in fact, Jeb Bush and Marco Rubio, two of the leading advocates of amnesty, openly conceded that our immigration system is tilted heavily towards chain migration.
Referring to the immigration policies tilted towards extended relatives instead of skills, Rubio said, "we cannot afford to do it that way."
Jeb declared, "We need to narrow the number of people coming here through family petitioning…I would cut it down to spouse and minor children."
Part of the reason why candidates are reluctant to stake out a liberal posture on immigration during the primary is due to the Trump effect.  Despite his flaws and gaffes, Trump is building a wide and enduring lead almost solely based on his immigration focus of putting Americans first.
But these candidates are also slowly coming to the realization, at least publicly, that our immigration system is too heavily weighted towards low skilled individuals largely from the third-world.  Almost 11 million immigrants have been granted green cards from 2004-2013 – more than at any other time in history – yet just 15% of those green cards were granted based on any measure of skills.  Just 1.6 million of the 10.8 million legal permanent residents over the past decade were granted legal entry through employment-based preferences.  As depicted below in the pie graph, the other 85% come from family-based ties, refugee and asylum, and the diversity visa lottery.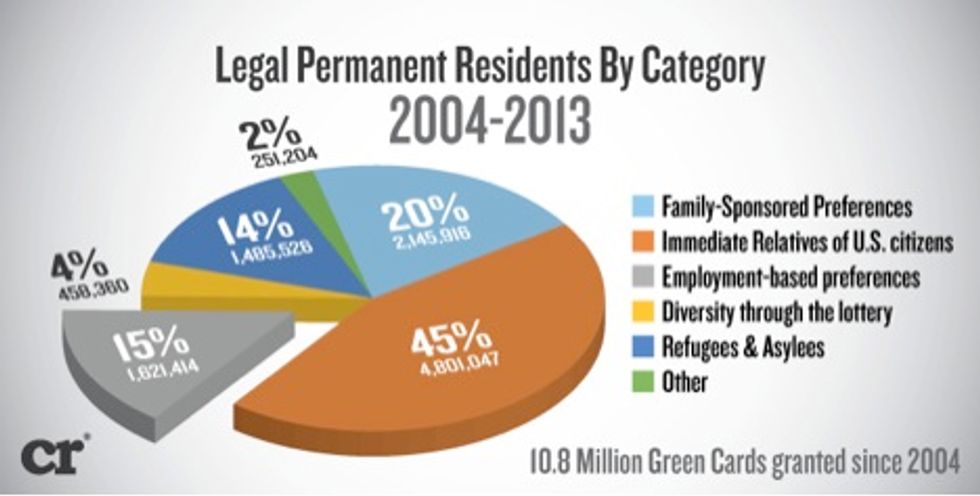 A quick glance at the DHS Yearbook for 2013 [page 31, table 9] reveals that 471,041 of the 990,000 green cards handed out in 2013 went to those who were categorized as "no occupation" or "not working outside the home." This is a huge problem, but it certainly will not be fixed by granting amnesty (which would spawn new chain migration) and massively expanding immigration.
Indeed, our immigration system is broken, but not in the way the political class believes it to be.
We don't need more immigration now, we need an immigration system that places American interests first and allows the nation as a whole to prioritize those who would benefit the country, not place the keys to our country in the hands of the immigrants to automatically spawn chain migration, irrespective of their skills or whether they represent a potential security threat.
Now, at least in word, Bush and Rubio are on record as supporting the concept.  It's time to call their bluff and push Republicans to promote true immigration reform by eliminating the chain migration categories.  The problem is that Rubio and Bush championed the Gang of 8 amnesty bill, which, as Sen. Jeff Sessions (R-AL) discovered, would have spawned a massive flow of chain migration, especially from the largely indigent and unskilled illegal alien population.  To this day, Rubio and Bush strongly support the Dream Act, which would increase family-based chain migration of a largely impoverished group.
During the same forum, Rick Santorum reiterated his support for cutting immigration levels by 25%.  While that seems like a steep cut, his idea could easily coincide with Rubio and Bush's support for abolishing chain migration – assuming they are really sincere about their campaign rhetoric.  By abolishing the extended family category and the diversity visa lottery alone, lawmakers could slash 24% of overall immigration, which is tracking at near 1 million green cards per year.
Over the 25-year period from 1989-2013, the U.S. has admitted 25.3 million immigrants.  During a comparable 25-year period at the height of the Great Wave, from 1900-1924, only 16.8 million green cards were issued.  Why not kill two birds with one stone – cut immigration by 25% (with overall numbers still well over historical average) and end most non-skills-based immigration categories beyond immediate family members.
As I've noted before, the immigration population is projected to surge even faster over the next four decades.  The least we can do is stop perpetuating the failed policies of the past – policies that have engendered a large amount of immigration of those who become public charges or security risks.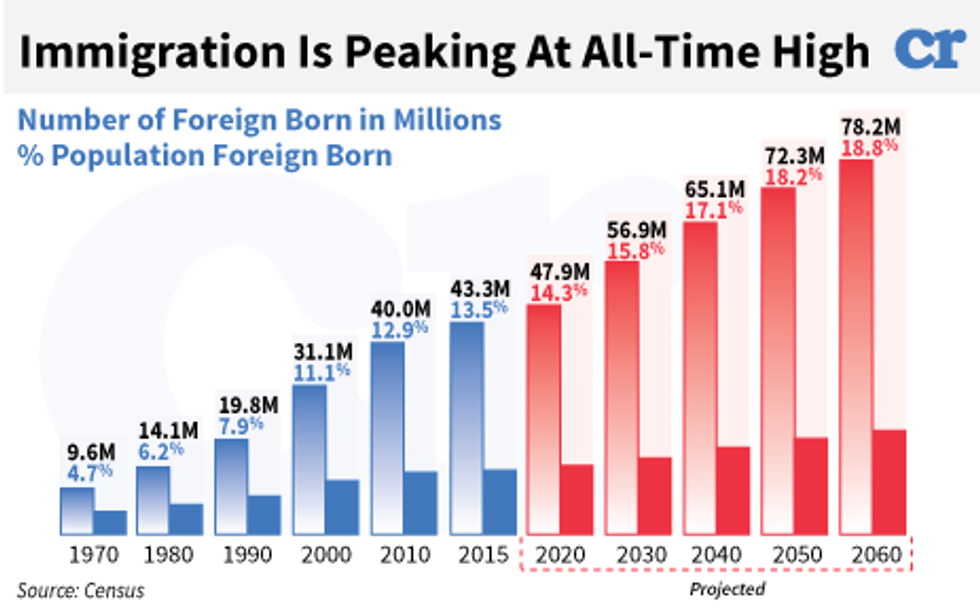 By keeping chain migration in place, the problem will only compound itself.  Remember, over 100,000 Somali immigrants have been admitted since the '90s.  Obviously many of them are not security risks, but a number of them are.  Just ask the U.S Attorney for Minnesota.  Moreover, an even larger number are impoverished.  Do we want these 100,000 to have the ability to bring in hundreds of thousands more from Somalia or should our nation reserve the ability to select immigrants primarily based on skill and weed out security risks and those who will likely be a public charge (as is required by Section 212(a)(4) of the Immigration and Nationality Act). If our politicians would only choose the latter, it would go a long way in solving some of our immigration problems while achieving a degree of consensus within the party.
Boom!  The immigration debate within the party is solved.  Can we shake on it, Jeb?  Marco?
Keep reading...
Show less