"She said her son was just 'black in the wrong place' and that he was a victim of 'a silent war against African-American people.'"
That was Valerie Castile, mother of Philando Castile—a black man shot by police in a Twin Cities neighborhood on July 5.
That sentiment is widespread and pervasive: Law enforcement has it out for African Americans, and you're more likely to die at the hands of an officer simply for being "black in the wrong place."
Some people even threaten police with violence and even death as a result.
And on July 7 in Dallas, Texas, some of those people brought those threats to fruition, as 12 police officers were shot, and five of those officers lost their lives.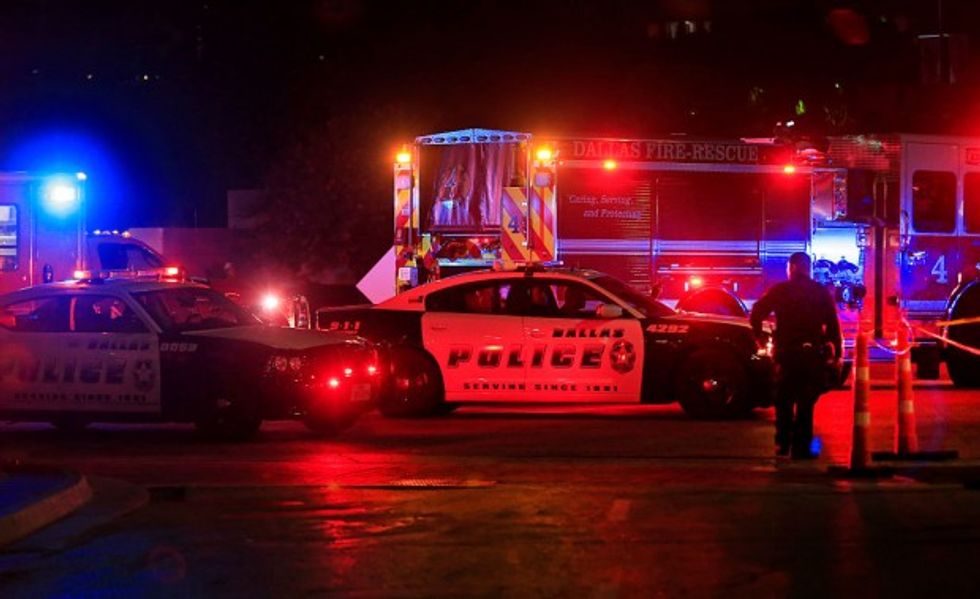 Dallas police work near the scene where four Dallas police officers were shot and killed on July 7, 2016 in Dallas, Texas. According to reports, shots were fired during a protest being held in downtown Dallas in response to recent fatal shootings of two black men by police - Alton Sterling on July 5, 2016 in Baton Rouge, Louisiana and Philando Castile on July 6, 2016, in Falcon Heights, Minnesota. (Photo by Ron Jenkins/Getty Images)
Here's the thing. We need to have a conversation. And we need to have it based on truth.
But … what is truth?
We live in a world where opinion trumps facts. We live in a world of "meh, to each his own." We live in a world where it's offensive to suggest something is right and something is wrong; to suggest something is truth and something is false.
We also live in a world of absolutes. Water is wet. We need air to breathe. Gravity works. And we all bleed red no matter what.
Those are things that are undisputable. They are truths.
And we need truth desperately today. Is there a war on African Americans? Is police brutality and killings the norm? Do we have a racism problem in this country?
So, before we talk about how we move forward and why we all individually feel what we feel, we need to build a foundation of truth. Let's start with a few numbers:
1. Did you know that police officers take longer before firing their weapon on a black suspect than a white suspect?
This conclusion was pulled from an extensive study wherein officers were not informed of the purpose of the study (race)—yet they paused time and again, taking significantly more time to fire their weapons if the test subject was black than white.
Why?
Mounting social pressure that's making it drastically more difficult to make the right decision for the safety of the community and the officer; social pressure that makes ANY shot fired wrong.
2. Did you know that "officers are three times less likely to shoot unarmed black suspects than unarmed white suspects"?
In the above study, even white officers with supposed racial biases—i.e. automatically associating a black person with a weapon—were still less likely to shoot unarmed black suspects than unarmed white suspects.
3. Did you know that in the above study "of the wrongful shootings, white people were shot 54 times and black people were shot twice"?
In other words, even when officers made a choice that was ultimately wrong, they made the wrong choice tremendously more times with white people than black.
4. Did you know that you're far more likely to be shot and killed by police if you're white than if you're black?
In 2016, there are been 566 people killed by police. Of those, 136 were black. Last year, 306 of the 1,146 people killed by police were black. Once again, the largest race group affected were whites.
5. Did you know that 0.000178 percent (566) of the U.S. population has been killed by police so far this year?
And in the entirety of 2015, 0.00036 percent (1,146) of the population was killed by police. Don't get me wrong; I'm not trivializing the number. We are talking about human lives here. Still, I just want to give some perspective—especially in light of the fact that our media, social activists and politicians would have us think that use of deadly force by police is commonplace. It's not.
6. Did you know of the 566 people killed by police in 2016, 14 percent (82) were unarmed?
And of the 82 unarmed, 25 were black. Does that jibe with what the president said when he told us that the recent officer involved shootings in Minnesota and Louisiana are "symptomatic of a broader set of racial disparities that exist in our criminal justice system"?
Here's the thing: Do we solve this problem if we don't understand the facts? Do we solve this problem by propagating the falsehood that our current law enforcement and justice system is rigged against the African American community? No. Instead, we keep spiraling down into hate. Facts do matter.
Now, let's get to the hard stuff:
7. Did you know that you can still believe police lives matter, and still stand for justice when an officer does something wrong?
I've just written 800+ words in an attempt to correct the record when it comes to police and the African American community. But I will not fail to stand up and say that the Falcon Heights shooting doesn't look good—and while Baton Rouge is a little cloudier, it still absolutely needs investigation. And if those officers are found guilty of wrongdoing, they deserve the full force of the law.
No. Questions. Asked.
8. Did you know that sometimes officers make mistakes, and it's not always just racism?
Who knows what was going through the officer's head when he shot Philando Castile in his car. But one thing is for certain: we're all human—even those who wear a badge.
9. Did you know that these officers will try to save the lives of anyone, including those who openly call them murderers?
There are 765,000 sworn officers in this country protecting 319 million people. That's roughly 417 people per officer. Even though they (and their families) are hated more by the day, these officers they stand up for each and every one of us. Nothing illustrates this more than when they worked to protect the Dallas Black Lives Matter protestors as the officers took fire time and again.
10. Did you know that we might be able to actually genetically inherit deep-seated hurt?
I've banged by head against a wall for years trying to understand why it is that so many in the African American community talk about race like we're still in Jim Crow south. I mean, look at the facts I just presented! It's clear as day—you're not more likely to die at the hands of police if you're black. Period. That's the math. And yes—facts matter.
But what about feelings? For so many, even though they haven't necessarily experienced Jim Crow, or police brutality—those feelings are very, very real.
I read about a study done on the descendants of Holocaust survivors—and the Post Traumatic Stress Disorder that they may actually have inherited. Well, couldn't the horrific things experienced by survivors of slavery, and then Jim Crow, and so on—similarly be passed down, resulting in inexplicable feelings of fear and distrust of white people and law enforcement today? Couple that with the likes of Louis Farrakhan—who talks about rising up to kill whites, or our own president who fuels the fire by using false data and talking points to frame a discussion, and it makes a lot more sense.
The racism may not exist today like it did before. But for some, the feelings are real. And the void is there—being filled by the likes of Farrakhan and others.
At the risk of sounding utterly cheesy in a moment which so desperately needs solemn silence—we need love. We need to love truth above narratives. We need to love our neighbor above color. We need to pray for each other no matter what.
We need to live out God's love in order to beat back the devil's hate.
Always truth. Always Christ-like love. There's no other way.
Mary Ramirez is a full-time writer, creator of www.afuturefree.com (a political commentary blog), and contributor to The Chris Salcedo Show (TheBlaze Radio Network, Saturday, from noon to 3 p.m. ET). She can be reached at: afuturefree@aol.com; or on Twitter: @AFutureFree.
–
TheBlaze contributor channel supports an open discourse on a range of views. The opinions expressed in this channel are solely those of each individual author.