Angie Cartwright was conceived during an alcohol-fueled blackout, and born into a life of grief. Her mother was an addict and alcoholic. Angie never knew her real father.
At age three, Angie and her 2-year-old sister were in a car wreck. At the wheel was her mother's current boyfriend. Both Angie and her sister were thrown from the back of the station wagon. Angie suffered a broken jaw. Her sister suffered permanent brain damage.
At age five, Angie found her 11-month-old sister dead in her crib from bronchial pneumonia. That same year, she watched in terror as her mother was brutally beaten by a boyfriend. Angie, too, suffered the same fate from time to time. She lived in fear of all men.
When she was six, her mother's newest boyfriend burned their home down. They lost everything except the clothes on their back. Angie's mother fled with her children from California to Kansas with hopes of starting life anew. But tragedy followed.
At age nine, Angie's beloved uncle Tony died by suicide, hanging himself in a state hospital.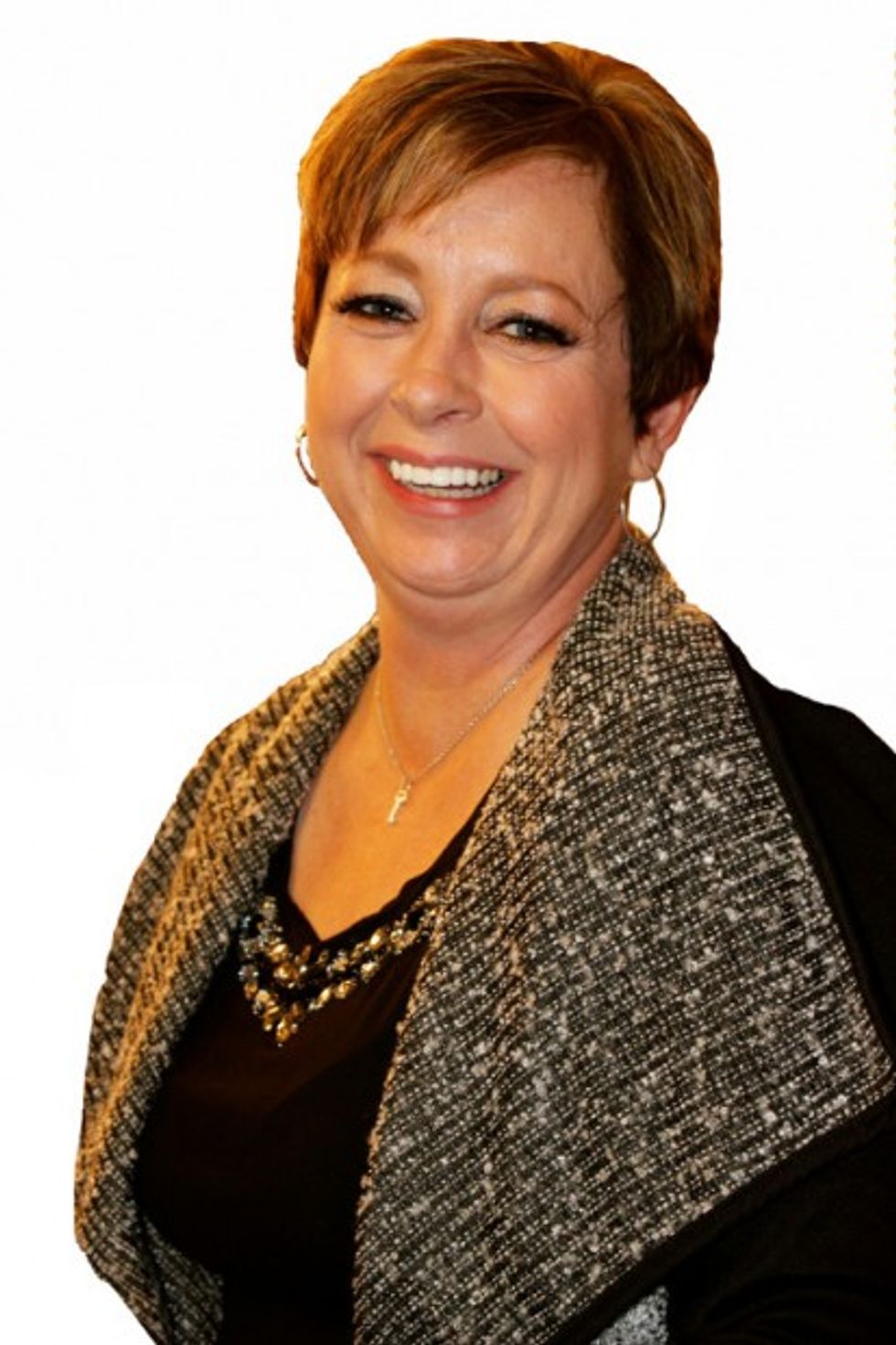 Angie Cartwright.
"He could sing like an angel. My last memory of him was when he put me on his lap, grabbed his guitar, and sang 'You Are My Sunshine.' As we left, I remember looking through the car window and feeling so sad for leaving him there," she said.
At age 12 while getting her hair cut on Father's Day, Angie's intoxicated mother admitted the abuser Angie believed was her real father, was not her father at all.
At age 13, her close friend died from a virus. And the only grandmother Angie knew died from stomach cancer.
By age 14, Angie had taken to drugs and alcohol to mask the feeling of abandonment and grief. And to connect with her mother.
"I would feel like it was my way of being with her and connecting. The very thing that took her from us brought us together," shared Angie.
That same year, Angie's mother called social services to come get Angie's younger twin brothers.
"She was on a payphone, distraught, sobbing, and asked them to come get my brothers. I remember my emotions like it was yesterday, they are burned into my soul. They were my brothers and I couldn't save them. Though they didn't die, I grieved them so much," she said.
The boys were eventually adopted out. As the oldest of the seven children, Angie was devastated.
Her teenage years were filled with misery.
[sharequote align="center"]Silent grief kills...The time has come to bring grief out of the dark and into the light.[/sharequote]
"I lived in foster homes on and off until the age of 18, due to alcoholism and drug abuse. It destroyed our family," shared Angie. "I felt very abandoned, like no one wanted me."
By age 21, Angie had three small children of her own and was newly married to a different man. One night after partying, her husband was driving too fast on the back roads when he crashed their car. Dazed but able to free herself from the mangled wreck, Angie searched frantically for her husband in the dark field. Unable to find him, she ran to the nearest home for help. The police were called, but not the ambulance. Despite her pleas, they refused to believe Angie's account that her husband was still out there, somewhere in the field. She was arrested and hauled off to jail for drunk driving. Her husband's body was found the next day and, a few hours later, a diagonal bruise across Angie's chest from the passenger side seatbelt proved her innocence. But it was too late to save her husband.
More grief followed, and it came in many forms. Loss by suicide. Loss by homicide. More drugs, alcohol, and misery. Raising her three children while grieving her newlywed husband, Angie's attempts at sobriety met in failure until 2003, when she found sobriety for six years. She and her mother then relapsed together. Angie's was short lived, her mother's was not.
"The five years up to my mother's relapse had been the best in her life. She had reunited with the twins, and she had her children and grandchildren in her life. Her dreams were coming true. And then we relapsed together. I got sober, but mom didn't know if she could do it. Finally, she reached a doctor who gave her a prescription to help with the withdrawal symptoms, but the insurance wouldn't cover it. The sad part is that if she needed a pain killer, they would have paid for it," she said.
Angie's mother died of a drug overdose a few days later.
Wrought with grief and guilt, Angie was overcome with anger. Anger at her mother's life cut short. Anger at the system for failing them. Anger at her mother for being an addict. And anger that her mother had to grieve for her baby in silence all those years.
To cope with her fresh loss and fill the void in her heart, Angie turned to social media in hopes of finding other grievers to connect to. And found thousands just like herself. That was the moment Angie Cartwright found her calling.
In 2011, Angie created a Facebook group for grievers called Grief the Unspoken. And the movement to bring grief out of the dark and into the light was born.
In the four years since, Angie Cartwright is now considered a voice for grievers around the world. Her original Facebook group, now known as GTU, has grown into 24 open and closed groups with a weekly reach of over 2.5 million. Thousands more are connected via Twitter, Google Plus, Pinterest, and YouTube.
In 2013, Angie founded National Grief Awareness Day, a nonprofit organization dedicated to a day of grief awareness. In 2014, she became a cohost of Grief Diaries Radio and coauthored My Grief Diary, a workbook for grievers. At the beginning of 2015, Angie harnessed the power of the newest social media tool Flipboard to launch Grief Magazine, and in April she will take the stage as a keynote speaker at the first National Grief & Hope Convention in Indianapolis.
"My mother lived in grief all her life. But she couldn't talk about it, people didn't want to hear about it. I became determined to bring grief out of the dark so others won't suffer in silence the way my mother did. I became her voice," shared Angie.
The memories remain fresh and some days the tears still flow, but Angie Cartwright is determined to make a difference for generations to come.
"It's about raising awareness and education, so people don't have to grieve in silence. Silent grief kills, which adds more grief. I don't grieve just for the moment my loved one passed. I grieve the past, the future, and the now. A human being is more than just one moment in time," she stated. "And the time has come to bring grief out of the dark and into the light."
Lynda Cheldelin Fell is a world visionary, humanitarian, creator, producer, and international bestselling author. Join Lynda on the web at www.lyndafell.com.
–
TheBlaze contributor channel supports an open discourse on a range of views. The opinions expressed in this channel are solely those of each individual author.