Many of us have heavy hearts this week. It almost feels like a bad break up. We knew Indiana didn't go well, but nothing could've prepared us to hear the words "we left it all on the field in Indiana." It felt like somebody punched me in the stomach. For the first and only time, I wished Sen. Ted Cruz (R-Texas) wouldn't have kept his word. Like you, I'm sad for the election and angry at the establishment.
After a few days of thinking and praying, and not being sure quite what to write, it came to me. This isn't a time for defeat, it's a time to rally.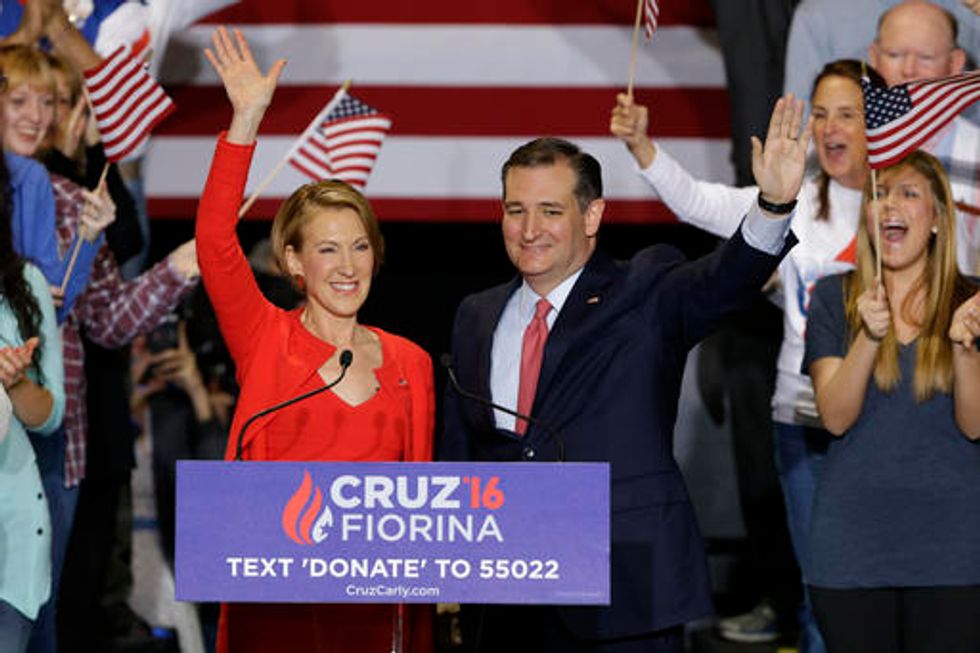 Republican presidential candidate Sen. Ted Cruz, R-Texas, joined by former Hewlett-Packard CEO Carly Fiorina waves during a rally in Indianapolis, Wednesday, April 27, 2016, when Cruz announced he has tapped Fiorina to serve as his running mate. (AP Photo/Michael Conroy)
Cruz taught us how. You see, this isn't the end, this is the beginning. Cruz took it as far as he could, now he'll go back to the Senate and continue the fight there; conservatives like Glenn Beck, Mark Levin, Erick Erickson, among others, will continue the fight in the media; and it's our turn to rally for conservatism in our homes, towns, cities and states. Sound overwhelming? It's not. Cruz just spent his entire campaign showing us exactly how to do it.
Here's what he taught me.
There is a significant difference between conservatives and Republicans.
I was born during the Ronald Reagan years. I love hearing about them, but the reality is, I don't remember them. I did still always know there was a difference, even though many argue I haven't even had the opportunity to vote for a true conservative. I have always referred to myself as a conservative first, Republican second. It became habit to say, but this year more than ever before, the difference is crystal clear to me.
Can you imagine the founding father's response to RNC chair Reince Priebus telling us all to unify behind the party's candidate? I feel like that would have reminded them a bit of why they left for America in the first place.
Servant leadership is greater than leading with an ego.
We have seen two radically different leadership styles. Trump says he "has a very good brain" and with him "we're going to win so much" we're going to get tired of winning. I'm pretty sure when you look up the word "ego" he is exhibit A. While I do think Cruz also has a very good brain, his leadership style is totally different – it's servant leadership. According to Cruz, this isn't about him, it's about our Judeo-Christian foundation, freedom and liberty.
When Cruz came to Pennsylvania, I was fortunate to have the opportunity to attend a delegate meeting (more about my decision to run as a write-in delegate here) with him. A few of us had the opportunity to meet with him on his tour bus after a town hall meeting. Someone asked what we could pray for and his response was for God to give him peace and wisdom. He went on to share he had never once prayed to win (to which a couple of us confessed we had!) because it's not about him. That is the definition of servant leadership, and the type of leader we should all aspire to be.
We can't start a movement on solely voting, we have to move hearts and change minds.
Chances are if you're reading this, you vote. Voting is important. But the reality is that if we want really great leaders that are of our values and principles, we have to do more than vote. We have to do what we can to help create and support these types of leaders.
When we're fortunate to have leaders like Cruz, we have to be bold, open a dialogue, make calls and go door-to-door. We have to DO more than vote. We have to move hearts and change minds. Moving hearts and changing minds sounds wonderful, doesn't it? The reality is it can be inconvenient and uncomfortable. We have to do it anyway and we have to do it respectfully.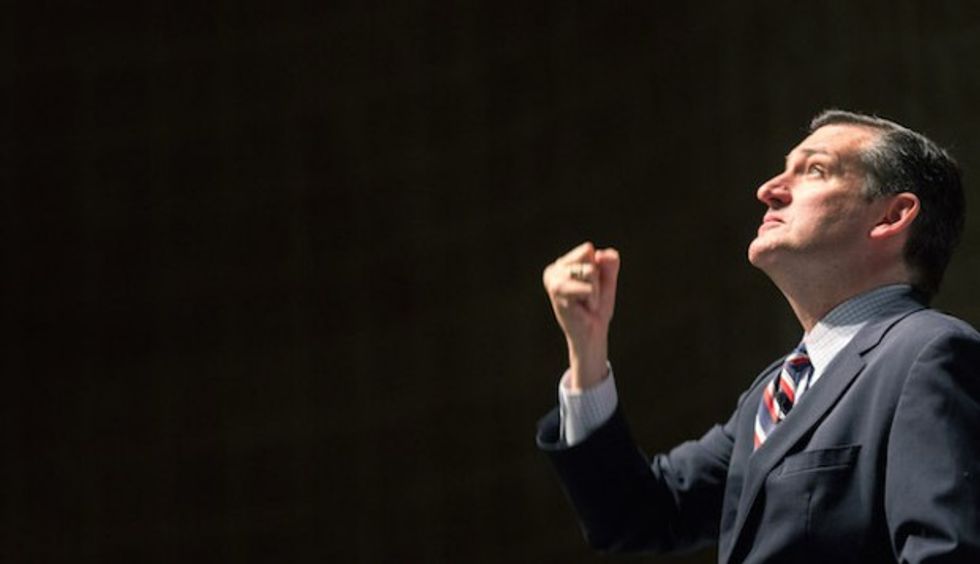 GREENVILLE, SC - MAY 09: Republican presidential candidate U.S. Sen. Ted Cruz (R-TX) speaks during the Freedom Summit on May 9, 2015 in Greenville, South Carolina. Cruz joined eleven other potential candidates in addressing the event hosted by conservative group Citizens United. (Photo by Richard Ellis/Getty Images)
Stand up for what you believe in, even if you stand alone.
This is one of those feel-good lines that you hear growing up. While you always hope you'll stand up for what you believe in, reality is it gets hard, and standing alone is, well - lonely. But Cruz shows us how it's done. You see his record, watch footage of him in the Senate and on the campaign trail, and you see a United States senator stand up for his beliefs, our beliefs, in the most respectful way possible, even when it isn't popular. That is the example we should all want to follow.
The conservative movement is just getting started. Jump in, don't sit on the sidelines, defeated.
It's easy to be fed up, to write it all off and say forget it. But, we're just getting started. Our guy made it to second place (I refuse to count Gov. John Kasich) in a very unusual election year. At 45 years of age, he has a lot of life left in him, and he's not stopping. If your heart stopped when you heard the words "suspending our campaign" you may have missed the message that followed.
"But hear me now: I am not suspending our fight for liberty. I am not suspending our fight to defend the constitution, to defend the Judeo-Christian values that built America."
There's a time for everything. It says so in Ecclesiastes. So take the time to mourn, but then pick yourself up and make a plan to DO something. While the fight has been going on for a long time, many of us are just getting started. We have truly had the opportunity to see a conservative role model in Ted Cruz. As a Christian, I have seen a man who shows us what it means to be the hands and feet.
You see…
"There is no substitute for the America that each and every one of us loves with all of our heart, that we believe in with all of our heart and that together we will restore as a shining city on the hill for every generation to come."
Now tell me America, isn't that something worth fighting for?
Elizabeth Greenaway is a communications strategist by day and a political enthusiast by night. Known as The Petite Patriot, she is the voice of conservative millennials. Reach her by tweet (@ElizRhoads) or email (elizabeth@thepetitepatriot.com).
–
TheBlaze contributor channel supports an open discourse on a range of views. The opinions expressed in this channel are solely those of each individual author.