Before friends and families can even bury their loved ones after the Orlando terrorist attack, a number of politically motivated activists claiming to represent the "LGBT community" are trying to turn this time of national grief and unity into an escalation of the culture war. In the aftermath of horrific tragedies, opportunistic radicals spread blatant lies designed to work their followers into a frenzy and further their own political agenda.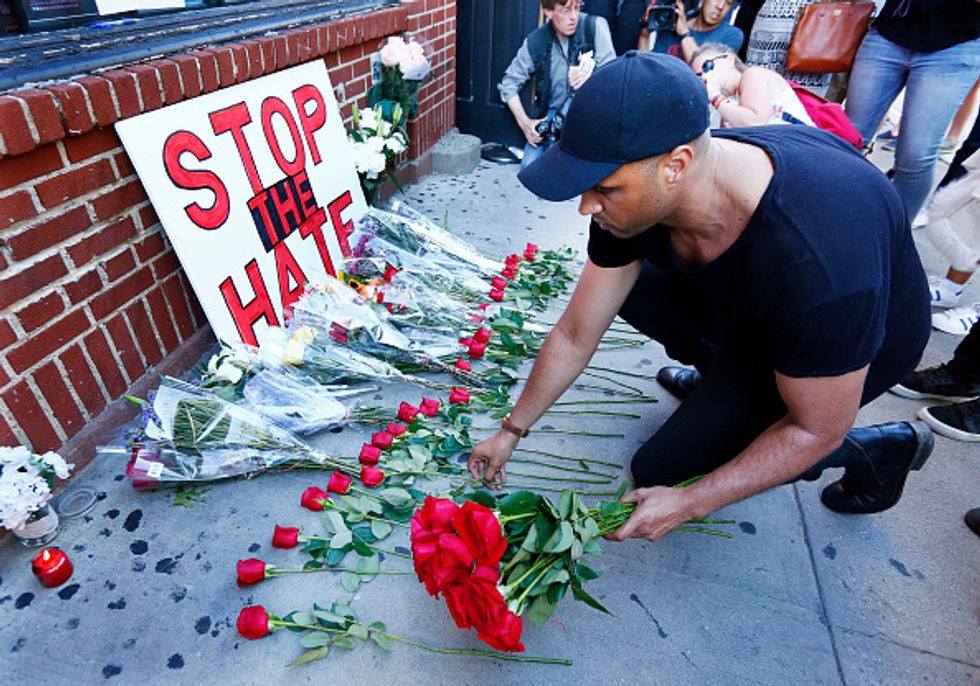 NEW YORK, NY - JUNE 12: A man lays down 50 roses to honor each victim of the gay Orlando night club shooting as people gather outside of the Stonewall Inn as a vigil is held following the massacre that occurred on June 12, 2016 in New York City. A gunman who allegedly pledged allegiance with ISIS opened fired in the gay nightclub in Florida killing over 50 people. (Photo by Monika Graff/Getty Images)
These activists have targeted Liberty Counsel and other Christian and pro-family groups in a smear campaign designed to demonize us and advance their own self-interest. As a Christian attorney and president of this Liberty Counsel, an international nonprofit litigation, education and policy organization founded in 1989, I am no stranger to controversial issues. We never shy away from asserting the truth and advocating for our clients, but we do not denigrate the character and dignity of people in the process.
Unfortunately, some people are using the tragedy in Orlando to promote their own political agenda. To do so they have to lie and twist the facts. The Advocate, Patheos, Equality Florida, and others have attributed statements to me that I have not made – feeding blatant lies to public.
A chain of lies has been created with sensational and false headlines such as "Conservative Christian Lawyer Issues Death Threat," first posted by the Patheos atheist website and blindly repeated as true by others in online blogs, on Facebook and Twitter.
Some activists like Nadine Smith of Equality Florida, have irresponsibly claimed in public that Liberty Counsel is to blame for the brutal attack in Orlando. Smith has to know better. But she unashamedly spreads false and defamatory statements evidently taken from atheist and gay websites. Equality Florida then quoted her as claiming that Liberty Counsel said take a gun into the bathroom because of transgenders inside, and that such a statement feeds the violence in Orlando. We made no such statement.
Misquoting a tweet I made in early May, lies posted by our opponents irresponsibly claim that I threated to kill transgendered people. I posted on Twitter about boycotting of Target over its bathroom policy. Fresh from self-defense training with a rented Glock .45 and en route to a Wal-Mart in Oklahoma, I tweeted: "I'm taking a Glock .45 to the ladies' room. It identifies as my bodyguard," adding the trending topic "#BoycottTarget." I quickly followed up with another tweet, pointing out that I am concerned about protecting myself from men (not transgenders) who abuse these policies to gain access to women.
As I further explained in my Washington Times commentary on the issue, my tweet was based on a concern for women's safety, as a victim of attempted sexual assault by strangers.
But publishers of the lies about Liberty Counsel ignore the truth. They know that their stories will spread throughout the internet, while they hype up their respective audiences.
Using this time of deep national grief to spread lies and promote political agendas is shameful and must stop. Raw emotions leave people vulnerable to the rhetoric of these activists who want to demonize those with whom they disagree.
As an American sickened over the gruesome killings, I'm appalled that activists would use this tragedy to denigrate others and further their own agenda. Every human life is precious and worth defending. While we may disagree on issues, we should respect each other and be truthful in our statements.
After 9-11 we prayed for everyone in New York and stood together as Americans. That attack happened in a corporate office building, but no one singled out the "capitalistic community" as in need of support. Yet radical activists are turning the Orlando terrorist attack into a political issue to for the "LGBT community." Stop dividing us into discrete segments.
Don't let anyone turn this time of shared grief into a time of divisiveness. Activists need to stop their political posturing, irrational blaming and outright lies.
Let us focus on what unites us all as freedom-loving Americans. We may disagree on issue of conscience, but we can stand in solidarity as freedom-loving people. An attack on one of us is an attack on each of us: #PrayForOrlando
Anita Staver is President of Liberty Counsel, and also serves as a director of Liberty Counsel Action. Anita is a member of the bars of Florida and the District of Columbia. Her legal practice before the U.S. Supreme Court and numerous federal courts has resulted in more than 40 published opinions. She is admitted to practice before all 12 federal courts of appeals.
–
TheBlaze contributor channel supports an open discourse on a range of views. The opinions expressed in this channel are solely those of each individual author.