While all eyes were glued on the final presidential debate, a lone voice issued a warning about what is really happening in Syria.
Amir Tsarfati spoke on video from his hotel room in Rome, Italy where he is scheduled to speak later this week at Calvary Chapel.
Tsarfati, according to his Behold Israel website, was born into a Jewish family in Jerusalem and was a former member of the Israel Defense Forces. He became a Christian when he saw the "Jesus" film by Campus Crusade. Since 1999 he has spoken at churches, prophecy seminars and conferences around the world, teaching on current events in Israel in light of Bible prophecy.
He indicated that "The spokesman of the Norwegian Military Intelligence just reported that basically a spy aircraft detected movement of a huge Russian aircraft carrier" with "15 jets and 10 helicopters about two and a half days ago" off the coast of Norway. Included with the carrier, according to Tsarfati, were other Russian warships.
The sighting of the Russian fleet off the coast of Norway, heading for the eastern Mediterranean was also confirmed by Maj. Elisabeth Eikeland, spokeswoman for the National Joint Headquarters in the Norwegian army.
Eikeland indicates the carrier was the Admiral Kuznetsov and that seven other vessels accompanied it.
Tsarfati went on to point out that this is "The largest naval deployment of Russian vessels since the Cold War on the coast of the Mediterranean."
"The largest international presence ever," he concluded.
"Putin is tired of Aleppo…he is determined to break Aleppo to pieces," Tsarfati gave as the reason for the Russian military presence.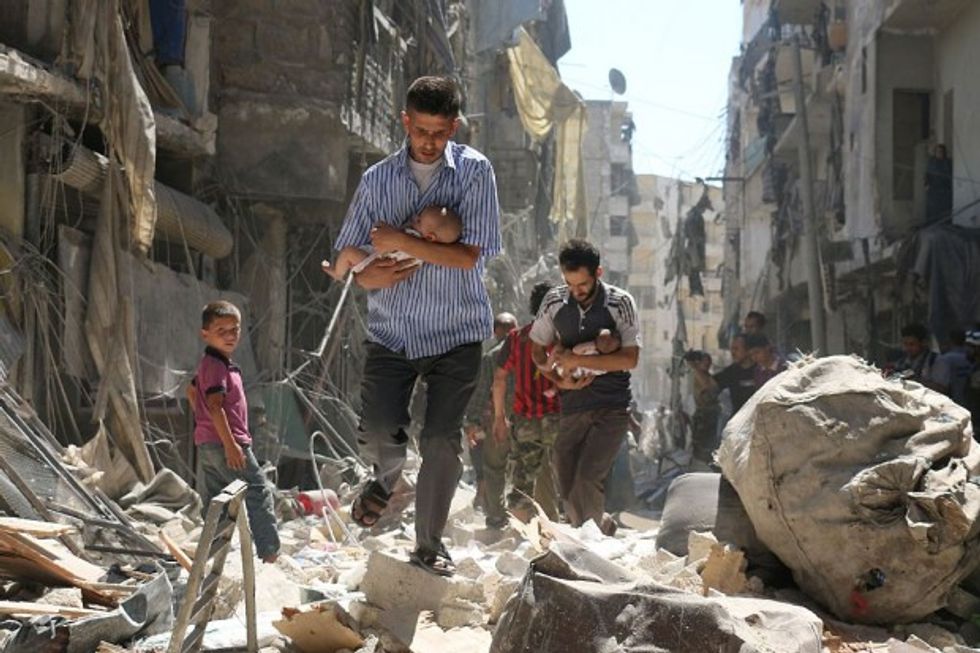 Syrian men carrying babies make their way through the rubble of destroyed buildings following a reported air strike on the rebel-held Salihin neighborhood of the northern city of Aleppo, on Sept. 11, 2016. (Getty Images/AMEER ALHALBI)
Russia on the other hand recently announced that the Soviet-era carrier is merely being sent to reinforce Moscow's military presence in the area but gave no indication that it had its sights set on Aleppo.
Donald Trump was the only one to voice his opinion about the United States' involvement in Syria during the final debate.
According to Trump, Aleppo is a "humanitarian nightmare." He concluded that the U.S. would have been better off he it had "done nothing" in Syria.
Hillary Clinton had no comment specifically about Aleppo.
French President Francois Hollande and German Chancellor Angela Merkel have both denounced Russia's assault on Aleppo and have threatened to impose sanctions on Russia.
"What is happening in Aleppo is a war crime; one of the first demands is that the bombardments by the regime and its (Russian) backers must end," Hollande said.
Merkel concluded the air raids on Aleppo were "inhumane and cruel."
If Tsarfati is right about why the Russian warships are headed to the coastal Mediterranean, what bigger "nightmare" may actually await Aleppo and even neighboring Israel?
Tsarfati believes that ultimately Russia and its allies will attack Israel because of the natural gas and oil, "the hook," that will bring Israel's enemies in to capture the resources from the Golan Heights.
He describes Russia's leader Vladmir Putin as "Gog, the Prince of Rosh from the land of Magog" as referenced in the Bible in Ezekiel 38. Tsarfati believes that an attack on Israel by Russia and those aligned with it is "So close, vivid and real."
However, Tsarfati says that America does not need to worry about being attacked by Russia. He claims that Russia just doesn't want America to interfere with what it's doing in Syria.
While everyone else seems to be talking about Syria and Israel, Clinton, the Obama administration and the mainstream media appear to be strangely silent about the latest development regarding the Russian warships heading into the area.
The last "official" word was that President Barack Obama was expected to meet soon with his top foreign policy advisers to consider military and other options as Syrian and Russian aircraft continue to pound Aleppo and other targets.
Depending on how long it takes for Obama to make a decision, hopefully there will still be an Aleppo to protect.
–
TheBlaze contributor channel supports an open discourse on a range of views. The opinions expressed in this channel are solely those of each individual author.