"I could just kill myself. I'm going to shoot myself."
We hear people say these statements in everyday life and most think nothing of it. But to survivors of suicide, it's no joking matter.
Last week a mug sold by an Amazon vendor bearing the words "Got Suicide?" resulted in a petition calling for a boycott against the Seattle-based conglomerate for allowing the listing. Yet, with more than one vendor selling these items coupled with the concept of free speech, how would Amazon set boundaries on such sensitive issues?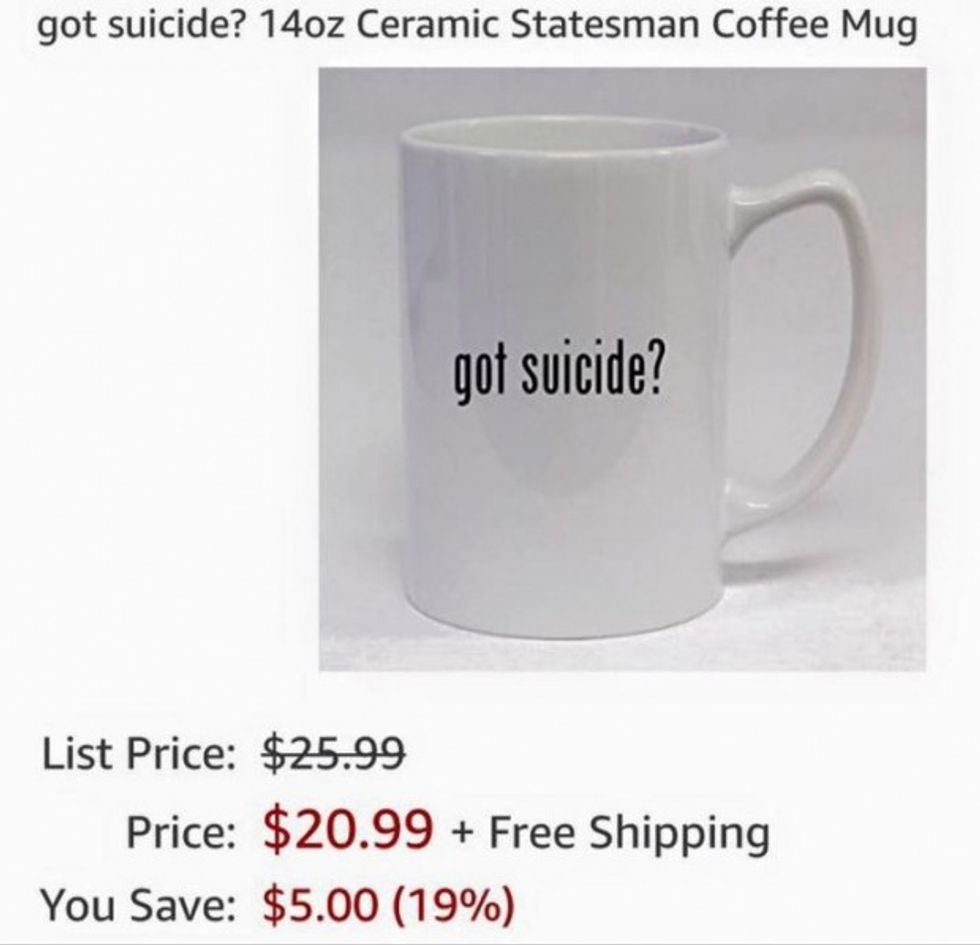 Suicide is not a punch line. (Lynda Cheldelin Fell)
Shockingly, multiple vendors are guilty of selling variations of that same mug. And the products they offer are offensive to other humanitarian issues as well. The mug stating "I'd rather be trafficking," is just as alarming as a mug stating "Got Suicide?" Yet Amazon's Examples of Permitted and Prohibited Listings fail to include items that promote the very issues thousands are working hard to stop.
In all fairness, Amazon removed the offensive "Got Suicide" mug in response to the boycott petition. Yet the same vendors continue to sell the trafficking mug, and a "Got Self-Homicide?" 20-ounce white water bottle.
Every year over 40,000 Americans die by suicide, and for each death over 100 are profoundly affected. And that's just in the United States alone. On a global level, the math is staggering.
And the fallout is devastating. According to Suicide Awareness Voices of Education, suicide is the 10th leading cause of death in the United States in all age groups. According to the American Foundation for Suicide Prevention, the economic cost of suicide death in the United States in 2010 was estimated at more than $44 billion. With the burden of suicide falling most heavily on adults of working age, the cost to the economy results almost entirely from lost wages and work productivity, making the overall cost to our country incalculable.
Human trafficking, a global threat to both men and women, is a form of modern slavery encompassing sexual and labor exploitation. According to statistics compiled by the Polaris Project, over 20 million people are trapped in some form of human trafficking. Affecting people of all ages, the International Labor Organization estimates that the industry yields a $150 billion profit worldwide.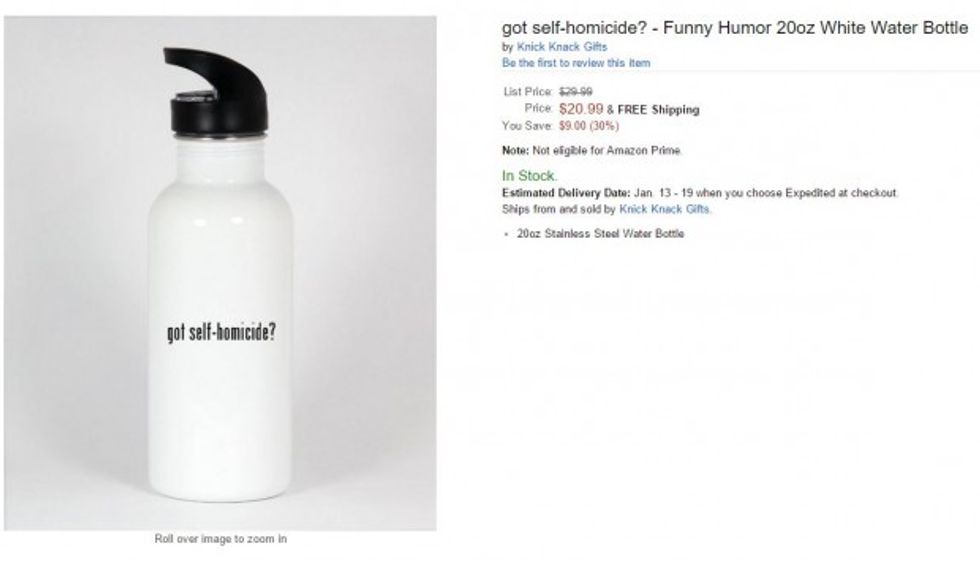 Unscrupulous vendors use Amazon to sell items promoting human suffering. (Lynda Cheldelin Fell)
Why would any vendor sell items promoting such human suffering, and why would Amazon allow it?
Amazon has a global reach that has set new standards for how consumers spend money. Their vendor program allows small businesses to stand alongside the big boys and, more importantly, put food on the table for thousands. For this reason, I won't be among the petition signers. Yet a quick scan of the Prohibited Seller Activities and Actions reveal nothing about humanitarian violations.
While Amazon isn't responsible for societal plights, according to Amazon's Restricted Products page, "Products offered for sale on Amazon.com must comply with all laws and regulations and with Amazon's policies. The sale of illegal, unsafe, or other restricted products listed on these pages, including products available only by prescription, is strictly prohibited. We take product safety and these restrictions very seriously." Amazon further states, "The sale of illegal or unsafe products can also lead to legal action, including civil and criminal penalties."
Instead of boycotting Amazon and taking bread and butter away from the small mom and pop businesses dependent upon the marketplace's vast reach, I propose that social media boycott the individual vendors who misuse the marketplace to sell such wares. Further, Amazon can create a Report Humanitarian Violations button, allowing the public to help police vendors who support illegal and degrading activity by flagging the highly offensive items. If a vendor receives three or more strikes against them, ban them from vending permanently.
Am I being too sensitive? I don't think so. Human trafficking is an illegal activity. Suicide is a public health crisis. Amazon encourages us to report listings that violate Amazon's policies, ensuring that they will investigate each report thoroughly and take any appropriate actions.
Amazon, let's work together. On behalf of millions, I'm reporting all vendors hocking offensive merchandise that exploit suffering right now. Just as soon as you create that Report Humanitarian Violations button.
–
TheBlaze contributor channel supports an open discourse on a range of views. The opinions expressed in this channel are solely those of each individual author.