President Barack Obama took his case for the Iran nuclear agreement to Washington University on Tuesday. The applause and adoration from the student audience was for his cleverness. Even they must have noted the distortions and lies.
He opened the discussion by blaming President George W. Bush, of course.
"When the Bush administration took office, Iran had no centrifuges…"
He then took credit for finally stopping Iran's enrichment program by negotiating the interim agreement.
"The progress of Iran's nuclear program was halted for the first time in a decade…the deployment of its advanced centrifuges was stopped."
None of that is true.

Credit: AFP/Getty Images 
According to a report by Institute for Science and International Security, Iran has continued research and development on new and better machines and its stockpile has grown throughout the course of the negotiations.
As to the question of Iran's compliance the president assured the students.
"There will be 24/7 monitoring of Iran's key nuclear facilities."
That applies only to the sites that Iran has listed and approved for inspections. For sites that are not on Iran's approved list, access is negotiated and could take months.
As I write this, Iran is refusing access to inspectors under the terms of the agreement that they signed just 21 days ago. Not a good beginning.
If Congress fails to approve the deal the president warned "Congress' rejection would almost certainly result in multi-lateral sanctions unraveling."
So, opposing the deal would allow sanctions to unravel. If that is bad, how is it better to support the deal and end sanctions immediately?
Even worse, if Congress fails to support the president it would lead to war.
"So let's not mince words. The choice we face is ultimately between diplomacy or some form of war."
For seven years we have been told that there are only two options to choose from in any disagreement with this president. You must either agree with him or you are for war.
That old and tired cliché leads one to conclude that this president can no longer be taken seriously.
Nor should we take seriously, according to Obama, the provocative chant by Iranian hardliners of "Death to America."
"That is not what all Iranians believe," he said.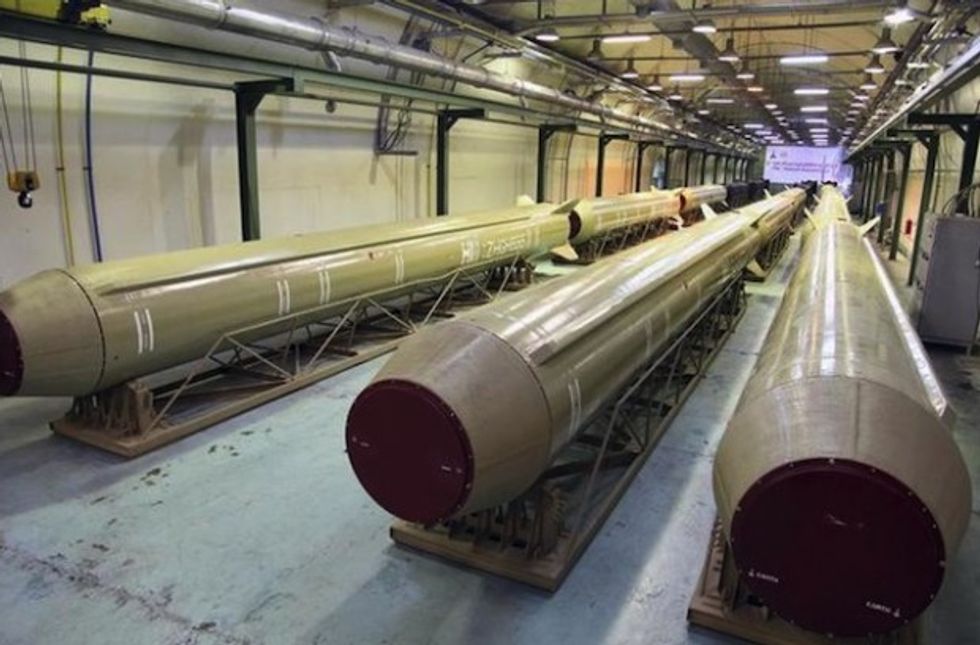 This photo released on Wednesday, March 5, 2014 by the Iranian Defense Ministry, purports to show Qadr and Qiam missiles in an undisclosed location in Iran. (AP Photo/Iranian Defense Ministry) 
That is true. The only Iranians who actually seek death to all Americans, not to mention the Jews, are the Iranians with whom he just inked the deal.
The leader in those chants was Iran's Supreme Leader Ayatollah Ali Khamenei who has just published a book that discusses how to destroy Israel and outsmart the U.S.
Finding empathy with the Iranian people, the president noted that:
"The majority of the Iranian people have powerful incentives to urge their government to move in a different, less provocative direction, incentives that are strengthened by this deal. We should offer them that chance. We should give them the opportunity."
Actually, they had that opportunity. It was in August of 2009 when they rallied in the streets in opposition to the tyrannical rule of the Ayatollah. They looked to America's new president for moral support. He looked the other way.
"For the last couple of weeks," the president said. "I have repeatedly challenged anyone opposed to this deal to put forward a better, plausible alternative. I have yet to hear one. What I've heard instead are the same types of arguments that we heard in the run up to the Iraq war. 'Iran cannot be dealt with diplomatically.' 'We can take military strikes without significant consequences.' 'We shouldn't worry about what the rest of the world thinks. Because once we act, everyone will fall in line.' 'Tougher talk, more military threats will force Iran into submission.' 'We can get a better deal.'
As is typical of Obama's sophomoric political suasion, of those five quotations, the first four are manufactured by Obama.
As to the final one there is overwhelming agreement. We can get a better deal.
The president closed by appealing to our patriotism.
"If Congress kills this deal, we will lose more than just constraints on Iran's nuclear deal or the sanctions we have painstakingly built. We will have lost something more precious. America's credibility as a leader of diplomacy. America's credibility as the anchor of the international system."
What credibility? America's credibility has been purposefully squandered over the past seven years in Iraq, Afghanistan, Pakistan, Yemen, Sudan, Egypt, Libya, Syria, Jordan, Ukraine, Saudi Arabia, NATO and the United Nations.
To set the tone for the coming debate, the president ridiculed his opposition, "Before Congress even read it, a majority of Republicans declared their virulent opposition."
He might have noted that parts of the agreement are being kept from Congress. Indeed, two side agreements were off limits to his lead negotiator who did not get to read them either.
What could possibly go wrong?
–
TheBlaze contributor channel supports an open discourse on a range of views. The opinions expressed in this channel are solely those of each individual author.