Russia and the U.S. have agreed to a ceasefire plan for Syria, but who really are the winners and is such a ceasefire in the U.S. national interest? Is it in the interest of our allies?
It was just two weeks ago that an earlier attempt at a ceasefire was dead on arrival. Consequently, this ceasefire, which calls for steps toward a more lasting arrangement and institutes a temporary truce effective at midnight on February 27, is being criticized as "pure fantasy" not only by writers at Al Jazeera and The Wall Street Journal but also by senior U.S. government officials.
The most important part of this ceasefire, like the rules of any game, is who gets to play. Will each of the estimated 1,500 independent militias in Syria sign on? The ceasefire recognizes existing state actors, including the Bashar al Assad regime, but excludes terrorist organizations such as Islamic State and the Al Nusra Front. It is the ephemeral nature of the definition of "terrorist" that will allow Damascus to continue to target the opposition, including the so-called "moderates" that the U.S. would like to see succeed Assad.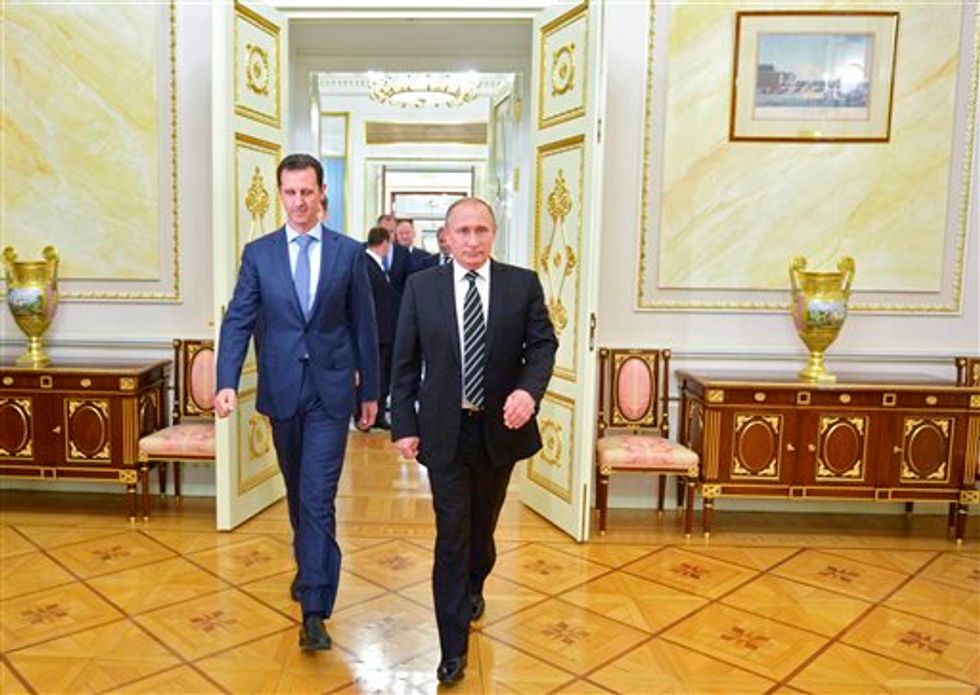 In this photo taken on Tuesday, Oct. 20, 2015, Russian President Vladimir Putin, right, and Syria President Bashar Assad arrive for their meeting in the Kremlin in Moscow, Russia. (Alexei Druzhinin, RIA-Novosti, Kremlin Pool Photo via AP)
Who wins in this ceasefire? It is hard to imagine how the U.S. can consider this a strategic or diplomatic victory, unless Secretary of State John Kerry is deluding himself into believing he can finally earn his Nobel Peace Prize by bringing peace to Syria. Remember, Kerry already applauds himself for the victory of getting rid of the regime's chemical weapons stockpile (at taxpayer's expense) in 2013.
However, the real "victor" in 2013, as declared by Syrian official Ali Haider in an interview to Russian media, was Damascus. This was "a victory for Syria won thanks to our Russian friends… On the one hand, they [the agreements] will help Syrians come out of the crisis, and on the other hand, they prevented the war against Syria by having removed a pretext for those [i.e. the U.S.] who wanted to unleash it."
So who wins today? Let's consider the players.
In the 2016 ceasefire, just as in the imbroglio over chemical weapons, Syria wins. The Assad regime's position is reinforced as the only real authority in Syria and as a durable neighbor for Jordan, Turkey, and Lebanon. The ceasefire allows Syria, with help from Russia, to continue to target "terrorists." This ceasefire strengthens the hand of the Assad regime and undercuts the fractured opposition.
Because Russia has decided to play such an active role in supporting Syria, it clearly is a winner as well. Not only has it demonstrated, to a watching world, its commitment to its client in Damascus, but it has also once again demonstrated its bold political will. Vladimir Putin's Russia has pushed hard on Syria and Ukraine and has saber-rattled along its many borders, with little negative effect. The situation has increased Moscow's influence in the region at the same time the U.S. appears weak.
Unfortunately, U.S. reluctance to hold its nose and consider a deal with Assad is making it increasingly more difficult to find some common ground with Russia. In fact, The Wall Street Journal reports a hardening of attitudes against Russia at the Pentagon and CIA. However, as I have argued previously in TheBlaze, Russia's aggressive behavior has been empowered by the vacillating character of the Obama administration. One can only wonder if America's wobbly foreign policy will push Moscow and Beijing, our long-term adversaries, closer over time.
What of U.S. allies? The things that continue destabilization and increase refugee flows hurt America's allies. CNN's Frida Ghitis rightly argues that Russia is taunting Turkey by buzzing its borders, daring a Turkish response, while provoking Ankara with outreach to Syrian (not Turkish) Kurds. The fact that the U.S. still has not publicly called for an independent Kurdish state, after 25 years, while the Russians have welcomed a formal Syrian Kurdish diplomatic presence in Moscow, is unsettling to Turkey and it should—for different reasons—unsettle the Kurds' oldest Western ally.
In the same essay, Ghitis argues that by escalating the conflict, Moscow is propelling more desperate immigrants to Europe, causing further disruption and unrest because none of those immigrants is heading toward the Russian Federation. The European Union and NATO are almost overwhelmed by year's of poor economic performance on the Continent and now the multidimensional refugee crisis. Europe loses.
America's traditional allies in the region, such as Israel and Saudi Arabia, would like to see a stabilizing peace deal, but this is not it. Indeed, they see this deal contextually: during the Obama era, the U.S. left fragile Iraq prematurely, the U.S. refused to take Islamic State seriously for years, the U.S. refused to bomb Islamic State military convoys and petroleum caravans for years, the U.S. brokered a nuclear deal with Iran that unleashes tremendous financial resources for Tehran, the U.S. could not sway NATO-member Turkey to get involved earlier, the U.S. president has slighted key leaders like Prime Minister Netanyahu and Egypt's President Sisi…
The U.S. is not winning. In fact, at best the ceasefire is a breather for the participants and at worst its failure pushes even further off a pragmatic agreement.
So, what would a policy in the U.S. national interest look like? It would start with recognizing the power realities on the ground in 2016 and seek a negotiated settlement that would, at a minimum, contain Islamic State within a narrowly-defined Sunni territory. The U.S. would support efforts, primarily led by Sunni Arabs, to contain and ultimately destroy Islamic State within a rump Iraqi Sunni homeland (e.g. an expanded al Anbar). In 2016 the U.S. must work with authentic powers in the region, including Russia and Syria, to seek a long-term order that includes a Kurdish state and protects our key allies like Turkey, Israel, Jordan, and the Gulf States. The goal should be stable regimes in a stable neighborhood rather than failing regimes in a dangerous neighborhood exporting violence, extremism, and impoverished refugees.
Eric Patterson, Ph.D. is Dean of the Robertson School of Government at Regent University in Virginia Beach, VA. He is the author or editor of numerous books, including Ending Wars Well and Ethics Beyond War's End.
–
TheBlaze contributor channel supports an open discourse on a range of views. The opinions expressed in this channel are solely those of each individual author.