You've heard this kind of argument before: "With all the suffering around the world, how can you spend thousands of dollars on … Fill in the blank."
The expenditure getting condemned can be something as lofty as restoring a historic church, or as pedestrian as saving a 16-year-old beagle by removing her diseased gall bladder. But chances are good that if someone finds out you're spending the money which you honestly earned on something that he doesn't think is important, he will argue against it by pointing to "the starving children in ________."
There are obvious comebacks of course. When your spending adds to the glory of God, there's the ready scriptural answer cited by Fulton Sheen. He noted that just one apostle objected when the precious oil was poured over Jesus' head, instead of being sold for the sake of the poor. It was Judas. So much for the idea of pawning St. Peter's Basilica to the Saudis, to raise more cash for nongovernmental organizations.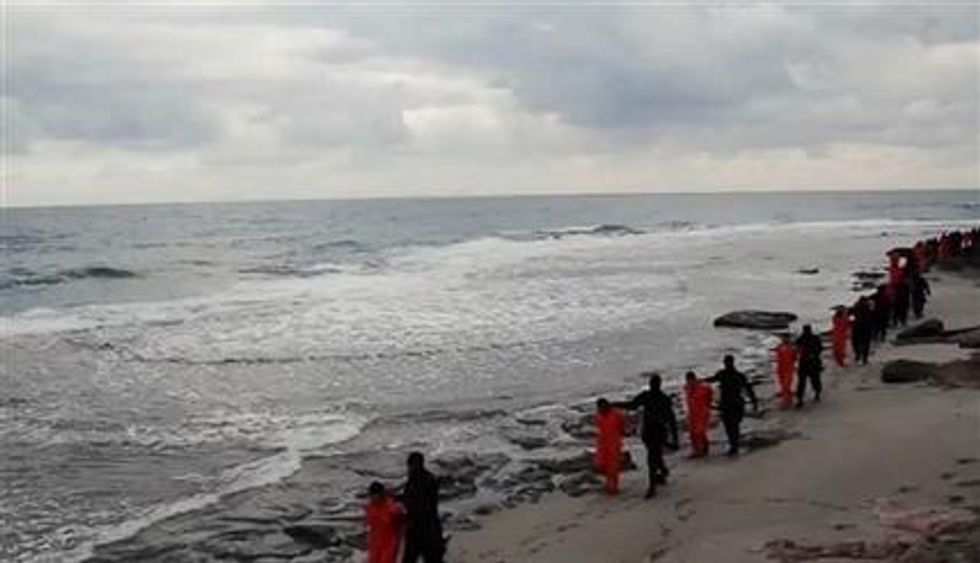 In this file image made from a video released Sunday, Feb. 15, 2015 by militants in Libya claiming loyalty to the Islamic State group purportedly shows Egyptian Coptic Christians in orange jumpsuits being led along a beach, each accompanied by a masked militant. Libya, virtually a failed state the past years, has provided a perfect opportunity for the Islamic State group to expand from its heartland of Syria and Iraq to establish a strategic stronghold close to European shores. (AP Photo, File)
Also, unless the scold who's pestering you is a mendicant friar or a missionary, chances are good that he, too, spends money on items that starving people might consider outrageous luxuries. You can point to his iPhone, high-end eyeglasses or preference for pricey organic food, then apply the hypocrisy test. It won't convince him, but then he probably wasn't open-minded to begin with. Make a mental note to steer clear of this person. Facebook and Twitter have "Block" buttons for a reason.
Taking an interest in other people's financial priorities and discretionary spending is not an especially Christian thing to do. It smacks of the sin of envy, which suggests that it's okay to covet your neighbor's wealth, so long as your daydreams about how you would spend it pertain to "unselfish" projects. "If I only had his salary, I'd give a lot more than he does to the needy. Why does God grant wealth to greedy people like him, instead of altruistic souls like … me?"
The point is that God didn't grant this other person's wealth to you (or you didn't work hard enough to earn it), and you are not its steward, so put it out of your mind. You have no more business fantasy-husbanding your neighbor's goods than you do fantasy-husbanding his wife.
We all know that man does not live by bread alone, and that people need leisure, play, beauty and a long list of other things. We look to our own real needs and those of our families before dispensing charity to deserving, needy strangers. We cannot be like Charles Dickens' infamous character Mrs. Jellyby, who used her children's milk money to purchase … milk for foreign missions. We should not feel guilty about having another child, because "there are so many kids already out there whom I could adopt."
With all of that said, I'm going to risk sounding like one of the very buddinskys whom I've just criticized. I'm going out on a limb to say that I wish people would not spend thousands of dollars saving a snowman from melting, but would send it instead to the persecuted Christians and Yezidis, who are hiding on Mt. Sinjar from Islamic State, which wants to kill them.
I really don't mean to preach here. Other people have a right to their own priorities. And people are meeting their own real need for leisure by pretending to care about whether a snowman melts, and sending money to move him to colder climes. They are having a laugh, and making fun of themselves. They're being simply and innocently playful. Those are all important, God-given things. I get it.
By contrast, it's exhausting to work with the persecuted. Just yesterday, I helped an Iraqi Christian leader write about how her family has suffered — how her great-grandfather, a priest, was murdered by Muslim neighbors, tied to his own horse and dragged to death. Then his son was cut into pieces, and the body sent home in a rice bag. Then another relative was shot dead by his Muslim servant. By the time I was done with the column, I felt as if I had been drained of two pints of blood.
What happened in 1915 is occurring again today, as Islamic State strives to purge the region of "unbelievers." The Iraqi Christian Relief Committee is flying food, medicine, clothes and other supplies to Assyrian Christians, Yazidis and others whose lives hang in the balance. I hope that you will go learn about their work, that you'll see the pictures of children playing, praying, looking into the camera with the reckless, groundless hope that each of us born with, which tells them they will have a future. That someone will step in and protect them from the men in the black ski masks. And I hope that you'll help them.
But I totally understand if after you do, you'd rather think about the snowman. Those children would rather think about him, too.
–
TheBlaze contributor channel supports an open discourse on a range of views. The opinions expressed in this channel are solely those of each individual author.