The swing state of Colorado is back in play for the 2016 presidential elections after grassroots activists overthrew the establishment GOP chairman earlier this month in an upset election, handing the power of the state's Republican Party back to the people.
After several years of bruising losses regarding the governor's office (twice), a majority in the state legislature, a referendum on marijuana legalization, and the presidential election in 2012 (where Romney fared 14 points worse than George W. Bush) rank-and-file GOP'ers decided it was time for the status quo to go.
Rightfully so.
During the 2014 midterm elections as the rest of the nation experienced a national GOP wave sweeping the country, the momentum stopped at the Rocky Mountains.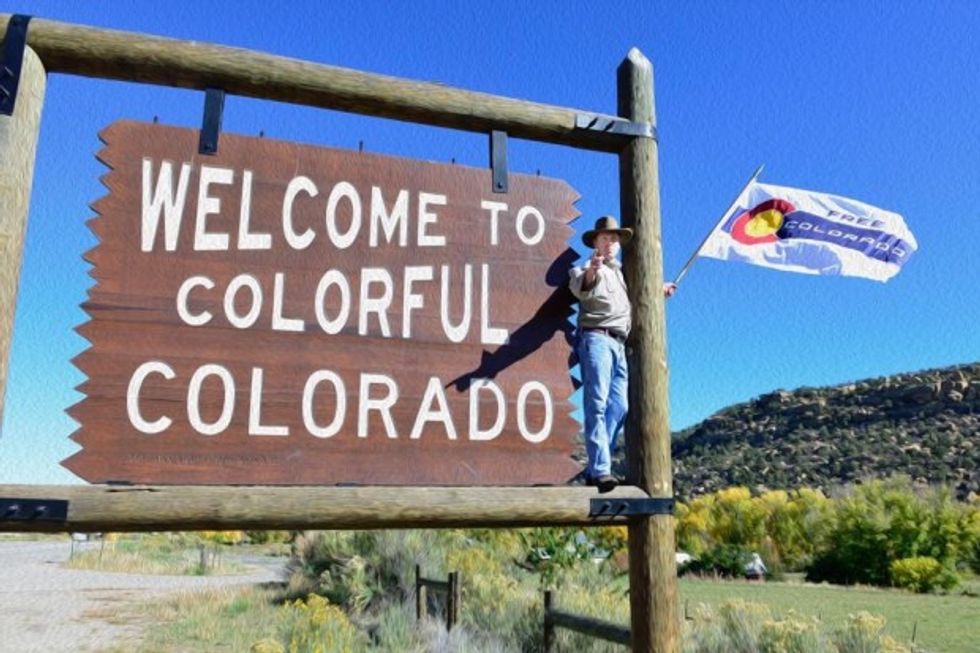 Activist and Colorado recall founder Tim Knight in 2014 atop a welcome sign at the Colorado state line. Since Knight became active in politics just two years ago, he and like-minded activists have removed three top Democrats from office, helped defeat a billion-dollar tax hike, and toppled a State GOP chairman. (Judson Crossland )
As GOP governors won a record number of states, the Colorado GOP failed to take down vulnerable democratic Gov. John Hickenlooper even after he had cozied up to former New York Mayor Michael Bloomberg, even after he had punted on a death row decision, and even after he had bottomed out in the polls in 2013 following a backlash over his party's gun control agenda.
As news of the 2014 midterm election results arrived in Washington, D.C., there was little talk of Colorado beyond Sen. Cory Gardner's (R-Colo.) win, and national leaders focused instead on the likes of Sen. Joni Ernst (R-Iowa) and Sen. Tom Cotton (R-Ark.) as rising stars from key states which may be valuable in 2016.
It seemed Colorado was all but out of the running - until activists began grumbling about their State's GOP leaders and decided to take matters into their own hands.
Many of the same activists had already fought gun control in the state, recalled the first two state officials in 140 years of state history and forced a third official to resign under the threat of recall. After the recalls, many of them had also helped defeat the powerful teachers' unions by trouncing a billion-dollar tax initiative at the ballot box.
Taking down a milquetoast GOP chairman seemed worth a try.
Over the next several weeks, a state for which the term "battleground state" was invented became grounds for internal battle as liberty-minded Tea Party types fought back against political bosses for future control of their party, the state of Colorado, and dare I say the future of our nation.
Citing failed election results at the Colorado GOP's hands in 2010, 2012 and 2014 - as well as the party's failure to support populist measures such as the Colorado recalls in 2013 - grassroots activists threw the establishment out with more than 400 delegate votes in a convincing 57-43 percent margin.
Free at last.
The capture of the state party liberates activists and county chairpersons to work together collaboratively for victory instead of being pitted against one another as they have been in the past. It allows local party leaders to support candidates that have more appeal and energy among volunteers and critical voters who have been sitting it out over the last decade. And while it's early it may also help incoming GOP chairman Steve House, a successful businessman, signal a new era in his fundraising pitches.
In a state where Republicans have suffered low morale after Democrats successfully executed "The Blueprint" - through which they flipped Colorado from a longstanding red state to blue - there is now hope among Republicans that they can flip the state back to red in 2016.
That is good news not only for Coloradans, but also for Republicans nationally.
Ken Clark, a grassroots leader and talk radio host on Denver's 560 KLZ on TheBlaze radio network, said the latest development is indeed a game changer.
"The power of the grassroots here when everybody pulls together is remarkable. Returning power to the people is what our forefathers intended, and it can have a ripple effect. Many people had written Colorado off, and understandably so, but we are back," said Clark. "The grassroots wouldn't give up on our state and neither should anyone else."
–
TheBlaze contributor channel supports an open discourse on a range of views. The opinions expressed in this channel are solely those of each individual author.