Under the current TV Content Ratings System, children are often exposed to graphic content that their parents view as inappropriate, offensive and even harmful, according to a nonpartisan group of concerned citizens.
The ratings system, which was set up to inform parents about the content of television programs, has failed in its mission to protect young, impressionable viewers and is in desperate need of reform, they argue.
So what gives? Doesn't the V-chip provide parents with sufficient protection against programming that includes explicit images of sex and violence?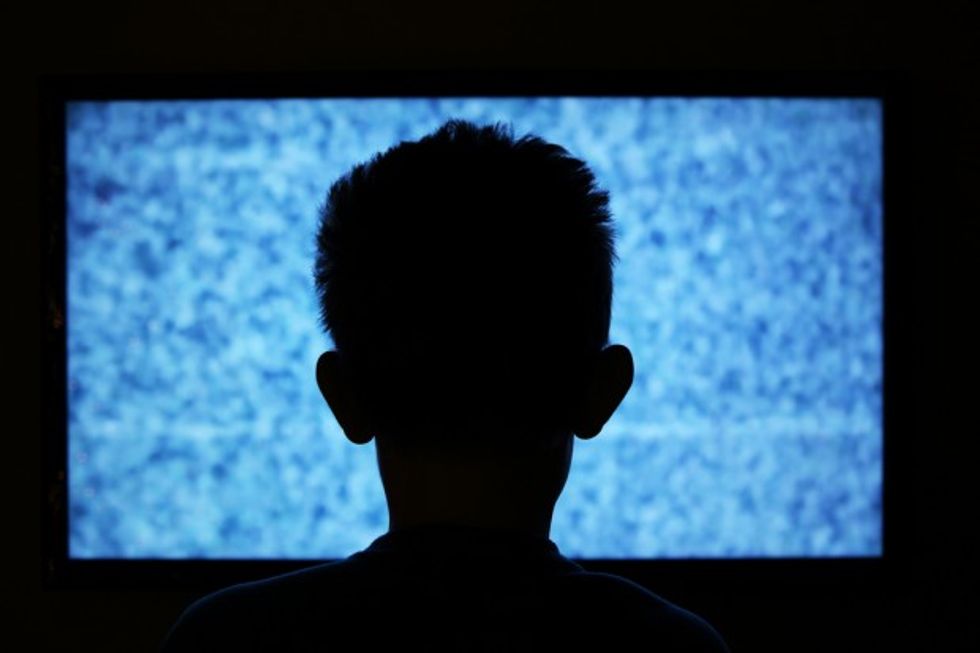 Image via Shutterstock 
Unfortunately, the people responsible for applying the ratings are beset with a conflict of interest that "renders the V-chip worthless." That's what Tim Winter, president of Parents Television Council, told Chris Dodd, former senator and current president of the Motion Picture Association of America, in a letter dated April 26, 2016.
Here's the problem: A majority of corporate advertisers are not inclined to advertise on television programs that are rated for Mature Audiences Only (TV-MA), Winter explained in his correspondence with Dodd. Consequently, networks have a financial incentive to see explicit programming mislabeled as appropriate for children.
Even worse, The TV Parental Guidelines Monitoring Board, which is the very entity responsible for applying the ratings, is populated with many of the same network executives "who routinely rate programming inaccurately," Winter wrote. The board, commonly known as TVOMB, was established by the FCC to ensure the accuracy and integrity of the monitoring system. But because its operations are shielded from the public, the board is largely unaccountable to anyone beyond its own membership, PTC critics charge.
"We need to have a publicly approved ratings system and the best way to do this is with a public hearing," Winter said in an interview. "The whole system has been shrouded in secrecy since its origins 20 years ago. If there is any kind of complaint or concern, the very same people who made the wrong call on ratings to begin with then decide what is correct and what is not correct. The public is not invited into the process and most members of the public have no idea the board even exists."
The FCC report that created the TVOMB calls for a rotating chairman and 23 other members. There are six members each from the broadcast television industry, the cable industry and the program production community. This leaves only five non-industry seats on the board. Dodd, who is also former U.S. senator from Connecticut, is currently the board chairman. In his letter, Winter called on Dodd in his capacity as chairman to hold an open, public hearing to evaluate the current ratings system. This lead to a June 6 meeting between Winter and Dodd in Beverly Hills, Calif.
"Dodd is very cordial, charming man," Winter said. "He agreed on the need for accuracy and the need for improvement, but I could not get him to say he would be willing to stand with me and call for a public hearing."
After the meeting, Dodd did ask the PTC to provide him with recommendations that could be used as the basis for reforms. Winter responded by reiterating his call for a public forum and also asked to Dodd to "include experts [in the ratings process] from across the nation who could publicly and openly bring their unique insights." Winter then asked for Dodd to respond by June 17. Dodd complied with a prompt response, but declined to acknowledge the request for a public forum. He also defended the board's performance in his letter to Winter and informed the PTC president that board conducted a recent survey that showed 96 percent of parents were satisfied with the accuracy of the ratings system.
The full text of Dodd's letter is available here.
An excerpt from Winter's response can be found here and is as follows:
"Thank you for your letter dated yesterday, June 16th. I sincerely appreciate your reply and the additional information you provided. Thank you as well for the heads-up about the soon-to-be-released survey undertaken by the TVOMB. We eagerly await perusing the survey data so that we might understand how 96% of parents are satisfied with the accuracy of the TV ratings. Perhaps only 4% of parents are aware that the networks rate as child-appropriate TV content such as jokes about raping 9-year old girls; or jokes about a school principal sleeping with schoolboys; or nude little boys whose genitals are pixilated; or a woman committing suicide by shoving an icepick into her own eye socket; or a woman's throat being slit so graphically that you see the knife pulled across her neck, with blood pouring such that she drowns in her own blood; or a male cheerleader lifting a female cheerleader into the air, then looking up her skirt and getting hit in the face with menstrual blood; or a reality dating show where, in each and every episode, all participants are nude with genital areas blurred; or the ubiquitous machine-gun slaughter. These examples are not just cherry-picking for PR purposes; rather they are reflective of programming that airs daily, yet is routinely rated as appropriate for children aged fourteen or even younger."
There are four key principles that are currently lacking in the TV Content Ratings System, Winter said. He identified them as:
1) Accuracy 2)Transparency 3) Consistency 4) Public Accountability
"The whole purpose of the ratings system is to provide parents with a notice a head of time of material that may not be appropriate for the children," he said. "They won't know what the show will be until after they've seen it. The warning label is supposed to provide them with fair warning and right now the system is not working."
For more information about the TV Content Ratings System, including the latest research, visit www.ParentsTV.org/RR. Twitter: #TVRatings #RatingsReform
–
TheBlaze contributor channel supports an open discourse on a range of views. The opinions expressed in this channel are solely those of each individual author.