Barack Obama, in addition to being our country's commander in chief, the leader of the free world, our great chief executor, is now, apparently, the world's greatest Boeing spokesman, as well.
In a recent interview with Seattle's King-TV, President Obama said "Other than, maybe, the CEO of Boeing, I don't know anyone who's done more to sell Boeing planes around the world than me."
Interesting.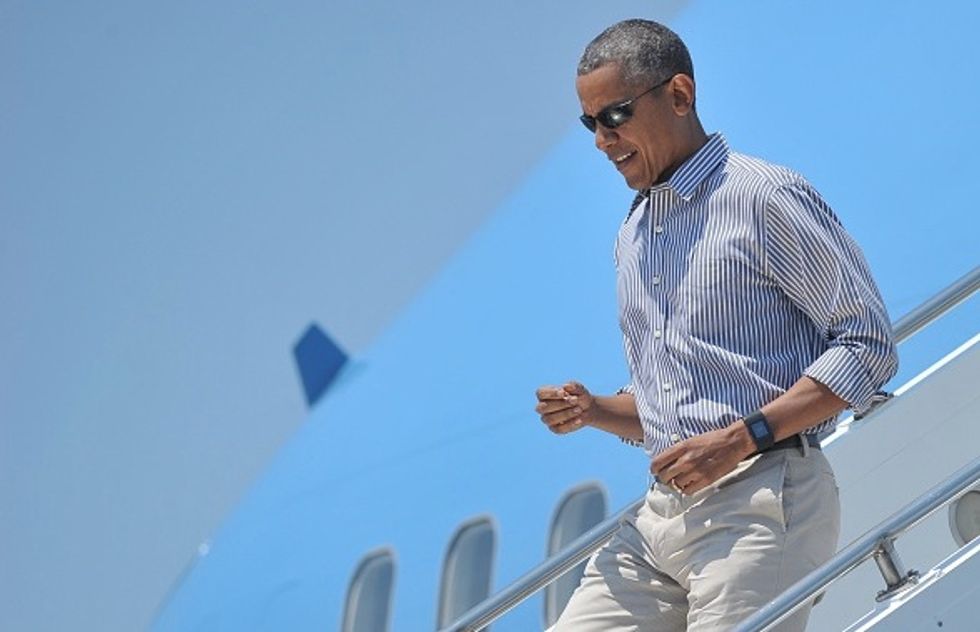 President Barack Obama steps off Air Force One upon arrival at Palm Springs International Airport in Palm Springs, California, on June 20, 2015. (Image source: MANDEL NGAN/AFP/Getty Images)
Might that be why his administration has been pushing so hard for the reauthorization of the United States Export Import (Ex-Im) Bank, which allocates more than 40 percent (or $8 billion!) of its authorizations and 68 percent of its long-term guarantees to Boeing?
Now, should the president of the United States be pushing free and fair trade around the globe? Absolutely. But should the president so blatantly and transparently shill directly for the interests of a single company? Absolutely not.
Ex-Im finances one out of every four of Boeing's airplane sales; the company has been known to write its own rules when it comes to bank regulations affecting their bottom line; and now, it gets some free national advertising as well as the president of the United States as its greatest advocate. If that's not exemplary of corporate cronyism, I don't know what else is.
Without congressional action, the Ex-Im bank is set to expire at the end of this month – June 30 – at which time it would begin to wind down operations, stop taking new contracts, and fulfill its outstanding obligations.
Obama, when serving as a junior U.S. senator, characterized the Ex-Im Bank as "little more than a fund for corporate welfare." However, that hasn't stopped him from openly urging for its reauthorization as president.
"Corporate welfare," indeed. In fact, under the Obama administration, the bank has become a kind of revolving door between bank officials and Boeing, more recently, with the move of Kevin Varney, former chief of staff at Ex-Im, to a cushy director position at Boeing. Obama is doing more than advocate for Boeing, he's filling its board as well.
With the bank's charter expiration date looming, rumors are flying about the potential effects on jobs and our domestic economy. Champions of the bank are waging an ad war – funded largely by the big business lobby, the U.S. Chamber of Commerce – in order to scare Congress into action. Proponents claim expiration would be detrimental.
Except, Boeing has acquiesced that they would be fine without the bank. The Wall Street Journal reported Boeing's announcement that it would be able to provide temporary financing for foreign airlines "caught up in the uncertain future of the Export-Import Bank of the U.S. if Congress fails to extend the bank's mandate before it expires at the end of June." This serves as an admission that they don't, actually, need the Export-Import Bank in order to compete abroad, but that their own finance arm could fill in the gap.
Boeing is not the only company that would be able to self-finance in order to continue exporting abroad. Caterpillar, the second largest beneficiary of Ex-Im loan guarantees, would also be fine should the bank expire, with, too, their own finance arm to mitigate their risk. Interestingly enough, a look into Ex-Im's financing deals show that last summer, the multinational corporation received $15 million in guarantees to finance the sale of equipment to Energyst CAT Rental Power, a subsidiary of Caterpillar Inc. So essentially, Caterpillar received taxpayer-backed financing to export equipment to its own auxiliary, not generally a risky endeavor. Duplicitous financing for corporate conglomerates is not the job of the United States government.
A look at the Ex-Im's allocation of authorizations show that politically-connected companies reap the benefits of the bank, while hurting the rest of the business community with unfair competition. Ex-Im is unnecessary – supporting only 2 percent of total U.S. exports. And these large, multinational corporations that generally benefit, self-admittedly have their own finance arms to leverage risk.
No taxpayer-backed institution should be picking the winners and losers of American companies selling their products around the world. June 30, that's the day — let the Export-Import Bank expire.
–
TheBlaze contributor channel supports an open discourse on a range of views. The opinions expressed in this channel are solely those of each individual author.