© 2023 Blaze Media LLC. All rights reserved.
Dear Donald Trump: Thanks for Highlighting the Problem of Illegal Immigration, Now Go Away
Thanks to his "colorful" slur against Mexican illegal immigrants, Donald Trump is not going to be president. And neither is Ted Cruz.
Donald Trump will not be president. Or the GOP presidential nominee. I'm not convinced he'll even make it to the primaries.
On his way out, though, he'll probably manage to take a few other Republican contenders with him.
Trump has spiked in media attention and the polls after his remarks on illegal immigrants coming in from Mexico:
When Mexico sends its people, they're not sending their best. … They're sending people that have lots of problems, and they're bringing those problems with us. They're bringing drugs. They're bringing crime. They're rapists. And some, I assume, are good people.
The resulting condemnation of Trump has spurred the idea that – because Trump is resonating with many Americans for telling the straight truth about illegal immigration – there's an attempt to destroy him.
Much as every candidate wants to be thought of as a straight-talker who doesn't care what others think of him, most candidates aren't and Trump is no exception. While illegal immigrants crossing from Mexico are all guilty of breaking border laws (and some are breaking other laws, as well), there's no evidence that they're largely rapists and drug-dealers with maybe a good person thrown in here or there. Trump's description is false and derisive and a slur against a large group of people, and he's being justifiably criticized for it.
Alex Wong/Getty Images
No, he doesn't get any redemptive points for pinning that slur to legitimate concerns about illegal immigrants. Yes, it's a real problem that we have so many people coming here illegally (and the answer is not to give them citizenship, or permanent residence, or work permits). But if you can't articulate that problem without resorting to "they're mostly rapists and drug-dealers," then you're not a "straight talker" on the issue and you're a lousy candidate.
It's reminiscent of a stumbling block for the presidential run of Rep. Ron Paul (R-Texas): if your newsletter once called Martin Luther King Day "annual Hate Whitey Day," you might not be ready to run anything bigger (like the Executive Branch of the U.S. government).
Trump's further condemnation has been stayed somewhat by the recent murder of Kate Steinle by Juan Francisco Lopez Sanchez, a several-times deported Mexican illegal immigrant. Coming so soon after Trump's remarks, and garnering so much media attention, the spotlight has moved to the murder and away from Trump's slur.
But the slur is still there, and Trump will continue to have to answer for it, as will everyone else in the GOP field. Some of them, like former Gov. Rick Perry (R-Texas), have done a good job protesting Trump's rhetoric.
Others, like Sen. Ted Cruz (R-Texas), not so much. Cruz refused to criticize Trump's name-calling, instead praising Trump for speaking out on illegal immigration and semi-lamenting his "colorful" way of talking. This was a complete fail on Cruz's part, as Trump was simply wrong to describe good people as being an exception when it comes to Mexican illegal immigrants (and note that "colorful" is the same word used to soft-peddle Al Sharpton's outrageous comments). Cruz's inability to call out Trump's invective will dog him for the rest of his candidacy.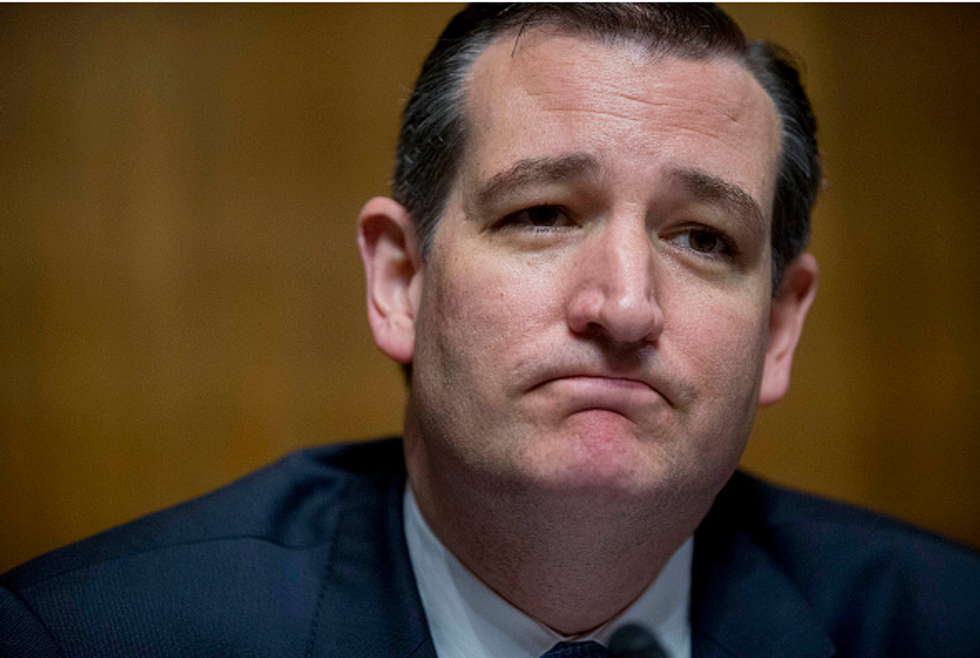 Senator Ted Cruz, a Republican from Texas, U.S. 2016 presidential candidate and chairman of the Senate Judiciary Subcommittee on oversight, agency action, federal rights and federal courts, pauses while speaking during a hearing in Washington, D.C., on Thursday, June 4, 2015. Andrew Harrer/Bloomberg via Getty Images
Outrageous statements haven't stopped people from succeeding in politics, of course. In 2009, President Barack Obama pushed health care reform with an anecdote about a man who died because insurers denied him chemotherapy. The story was shown to be completely false, but Obama got Obamacare anyway, and re-election to boot.
But the rules are different for ethnic or racial slurs, which aren't excused so easily. And the rules are different for Republicans and conservatives, who get far more media coverage for their gaffes. It's not fair, but it's the real world.
Candidates like Trump, who resort to racial or ethnic insults – or who fail to condemn them, like Cruz – are not going to win the GOP nomination, and are just going to sully the nomination process. The media will try to pin Trump's past and still-to-come insults to the Republican Party in general. The other GOP candidates will quickly get tired of having to defend Trump's rhetoric as opposed to discussing their own stance on the issues, and Trump will be pushed out.
The only question is how long this will take, and how many other Republicans contenders will allow themselves to be disqualified by Trump's invective along the way.
He may not know it yet, but Cruz is already one of them.
–
TheBlaze contributor channel supports an open discourse on a range of views. The opinions expressed in this channel are solely those of each individual author.
Want to leave a tip?
We answer to you. Help keep our content free of advertisers and big tech censorship by leaving a tip today.
more stories
Sign up for the Blaze newsletter
By signing up, you agree to our
Privacy Policy
and
Terms of Use
, and agree to receive content that may sometimes include advertisements. You may opt out at any time.