© 2023 Blaze Media LLC. All rights reserved.
To our friends in the Never Trump crowd: with all due respect, just understand this one thing. If your decision not to vote results in the election of Hillary Clinton, your Never Trump stance will not immunize you from her wrath.
By Chris Salcedo and Mary Ramirez, for TheBlaze
I had just finished writing down a thought in a little notebook I carry with me everywhere: "What's really at stake," I wrote, thinking about the very real possibility of a Hillary Clinton presidency. As I sat thinking about this for my weekly contribution to The Chris Salcedo Show, my phone rang—and it was Chris.
"I've got something rattling around in my head," he said. "And I wanted to talk to you about it."
As is nearly always the case, we were on the same page—despite the thousand mile distance between us and the fact that we've only had the opportunity to meet in person a total of two times. I write, he talks; it's the purist expression of the First Amendment: the right of free speech. And with resurrected talk of the Fairness Doctrine (which, for those of you who don't know, basically limits the First Amendment by regulating how we in the media and commentary world operate), and the weaponization of the IRS against conservatives—we know how critical it is that we use our pen and our microphone to get a message of truth out for as long as we can and to as many people as we can.
This week we decided to do something we haven't before: pool our efforts in a joint piece. Why? Because we can't emphasize this more decisively: it's gut-check time.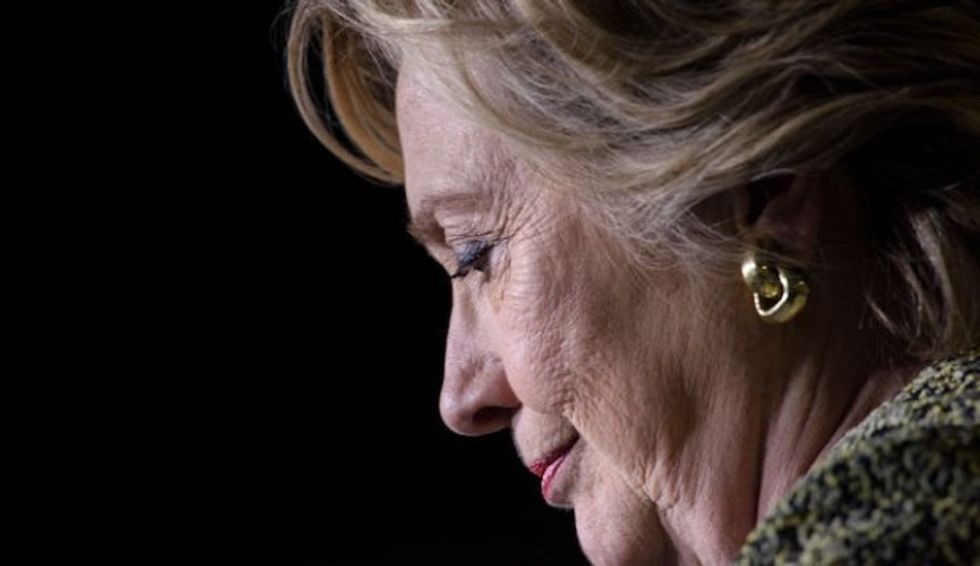 Hillary Clinton (BRENDAN SMIALOWSKI/AFP/Getty Images)
This isn't about party loyalty, celebrity fandom or worse: abandonment of principles. It's about this stark reality: we're faced with the fact that of one of the most corrupt, vindictive, dishonest, dangerous politicians that's ever graced the halls of government might actually make it into the highest office in the world.
For as much as many of us lament the lot we've been given, it's what we've got. Let me put it this way: remember that scene from the movie "Apollo 13," where the guy dumps a box of items on the table and says they have to figure out a way to jimmy-rig a filtration device to give the three astronauts enough breathable oxygen to limp back to earth?
"Ok people, listen up," the guy says, "We gotta find a way to make this [square object] fit into the hole for this [circular object], using nothing but that [pile of stuff on the table].
Here's the thing: that's us. We either build a filter or the game's over. And in this election, whether we like it or not, our options are on the table.
So let's understand what's at stake.
Without a doubt, there's rampant Islamic terrorism, a fledgling economy, Supreme Court nominations and myriad other issues that another progressive, ultra-left wing presidency (and Clinton-style special interests) will only make worse.
But let's get even more deeply personal.
Well before Hillary Clinton told those us over here in the fuddy-duddy gallery that our "deep-seated cultural codes, religious beliefs and structural biases have to be changed," the left has long voiced their disdain for people of faith, and for the Judeo-Christian ethics that are imbued in our founding documents. For decades they've sought to undermine those constitutional limits on government.
And they've clearly identified us (we who still believe in that Judeo Christian founding) as the problem.
While this disdain isn't exactly the world's best kept secret, thanks to a (yes, illegal) email hack from the infamously accurate WikiLeaks, it's never been quite this clear:
"They must be attracted to the systematic thought and severely backward gender relations," one email chain said of Fox News CEO Rupert Murdoch and NewsCorp Chairman Robert Thomson, who both raised their children in the Catholic faith.
That's Clinton Communications Director Jennifer Palmieri, Campaign Chairman John Podesta and the Center for American Progress' John Halpin.
Just for kicks, imagine if Donald Trump had said the same thing about Islam. Imagine if he said it was "severely backward" or that Muslims engage in "an amazing bastardization of the faith." The Brian Williams press would be positively apoplectic. Yet let's be honest: this is barely a speedbump for the Clinton campaign. The double standards are strong with this one.
The smears on the Catholic faith are all deeply offensive—but frighteningly that's hardly the worst:
"There needs to be a Catholic Spring, in which Catholics themselves demand the end of a middle ages dictatorship and the beginning of a little democracy and respect for gender equality in the Catholic Church."
That's Voices for Progress' Sandy Newman, writing to Hillary Clinton's campaign manager John Podesta and contemplating how one would "plant the seeds of revolution." She titled the email "opening for a Catholic Spring? just musing."
Podesta tells her that it's already in the works.
These are powerful political operatives in the bowels of a very powerful politician's campaign, actively talking about how to bring down the Catholic (and in tandem, the conservative Christian) faith.
(Side note: Mexico tried this once. The government actually outlawed Catholicism from 1926-1929—and when laws didn't effectively suppress the faith the government found so distasteful, they turned to military raids, torture and execution. I'm just saying.)
Where do you think all of this is headed? This is just the groundwork.
Let's get back to the crippled spacecraft and that table covered in stuff for a second. As a nation, we've been beaten down, indebted, and yes—fundamentally transformed. While all the right plans were set in place at our Founding—we're now badly damaged. And we need to understand that this election is our filter-building moment.
Both Chris and I understand and respect the difficult decisions so many of you have made not to vote in this election, or to vote for a third party symbolically.
But here's the thing: when you say that you're taking a principled stand by not voting for Donald Trump, how principled will it be if we allow this clearly anti-religious, political party to continue and EXPAND on their barbarous assault on people of faith? How principled will it be if we pass on a last-ditch option because he's not the deeply principled man we wanted, and instead clear the path for a woman who actively views us as the enemy?
The Never Trump movement often tells us often that Donald Trump is not a man of faith, nor is he a dyed-in-the-wool conservative. (And we believe you're right.) In fact, one can rationalize that he hasn't given true blue conservatives or people of faith much thought at all.
We absolutely cannot say the same about Hillary Clinton.
She has given us a lot of thought. She and those around her have determined that we are her enemies, and she will utilize all the extra-constitutional tools Barack Obama has given her to marginalize us, rob us of our Constitutional liberties, and punish us for opposing her. Mind you, this is all as she is thoroughly emboldened by her ability to thumb her nose at the rule of law.
It's no longer a supposition—we KNOW what she intends to do. These leaked emails prove unequivocally that we Catholics and conservative Christians are the enemy.
To our friends in the Never Trump crowd: with all due respect, just understand this one thing. If your decision not to vote results in the election of Hillary Clinton, your Never Trump stance will not immunize you from her wrath.
Hillary Clinton will be coming for all of us, and she will be coming for you, too. For the sake of our kids, please help us build the filter. It's all we've got.
Chris Salcedo is a veteran broadcaster, author and a political analyst. The Chris Salcedo Show, featured on The Blaze Radio Network (M-F, 3-5 EST), stands as the only national radio show to feature a genuinely conservative Latino. Chris can also be heard on AM 700 KSEV, Houston and on 820 AM WBAP in Dallas/Fort Worth. Chris also contributes to Mosh.US, and serves as the Executive Director of the Conservative Hispanic Society.
Mary Ramirez is a full-time writer, creator of www.afuturefree.com (a political commentary blog), and contributor to The Chris Salcedo Show. She can be reached at: afuturefree@aol.com, or on Twitter: @AFutureFree
–
TheBlaze contributor channel supports an open discourse on a range of views. The opinions expressed in this channel are solely those of each individual author.

Want to leave a tip?
We answer to you. Help keep our content free of advertisers and big tech censorship by leaving a tip today.
more stories
Sign up for the Blaze newsletter
By signing up, you agree to our
Privacy Policy
and
Terms of Use
, and agree to receive content that may sometimes include advertisements. You may opt out at any time.