As an Air Force veteran, and more notably a triple amputee who was wounded in Iraq, I found it appalling when I read the horrible things that the Wounded Warrior Project is being accused of (I did not link to the original article because I didn't want to give them more traffic for such false claims).
But it didn't make sense to me that a charity with major corporate sponsors such as U-Haul, Bank of America, Raytheon, NFL, Heinz and many others would allow the WWP to use their name and fund their events if they were in fact a scam.
Here's the issues with any online smear campaign: Anyone can go write up a post online and try to analyze things that are way over their pay grades. And before you know it, the blind are leading the blind on a false vendetta to destroy a charity that helps our nation's most severely wounded veterans.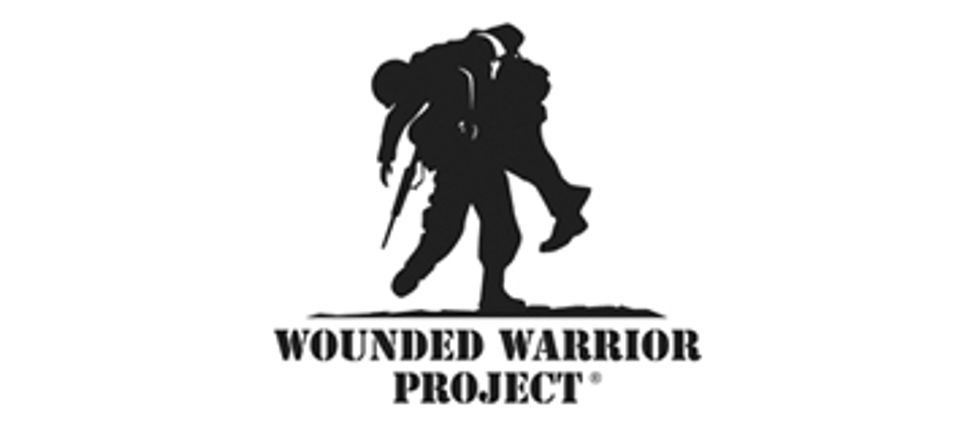 Wounded Warrior Project
One of the most important things to understand with these things is knowing the source of information. If you fail to research it, you're just as negligible as the people who are doing the wrong.
I discovered numerous defamatory blogs out there spreading this smear campaign against WWP, however, I narrowed it down to two original sources that are igniting this fraud claim.
The first is a blog called Veterans Today, and a simple search revealed they are riddled with crazy conspiracy theorist articles and anti-Semitic content. The Southern Poverty Law Center stated Veterans Today is "a website that purports to be a 'military veterans and foreign affairs journal' but is really a locus of the far right, is now squarely in neo-Nazi territory."
Know your source. I suggest everyone Google Veterans Today, and see the nonsense that comebacks to this site.
Let's start with the first claim. It involves a viral article floating around social media from a man named Alex Graham, which subsequently was posted on Veterans Today. He alleges that the Wounded Warrior Project is a "legal scam."
The next thing Graham states is that the Wounded Warrior Project is "cooking the books" in order to pay two executives, their $300,000 salary; which he provided zero evidence for. In fact, if this were true and the WWP did "cook the books," the IRS would have already shut down the Wounded Warrior Project.
According to Charity Navigator, which is self-proclaimed as the most reputable evaluator of charities, they scored the Wounded Warrior Project a 96 percent out of 100 in Fiscal Year 2013 for accountability and transparency. Does this sound like someone who is "cooking the books?"

Veterans Today
In comparison, the Disabled American Veterans (DAV) scored a 96 percent, the Pat Tillman Foundation scored an 89 percent and the USO scored a 97 percent.
Graham went on to state that WWP had $115,199,467 in overhead expenses reported on the 2012 IRS Form 990. When in fact the 2012 Form 990 actually shows that WWP's total expenses (program, administration, and fundraising) were $95,511,549.
These are just small critical errors that show he can't even analyze a simple tax document, so why are people even trying to take his word?
Since we're discussing overhead expenses lets clear the air on this. Guidstar and other charity reviewers united to dispute that overhead is NOT the correct way to judge a charity anymore, its all about the charities impact. See attached letter here from Guidstar, Charity Navigator and the Better Business Bureau.
The next claim Graham made was that in 2012 only 3.5 percent of WWP's income was used to directly help service members. However, he used the amount of funds WWP grants to other organizations as the basis for this falsehood, suggesting WWP used those grants to support warriors and their families. This can be verified again on the 2012-2013 IRS Tax Form 990, page 2 of PDF.
Here's the math Graham used to come up with 3.5 percent, which proves he used the wrong data to formulate his claim:

Courtesy of author.
A very important variable that I discovered, is that the WWP takes extra steps to ensure accountability with the public and has repeatedly hired the consulting firm BDO to scrutinize their records to ensure they maintain a high level of accountability. BDO is one of the most reputable and well-known accounting audit firms around, and they have approved of the WWP's records each year. These full financial audits are found on the Wounded Warrior Projects website.
BDO went on to state in all of their audits, and most recently, in 2013 the Wounded Warrior Project "ended in accordance, with accounting principles generally accepted in the United States of America."
Moreover, Graham used the nonprofit reporting company GuidStar in an attempt to back his falsified claims, but there was one problem. Guidstar released a document last month contradicting Graham. The document states that the information Graham provided was used in the wrong manner and they requested that he take it down or correct his information.
After reviewing all the documents, audits and endorsements from outside agencies. I can say without a doubt the Wounded Warrior Project is not a "legal scam" and is not "cooking the books" as Graham claimed on Veterans Today.
The next claim that Graham made was that the "WWP does little, if any, direct support of wounded warriors and wounded warrior programs."
Not only has my family and I participated in many of their programs, witnessed thousands of other veterans participate with their families in the programs, but the Wounded Warrior Project has easily spent around $40,000 on my family over the past few years. That's a first-hand account of direct support to a wounded warrior. Now multiple that by tens of thousands.
But I won't expect you to just believe a random person, so I'll prove it to you.
Take a look at the 2012-2013 IRS Tax Form 990, page 3 of PDF line 4a-4e. This breaks down their three main program umbrellas and with total expenses for each of these programs for the tax year 2012-2013. The programs listed are in fact direct support of our wounded warriors and the $117,198,737 expense tabulation highlights the massive support that they directly engage our warriors with.
Graham's claim is proven false. The Wounded Warrior Project does in fact do a lot to directly support our wounded warriors with many programs and this is further proven by the IRS tax documents.
Furthermore, the Wounded Warrior Project already has a total 20 programs and rapidly growing new ones. These programs are tailored to help veterans with their physical rehabilitation, aid in their mental and emotional recovery, assist them to achieve their educational and employment goals, and help them maintain their independence and stay connected with their families, their communities, and each other at no cost!
"Wounded Warrior Project is the backbone of my continued recovery. The programs and activities WWP offers are an outlet that enhances my emotional strength." – Keith Sekora
This is unprecedented, and no other charity has this many programs under their belt to directly help veterans.
It's now clear that Graham is dead wrong about the Wounded Warrior Project, however, he always referred back to another source for his information. Ironically, a man named Dean Graham, who has no relation to Alex Graham.
Dean Graham and his now disbanded organization Help Indiana Vets, Inc. (HIVI) has made the same false claims about the Wounded Warrior Project, and it appears as if he was the very first person to start this false movement to destroy the WWP brand. Because of his defamatory claims, the Wounded Warrior Project had every right to defend itself, and that's exactly what they did.
On Friday, June 20, 2014, the federal court hearing the case entered a judgment against Dean Graham and his organization Help Indiana Vets, Inc. (HIVI), and permanently enjoined both from making defamatory statements about WWP. What this means is that Dean acknowledged he made false and defamatory statements, the court entered a judgment accordingly, and Dean/HIVI are no longer permitted to make defamatory statements about Wounded Warrior Project.
Not only have Dean Graham's statements been proven false by our judicial system, but this would mean Alex Graham's statements are also legally false and defamatory. But I'm pretty sure as I just showed you, we didn't even need a court order to prove that these claims were not true.
The last issue deals with how much the Wounded Warrior Project pays its employees. Which is more of a problem with people acting as a nanny state with socialist values than understanding good business practice that allows a charity/business model to flourish like the WWP has.
The Wounded Warrior Project sxecutive compensation is set by their unpaid, volunteer Board of Directors following IRS rules on determining reasonable compensation, which is also annotated on the IRS Form 990, page 43 of PDF three.

Courtesy of author
Compared to WWP's revenue, the CEO's salary equals about one tenth of one percent – meaning that for every $100 raised less than $0.15 cents goes towards our CEO's salary.
According to Charity Navigator's 2013 CEO Comparison study, "a six-figure salary is not necessarily a sign of excessive pay for charities of $1 million in revenue." And according to the IRS, their 2013 revenue was $234,682,943. Their growth and outreach to our veterans cannot be matched so why are people nitpicking over success?
Furthermore, the Charity Navigator study revealed that in 2013 the highest charitable CEO brought home $1.8 million. They further stated the mean salary for the CEO of a charity that brings in $234 million, as the WWP did, is $404,903. This would put the $375,000 Wounded Warrior Project CEO salary under the median mark.
Additionally, the CEO's salary is technically $250,000, with a $125,000 bonus if the charity performs well, as noted on the 2013 Form 990.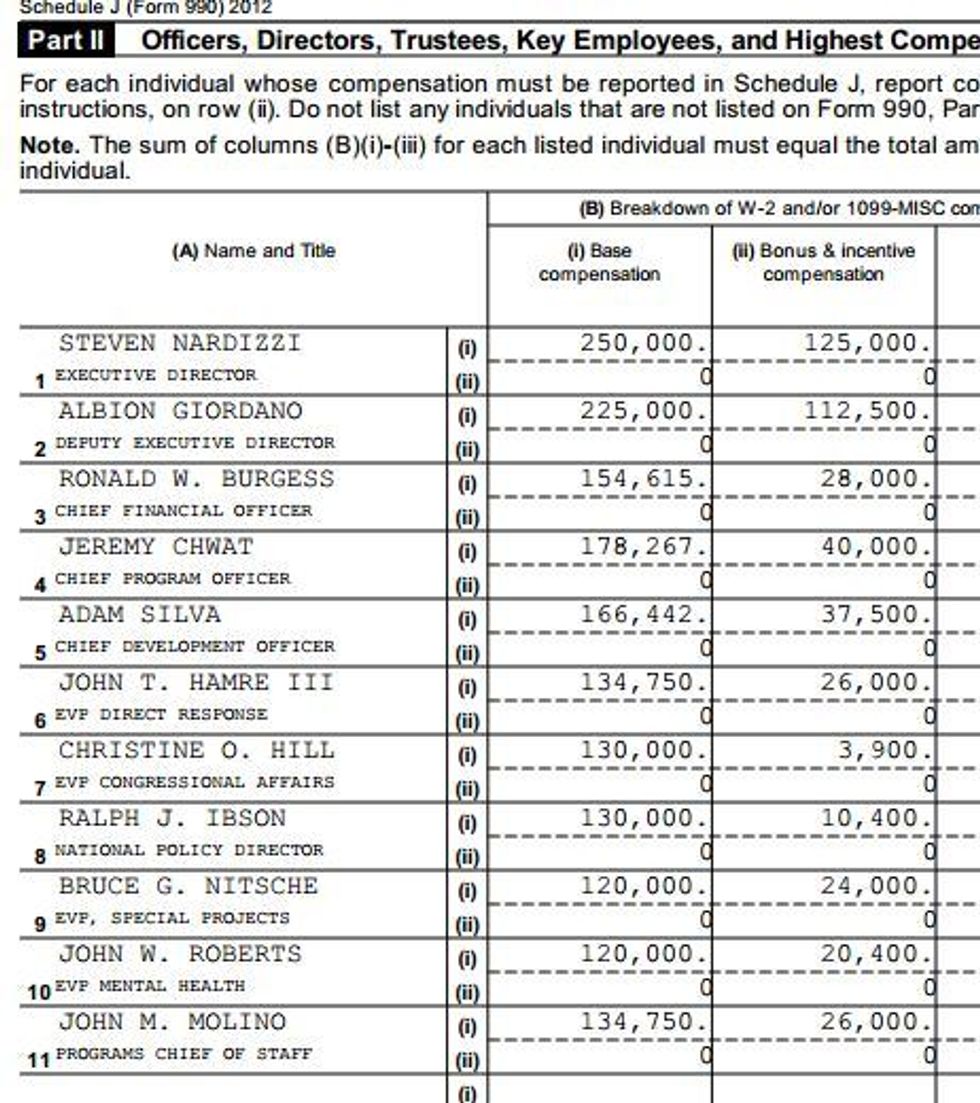 Courtesy of author.
The final allegation, is that the Wounded Warrior Project was anti-gun. I get it, and I understand why people may be upset. But unless you understand the Wounded Warrior Project and the ethos they follow, it could be easily misunderstood or twisted.
They have no business taking sides on highly charged political matters, their only duty is taking care of veterans.
If the Wounded Warrior Project was anti-gun would they send vets on hunting trips all over the U.S. each year? It's one of their most popular trips that I hear about from warriors.
"They've helped me in developing my confidence to function in a wheelchair. They've helped me get back out and do the things that I used to enjoy doing – hunting trips, fishing trips, sporting events, and things like that." – Patrick Corcoran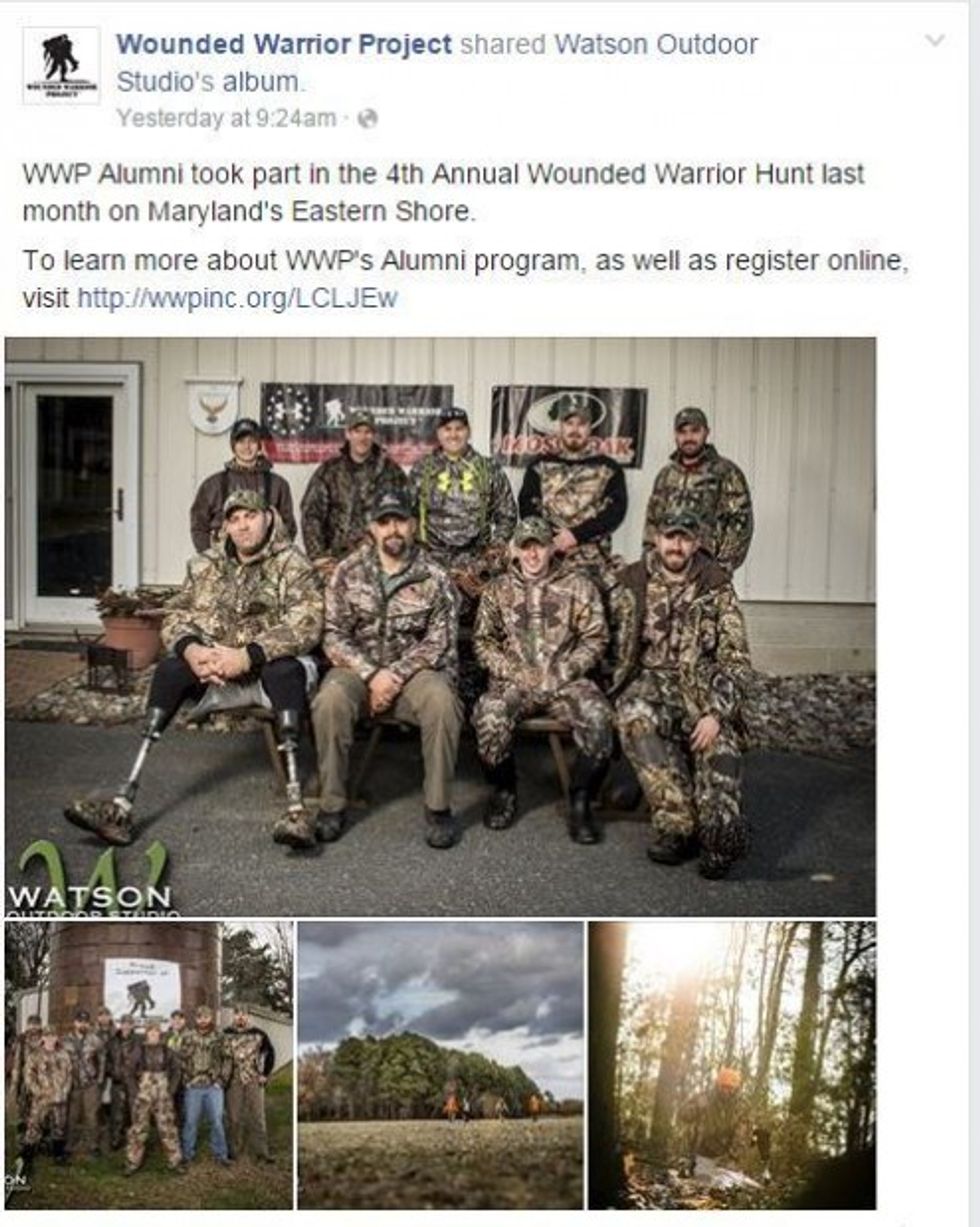 Courtesy of author.
Let's be honest with ourselves, Americans are very divided right now politically. Would it be a good business decision to side with a highly politicized issue when your only goal is to raise funds to take care of our veterans?
The Wounded Warrior Project does amazing things for our wounded warriors. The men who started this charity left very high paying jobs to start something they believed in. They had a vision that was not the same old veteran group that sat around drinking beers telling war stories, but a vision that empowered our warriors to grab life by the horns, and then when they do, grab your buddy and help him too.
Knowledge is power, and believing random articles or emails from people that you haven't researched can do a lot of damage to others. By now you should see that with an overwhelming amount of evidence that the Wounded Warrior Project is not a scam, but in fact the pinnacle of veteran charities that by 2017 will have helped over 100,000 warriors and their families. Hopefully those who were scammed by those articles will admit their wrong and help redeem the Wounded Warrior Project.
Courtesy of Wounded American Warrior - Brian Kolfage retired from the Air Force after being severely wounded in Iraq and is a 2014 graduate of the University of Arizona's school of Architecture. Contact Brian at BrianKolfagejr@gmail.com Facebook
Feature Image: Courtesy of Author.
–
TheBlaze contributor channel supports an open discourse on a range of views. The opinions expressed in this channel are solely those of each individual author.