© 2023 Blaze Media LLC. All rights reserved.
Despite Olympian Tradition, the Beat of Hatred Harbored by Muslim Athletes Goes On
While the modern day Olympics were initiated to break down cultural barriers among international athletes, a judo competition between Egyptian and Israeli opponents demonstrated why a deep-seated Muslim hatred will make true peace impossible.
An incident occurred last week challenging the very reason modern day Olympics were started. To put it into perspective, background on the Games is needed.
The first Olympic Games for which written evidence exists were held in 776 BCE, although it is believed they started earlier. The tradition they be held every four years continued for 1,200 years before Roman emperor Theodosius I banned them in 393 CE, fearing pagan influences.
Not until the late 19th century did French aristocrat Pierre de Coubertin seek to revive the Olympics. Coubertin saw sports as a means of breaking down cultural barriers.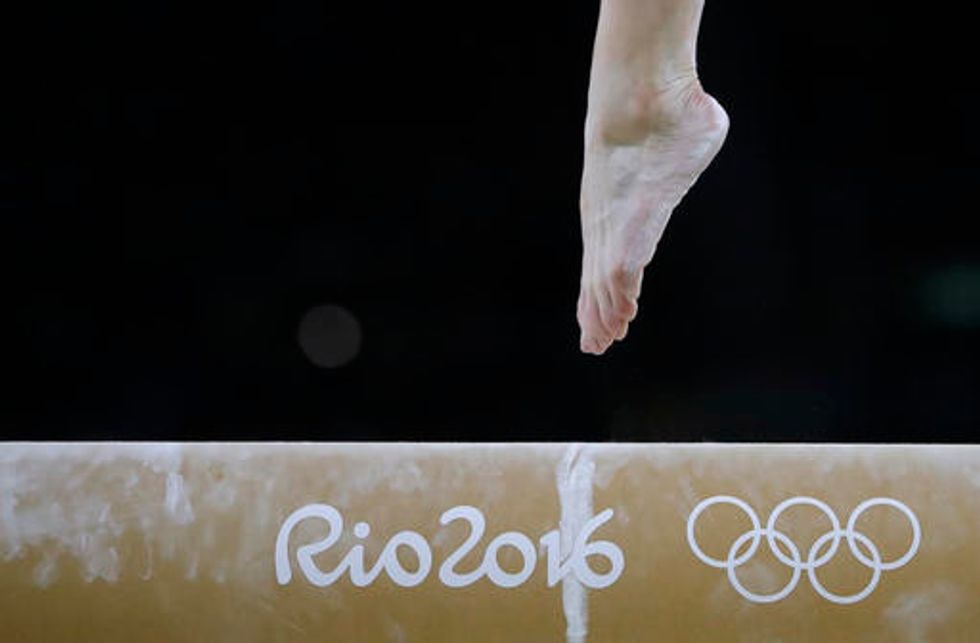 (AP Photo/Julio Cortez)
The ancient Olympics were remarkable in that, despite any ongoing hostilities at the time, the Greeks recognized the importance of allowing competing athletes to travel to the Games and participate in complete safety. In the spirit of the Games, an Olympic "truce" occurred, known as "Ekecheiria." It declared Olympia, where the Games were held, and the surrounding area to be a sacred and safe place. Athletes, families, artists and guests were all granted safe passage to and from the Games.
The fact the ancients could stop hostilities in this manner gave Coubertin hope re-starting the Games could bring a more lasting peace to a more sophisticated world.
Coubertin established the International Olympics Committee which held, in 1896, the first Games in 1,500 years. The site was the birthplace of the Olympics—Athens, Greece.
The 2016 Games in Rio de Janeiro, Brazil, mark the 30th four-year cycle of the modern day Olympics. But, unfortunately, an August 12 judo competition sought to undermine Coubertin's purpose in holding the Games.
The contest involved representatives of two countries that had existed in a state of war for thirty years before signing an unpopular peace treaty in 1979. While the treaty has kept the peace for almost forty years, a scrap of paper can do little to contain hatred fueled by an ideology that sells believers on the eradication of non-believers.
It was within this context that Israel's Ori Sasson fought Egypt's Islam El Shehaby. Sasson won the contest and, as is customary, approached his opponent to shake his hand. El Shehaby refused to accept the handshake, instead stepping backward and shaking his head. Then in an ultimate act of disrespect, he also refused to bow.
Judo is a sport of etiquette as well as skill. The former requires both opponents bow to each other at match's end out of mutual respect and out of respect for the sport.
As required, the referee reminded El Shehaby to bow. Again he refused, rendering only a partial head nod.
El Shehaby had been discouraged by Islamists in his country from even competing with the Israeli for fear it would be seen as an effort to normalize relations between the two states. They warned competing would make him a traitor to his religion.
But perhaps El Shehaby, believing his contest would have a different outcome, felt a different reception awaited his return home. Undoubtedly, his actions were motivated by those of fellow Egyptian competitor, Ramadan Darwish.
In 2012, Darwish, earlier ranked second in the world by the International Judo Federation (IJF), defeated Israel's Arik Zeevi in the quarterfinals of the Judo Grand Prix in Dusseldorf, Germany. He also refused to shake his Israeli opponent's hand, instead shouting, "Alluha Akbar!"
Not "kosher" by judo etiquette standards, Darwish should have been stripped of his title. However, he returned home hailed as a "national hero."
Karma has a way of working its magic, however. Darwish, who also competed in the 2016 Olympics, only placed 7th. Both he and El Shehaby left the Games empty-handed—the latter announcing he was retiring from the sport.
The IJF is undertaking an investigation of El Shehaby's unsportsmanlike conduct. Since no action was taken against Darwish in 2012, it is doubtful El Shehaby will suffer any consequences either.
If nearly 40 years of peace between the two nations—a peace existing longer than either Darwish or El Shehaby have lived—has failed to curtail Muslim hatred for the Jew, such hatred must get its fuel from their religious ideology. This also explains a separate incident during these Games in which Lebanese Muslim athletes refused to ride the same bus as their Israeli counterparts.
Coubertin obviously would have been very disappointed by these Muslim athletes' actions. However, there have been times during the modern day Olympics the cultural break down he sought was achieved—resulting in one of the most famous photographs of any Games.
It occurred during the 1968 Olympics in Mexico City. As two African-American 200 meter sprinters, John Carlos and Tommie Smith, were receiving their gold and bronze medals respectively and the U.S. national anthem played, they raised a black-gloved fist in protest against racism back home.
The powerful, symbolic gesture for African-American civil rights resonated around the world.
There was one other person in the photograph. He was the silver medal recipient and was white—Australian Peter Norman. It was his initiative that actually played a crucial role in enabling Carlos and Smith to have their historic protest moment.
It was courageous for Norman—representing a nation still imposing apartheid laws—to support his two American competitors. In getting to know them, he experienced the reality of Coubertin's hope that cultural prejudices harbored by members of the international community of athletes would collapse, allowing them to embrace the humanity of their fellow man.
Sadly, Islam inherently breeds cultural prejudices against all non-Muslims, and especially against Jews. This makes it extremely difficult, if nary impossible, for Muslims to experience Coubertin's dream. Islam has been that way for 1,400 years. Absent a miraculous global enlightenment of Islam's leaders, we can well expect the beat of Islamic hatred to go on.
It is interesting to note that, during the ancient Olympics, before Islam existed, Ekecheiria existed; but, during modern day Olympics, when Islam does exist, Ekecheiria does not.
Islam's message to the Olympic world should not be lost upon the rest of the world.
–
TheBlaze contributor channel supports an open discourse on a range of views. The opinions expressed in this channel are solely those of each individual author.

Want to leave a tip?
We answer to you. Help keep our content free of advertisers and big tech censorship by leaving a tip today.
more stories
Sign up for the Blaze newsletter
By signing up, you agree to our
Privacy Policy
and
Terms of Use
, and agree to receive content that may sometimes include advertisements. You may opt out at any time.