Dr. Ben Carson has forgotten how to be a good doctor. He has succumbed to the Siren call of political expediency. He would rather join the political ruling class than do the right thing for Patient USA. We expected more, better, or simply good medical practice from him.
Carson's Approach to Patient USA
On Fox News on December 6, Carson discussed his proposals for U.S. healthcare with Chris Wallace. Carson wants to repeal Obamacare, but he will keep Medicare, Medicaid, and government control of both insurance and healthcare. He also wants to give $2,000 to some, but not all Americans, for medical spending. Where this money is coming from or even what his plan will cost is unclear to Wallace, who said, "I'm a little bit confused."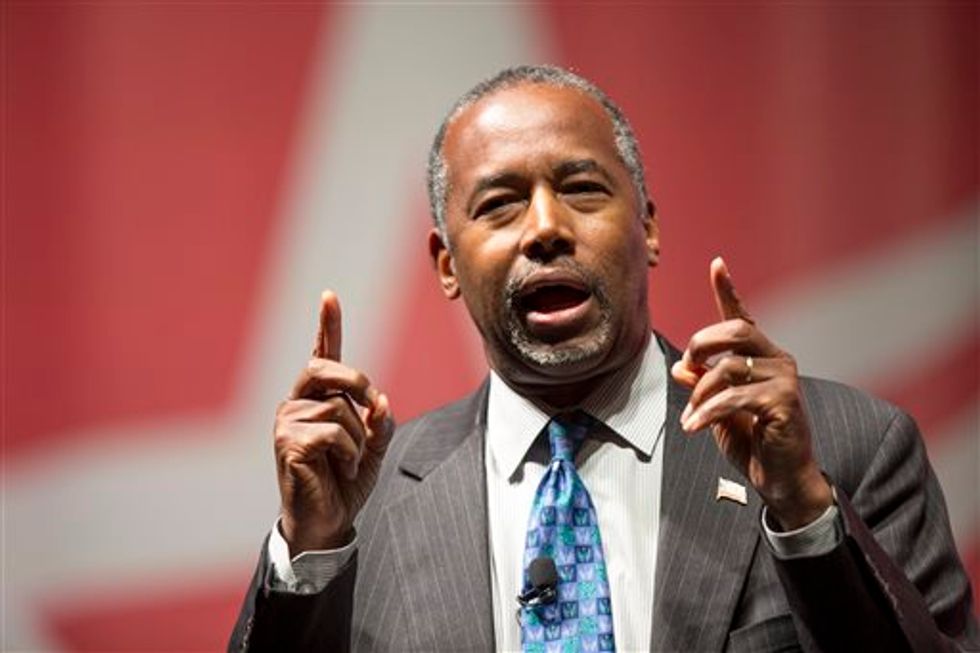 Ben Carson at the Rising Tide Summit, December 5, 2015. (AP Photo/Scott Morgan)
So was Carson ... about his own plan.
One of the most obvious signs of bad planning is unnecessary complexity. Carson's plan is even more confusing and contradictory than the incomprehensible mess we have now. Carson doesn't even start with what every good doctor knows he or she must start proper care of a patient – the diagnosis.
Diagnosis For Patient USA
Patient USA has a malignancy in the federal healthcare bureaucracy. That is the diagnosis, the root cause, and Carson knows it. However, because he wants to be "politically less toxic," he practices bad medicine by partially treating the patient. He would stop the current treatment that is harming the patient – Obamacare – but leave the malignancy unchecked and untreated.
Proper Medical Care for Patient USA
What would Carson do if he took off his political dunce hat and put back his surgical cap?
He would:
Tell the patient the precise diagnosis: a malignant tumor in the bureaucracy
Explain how he would remove this cancer
Discuss all the risks and benefits of his treatment recommendation
Answer any questions the patient has, including discomfort, recovery time and long-term costs
Seek the patient's consent to proceed.
The correct treatment that will cure, not merely palliate, Patient Healthcare's malignancy is Direct-Pay USA. It attacks the root cause, a malignant federal bureaucracy, by getting the government out of your doctor's chair and out of your wallet.
It restores control where it belongs – in the patient's hands. Calculations described in "The Cancer in the American Healthcare System" show that the simple Direct-Pay USA approach costs half, yes half, of what we are currently spending on our wasteful healthcare system.
No more Medicare, Medicaid, or Obamacare. No more lengthy pre-authorization process; 10-page insurance forms; government websites that don't work and require too much personal information; and denial of care. No more waiting forever for authorized care, and no American veterans dying for lack of approved medical treatment.
Doctor Carson Has Become Candidate Carson
Direct-Pay USA is good medicine for Patient USA: simple, sustainable, and in keeping with U.S. values of freedom and independence. Anyone who has read Carson's books (and I have) would expect just such a plan from him, not the politically acceptable garbage he is currently offering. I fear "Doctor" Carson has become Candidate Carson and has thrown away the very reasons so many people supported him.
Dr. Deane Waldman MD MBA is author of just released "The Cancer in the American Healthcare System;" Host of www.wecanfixhealthcare.info; Professor Emeritus of Pediatrics, Pathology and Decision Science; and Adjunct Scholar (Healthcare) for the Rio Grande Foundation, a public policy think tank. Dr. Deane sits on the Board of Directors of the New Mexico Health Insurance Exchange as Consumer Advocate. Opinions expressed here are solely his and do not necessarily reflect the opinions of the Board.
–
TheBlaze contributor channel supports an open discourse on a range of views. The opinions expressed in this channel are solely those of each individual author.