Ever since former Secretary Eric Shinseki with the Department of Veterans Affairs was outed in 2014 for overseeing alleged misconduct that involved false waiting lists which were connected to dozens of veterans' deaths across the United States, many had hoped to begin seeing an improvement of issues within the VA.
It appeared that even before Shinseki resigned and current VA Secretary Robert McDonald stepped in, President Barack Obama was on board to see to it that veterans would finally get the care they had been promised.
Department of Veterans Affairs Secretary Robert McDonald, testifies during a House Committee on Veterans' Affairs hearing on "Scheduling Manipulation and Veteran Deaths in Phoenix: Examination of the OIG's Final Report" on Capitol Hill in Washington, Wednesday, Sept. 17, 2014.  AP Photo/Manuel Balce Ceneta
"Let's keep working to make sure that our country upholds our sacred trust to all who've served," Obama told the nation in a Memorial Day 2014 weekly address. "In recent weeks, we've seen again how much more our nation has to do to make sure all our veterans get the care they deserve."
Obama even claimed that making sure veterans got the benefits they deserved was one of the "causes" of his presidency.
"And now that we've ended the war in Iraq, and as our war in Afghanistan ends as well, we have to work even harder as a nation to make sure all our veterans get the benefits and opportunities they've earned," Obama promised.
If we assume that Obama was sincere two years ago when he made his promise to fix the VA, should we then conclude that the issues within the VA have finally been resolved and veterans are now receiving the medical care they have always merited? If you do, then you would be sadly mistaken.
The most recent example of problems within the VA involves a staff psychologist at its facility in Fort Harrison, Montana. He came under fire by the state licensing Board of Psychologists after performing a brief test on a veteran for a determination of traumatic brain injury or TBI.
Prior to being seen by the VA, the U.S. Army had discharged the veteran with a 70 percent disability. He was diagnosed as having TBI following a car bomb blast in Iraq. The Department of Defense conducted multiple neuropsychological tests on the veteran over a period of years and determined that his cognitive deficits caused by the blast were likely "stable and permanent."
In order to qualify for benefits that Obama has referred to as a "sacred obligation," the veteran was ordered to be re-evaluated. The VA psychologist ignored the findings of the Army and used a brief screening tool called an RBANS to conclude that if the veteran "had a cognitive impairment in the past, it is likely that this has been resolved."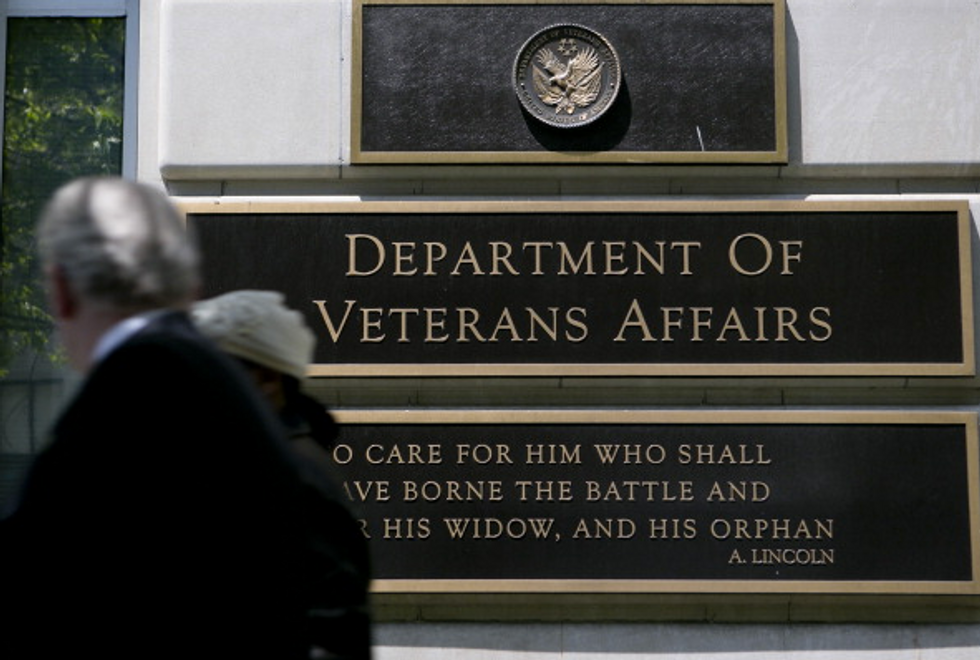 Pedestrians walk past the U.S. Department of Veterans Affairs (VA) headquarters in Washington, D.C., U.S., on Friday, May 10, 2013. The department's funding has jumped more than 40 percent to about $140 billion this year, compared with fiscal 2009, a boost to help the agency cope with a surge of new veterans returning home from the wars in Iraq and Afghanistan. (Getty Images/Andrew Harrer)
The Montana Board of Psychologists declared in a statement that the process used by the VA psychologist was "deficient" and wrote further that "The RBANS is not an appropriate tool for determining the effects of mild TBI."
The VA undersecretary for health refuted the findings of the board and concluded that the RBANS test was an appropriate test.
The Montana Governor's Traumatic Brain Injury Advisory Council condemned the VA's procedures and stated in a letter to the state's Department of Public Health and Human Services that "It appears to the Council that the VA is deliberately adopting a lower standard of care for veterans than that which is accepted for civilians. This accepted standard of care is not always achieved in civilian health care either, but it is remarkable to see it explicitly rejected by the VA."
So much for a "sacred obligation," I guess.
This latest case is just one of many examples in which the VA seemingly follows its own set of rules in providing treatment to veterans. Should the VA's actions be chalked up to incompetency or is there something else at play within the VA?
My recent guest on Stand For Truth Radio, Attorney Benjamin Krause thinks the CIA is involved.
Krause is a disabled veteran, an award winning veterans' rights attorney and journalist who investigates government fraud, and waste and abuse within the Department of Veterans Affairs. He helps disabled veterans access the benefits they deserve while ensuring the VA does not misallocate resources. He is considered an authority on veterans' rights.
Krause claims that there is more to what is happening within the VA when it comes to providing medical services for veterans than just incompetency.
Krause believes that the "VA insiders have fully adapted its strategies to corrupt the agency from within" by following a declassified 1944 CIA manual titled "Simple Sabotage Field Manual."
Krause feels that the VA is using the strategies and believes "no amount of funding can fix an active sabotage scheme that goes unaddressed."
He lists the five "timeless tips" from the CIA manual that he believes is what veterans may be experiencing when they deal with the VA. The "timeless tips" are as follows:
Managers and Supervisors: To lower morale and production, be pleasant to inefficient workers; give them undeserved promotions. Discriminate against efficient workers; complain unjustly about their work.

Employees: Work slowly. Think of ways to increase the number of movements needed to do your job: use a light hammer instead of a heavy one; try to make a small wrench do instead of a big one.

Organizations and Conferences: When possible, refer tall matters to committees, for "further study and consideration." Attempt to make the committees as large and bureaucratic as possible. Hold conferences when there is more critical work to be done.

Telephone: At office, hotel and local telephone switchboards, delay putting calls through, give out wrong numbers, cut people off "accidentally," or forget to disconnect them so that the line cannot be used again.

Transportation: Make train travel as inconvenient as possible for enemy personnel. Issue two tickets for the same seat on a train in order to set up an "interesting" argument.
After speaking to a number of veterans myself about their frustrations with the VA, I think Krause may be on to something.
To hear the complete interview with Attorney Benjamin Krause on Stand For Truth Radio:
–
TheBlaze contributor channel supports an open discourse on a range of views. The opinions expressed in this channel are solely those of each individual author.