That being said, we saw last week the smear campaign that was lodged against GOP presidential candidate Ted Cruz and his alleged extra marital affairs. I call it a smear campaign because it was not accompanied with any evidence to support the allegations. Some are saying that evidence will be forthcoming but as of this writing none has been produced.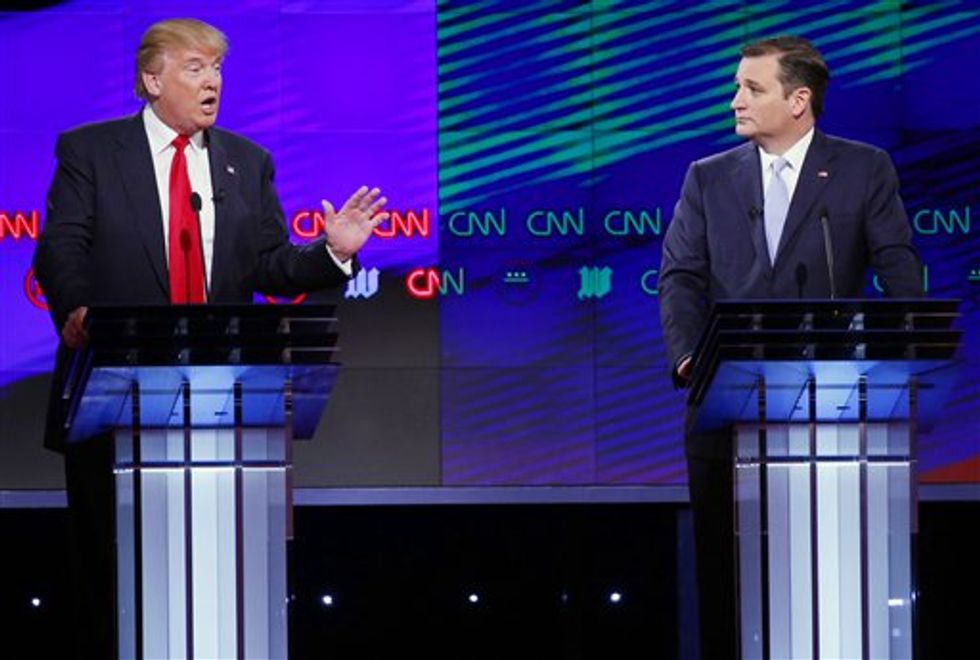 Republican presidential candidate, businessman Donald Trump, speaks as Republican presidential candidate, Sen. Ted Cruz, R-Texas, listens during a Republican presidential debate sponsored by CNN, Salem Media Group and the Washington Times at the University of Miami, Thursday, March 10, 2016, in Coral Gables, Fla. (AP Photo/Wilfredo Lee) 
Many were quick to point a finger in judgment of Cruz while on the other hand, we have a GOP presidential candidate who admits to having affairs with married women and cheating on his first wife. However, those who support him don't seem to feel that infidelity is an issue.
What Trump admits to and what Cruz is being accused of speak to the character of these two men whether you support them for president or not.
Why then do many Americans find it acceptable that Trump had an affair while he was married and acknowledges that he had affairs with married women yet these same people are not okay with Cruz's alleged indiscretions?
I'm guessing that those people who accept Trump's trysts do so because he openly admitted them while Cruz, or as Trump and Trump supporters refer to him, "Lyin' Ted," supposedly is trying to keep his alleged flaws a secret.
Here is the character test that some seem to be missing.
At some point, Trump had to "lie" about his affair while he was married and he is still keeping secret the names of those married women with whom he had affairs. If Cruz had affairs while he was married then he too would be guilty of "lying" to his wife. Both would be guilty of the same character flaw of lying which shows a lack of integrity.
Why then is one person's dishonest character tolerable while the other person's is reprehensible? Show me the logic.
Aren't we really speaking about the same character issue that occurred during the Clinton presidency when former President Bill Clinton swore to the American people that he "did not have sexual relations with that woman…" and later confessed that it was an "improper physical relationship"? Did some excuse his behavior because even though he "lied" he later openly admitted to inappropriate behavior like Trump has done and allegedly Cruz has failed to admit?
Or is it that we have just come to a point in our country where we are willing to draw minute distinctions in behaviors so that we can pretend the behavior is acceptable because our country is on its last legs as a free nation? Hasn't our blindness to character flaws in our representatives actually brought us to where we find ourselves and our country today?
I know for some none of this will matter. You'll just interpret this as an attack on Trump because his name appears and you'll simply ignore the message.
I believe the character of a person shouldn't be ignored and must be calculated into all of our decisions, regardless of what we are deciding.
Character is also not just an important issue on the political front.
It appears that some may have forgotten what it means in our everyday lives as well.
Take for example how lack of character impacted what happened Easter Sunday in Orange, Connecticut.
PEZ Candy decided to hold an Easter egg hunt for the children in the surrounding community.
PEZ placed 9,000 eggs in three separate fields, each field representing a particular age group which would ensure that small children wouldn't get trampled on by bigger kids who may not be paying attention to the safety of others.
What PEZ failed to plan for was that some of the adult parents accompanying the children would disobey the rules and allegedly injure the smaller children.
One parent claims her son got a bloody nose when another parent pushed him to the ground. Another parent claimed her child's basket was broken during a scuffle.
A 4-year-old boy, Vincent Welch, who may have been the most mature and the most honest at the Easter egg hunt said, "Somebody pushed me over and take my eggs and it's very rude of them and they broke my bucket."
The event had to be canceled because, in my opinion, some of the parents wanted to make sure they received what they felt they and their kids were entitled to no matter the cost. They forgot their moralistic responsibilities to behave like adults and instill in their children the same moralistic character. What those parents did reflects poorly on their own character and most in America would hopefully find their behavior despicable.
Parents are the role models and "leaders" of their children. Our GOP presidential candidates are asking us to allow them to be our governmental leaders. I am not willing to tolerate poor character from those parents who hurt other children while trying to achieve what they believe they or their children deserve. I am also not willing to pretend that the character of my presidential candidates don't matter because they do.
We should expect more from our leaders and quit tolerating poor character from any of them.
Let's return this country to a place of high moral integrity. We should expect it from our children and we must not tolerate anything less from our leaders in government.
–
TheBlaze contributor channel supports an open discourse on a range of views. The opinions expressed in this channel are solely those of each individual author.