Like many of you I have been outraged by tales of the establishment boogeyman jumping in at the last moment to "steal" the nomination from the more popular candidates. It has been headline news in both mainstream and conservative media.
Even Rush Limbaugh and Sean Hannity have dedicated hours of their programs getting conservatives worked up over the possibility.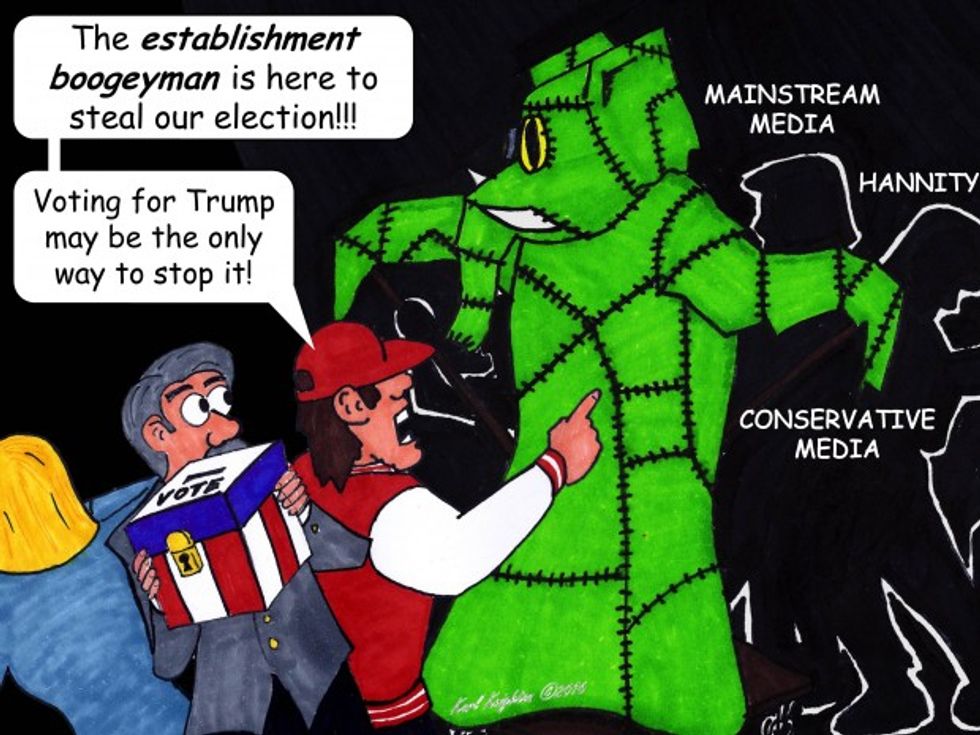 The Establishment Boogeyman (Karl Knighton)
Like many others I reacted with outrage over the plotting without logically processing the available information. It pains me to say this, but when it comes to a brokered convention, I think the establishment is being used as a scapegoat for something far more disturbing.
We are being conditioned to fear a brokered convention
While I don't doubt the Republican establishment has reoccurring fantasies of selecting their own candidates, I believe their instinct for self-preservation hinders them from acting on it. They won't attempt to "steal" the nomination when they know full well it would mean the end of the Republican Party and the end of their power.
Despite this, the mainstream media, conservative media, and major conservative personalities have been all too eager to discuss the possibility of a brokered convention.
I see two possible objectives for these scare tactics: To push delegates into supporting the candidate with the most votes, or scare conservatives into supporting the front runner in order to avoid a brokered contest all together.
As we get closer to the convention, will we see a major push to get conservatives to back Donald Trump in order to avoid the terrifying brokered convention? Has that push already started?
I don't think it's a coincidence the Trump campaign is already out there suggesting that if the nomination is "stolen" from him there would be riots. Or that major conservative icons are threatening to be through with the Republican Party if they don't surrender to the front runner right away.
Those in this school of thought apparently could care less about party rules or that convention delegates are actually charged with representing the will of voters in their individual states and not the general population.
Delegates are not the establishment
As corrupt as you think the establishment is, convention delegates are not the equivalent of the establishment. Rush Limbaugh said as much on Friday:
In the past couple of weeks I have rolled up my sleeves and I have gotten pretty intense in my discussion of Trump opponents within the Republican establishment and what their motivations are, and many people have come under the incorrect assumption I'm talking about them. The delegates to the Republican National Convention -- just the standard, ordinary, everyday delegates -- are just like you and me, folks. They are elected, nominated, whatever.
Republican delegates and the convention system are meant to reflect our representative system of government. Although the system is not perfect, I find it fundamentally superior to the option being peddled by conservative media types.
They would rather your delegates bow to democratic "mob rule" instead of representing the will and interests of Republican voters in your own communities.
I, for one, would be thoroughly disgusted if my representative delegate simply caved to the frontrunner after the candidate they were pledged to dropped out of the race. Instead they should be looking at what remaining candidates most closely resemble the will of the voters they represent.
For example, if a delegate is charged to represent Marco Rubio voters in an area he won easily, they should cast their delegate vote for whomever they feel best represents those voters. That delegate is there to represent Rubio voters, not a frontrunner candidate or the establishment.
You're a hypocrite if you think it's ok for a delegate to disenfranchise their voters on behalf of the front runner but cry foul when they disenfranchise them to vote for the establishment candidate instead.
It's called making a great deal
Brokered could also be described as negotiating to get the best outcome for Republican voters and to reflect their collective will. It's called making a great deal; Trump supporters should be able to appreciate that. They are voting for a deal maker after all.
I look at the process as a whole and see it as a good and fair system, even when the people involved create problems from time to time. Not much different from our constitutional republic.
But what conservative personalitieis are demanding is a one-sided deal. It is never going to be fair to voters who selected candidates that are no longer in the race.
If your candidate dropped out after getting pledged delegates from your community, they say your vote shouldn't count anymore. They don't want you to have a voice in deciding our nominee from the remaining candidates. They want to strip you of your representation on the convention floor.
I don't expect mainstream media to stop their attempts to scare people about a brokered convention anytime soon. But conservative personalities and conservative media should stop hawking irrational fears.
I regret any part I played in this charade when I, too, was duped by the establishment boogeyman.
–
TheBlaze contributor channel supports an open discourse on a range of views. The opinions expressed in this channel are solely those of each individual author.