Today is Earth Day, another celebration for climate cultists to denigrate human civilization and worship Gaia. However this year, the cultists have officially become full-fledged ecofascists – who use government coercion to further their agenda and silence dissent.
If they failed on the federal level to get Attorney General Loretta Lynch's full attention, they were more successful on the state level. Sixteen state attorneys general (I will let you guess their affiliation) have formed a coalition in order to replicate the Spanish Inquisition of nearly 500 years ago in order to chase climate "deniers." Of course, they are allied with Grand Inquisitor Al Gore, whose pamphlet has been thoroughly debunked 10 years after its release.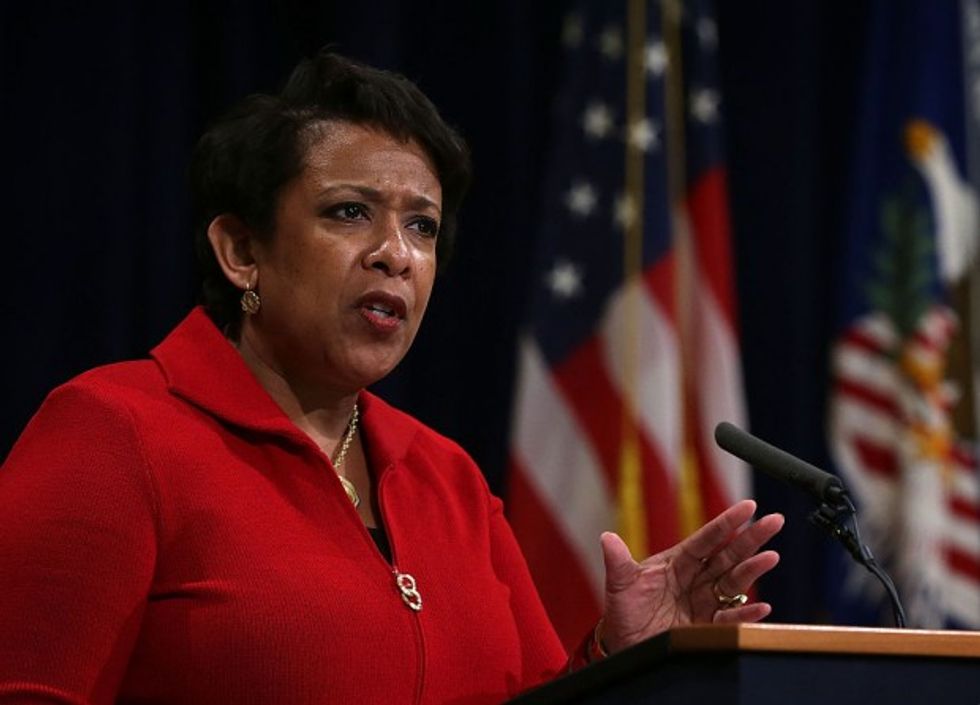 Attorney General Loretta Lynch speaks during an event at the Justice Department, Jan. 14, 2016. (Getty Images/Alex Wong)
And recent emails show that this climate inquisition colluded with openly ecofacist groups like the Union of Concerned Scientists. They have already subpoenaed the Competitive Enterprise Institute, who will fight to the bitter end to stop this patent First Amendment violation. "The subpoena is as illegal as it is groundless. It is a political ploy aimed at advancing a policy agenda by shutting down debate," claims CEI General Counsel Sam Kazman.
This censorship will very likely gain more momentum soon. More leaked emails from ecofascist climate feedback reveals that a #standwithscience campaign will flood the media in order to "expose" climate "deniers" and defend climate "heroes" like Nobel-fraudster Michael Mann.
But that's not all! Even more email leaks show that more ecofascists have planned attacks against the fossil fuel industry, especially Exxon Mobil. The campaign #ExxonKnew was lead in part by Bill McKibben, a renowned activist who has vehemently opposed the Keystone pipeline from Canada. Strangely enough, he was rather silent on all those other pipelines built in America.
But ecofascists will not stop at shutting down the climate debate and denigrating fossil fuels. They want anything remotely related to fossil fuels to be shut down. It can in part explain why Peabody Energy, a former coal giant, has recently filed for bankruptcy. But since the company still has a few pennies, it needs to be milked dry. The Sierra Club arrogantly requested through its Facebook page that Peabody meets its "obligations" towards the community it served.
They could have done it if reliable measurements like satellite data were more widely available. Yes, they still show warmer temperatures for March but they are now about at par with the second previous record of 1997.
They could have also done it if they had stood their ground and defended their business. Alex Epstein, the daring author of the Moral Case for Fossil Fuels, recently talked in front of a Senate committee. He confronted Senator Sheldon Whitehouse by accusing him of immorality for vilifying fossil fuel companies. He even demanded that he recant his attacks or quit his seat.
One can always dream… But if a Democrat wins the presidency in 2016, these attacks will become the norm and the lights of New York City will go off. So just don't stand there and make sure that ecofascism comes to an end wherever you live.
–
TheBlaze contributor channel supports an open discourse on a range of views. The opinions expressed in this channel are solely those of each individual author.