As comic book movies become more and more popular - and much more of a staple in modern cinema - many actors have begun aggressively pursuing some of these roles. Many actors have even taken to social media to campaign for certain roles.
I recently had the opportunity to speak with "Veep" and "House of Cards" actor DeMark Thompson concerning his recently launched campaign to play Green Lantern in the DCEU.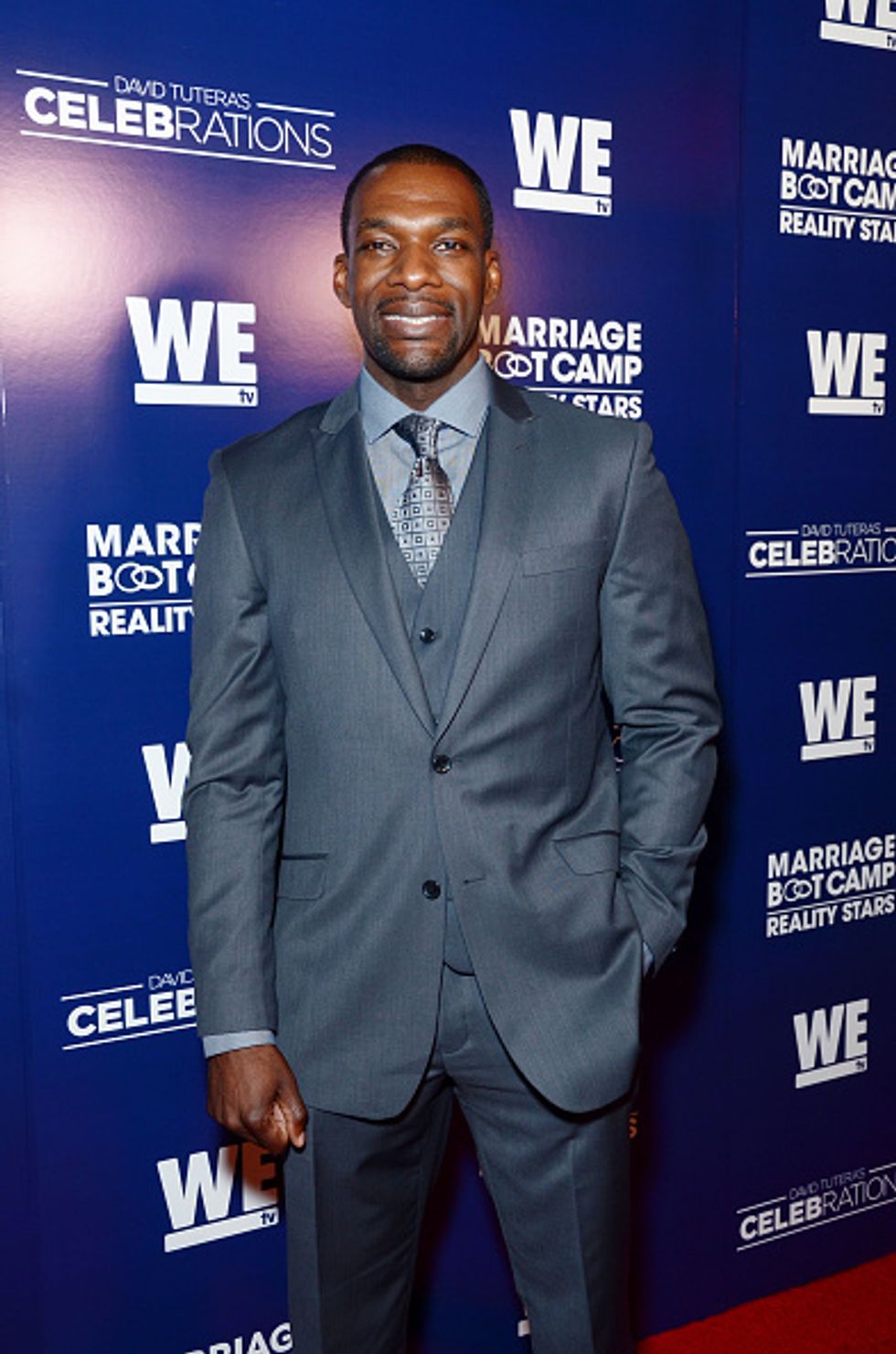 Actor DeMark Thompson arrives at WE TV's 'Marriage Boot Camp Reality Stars' & 'David Tutera's Celebrations' premiere party at 1 OAK on January 8, 2015 in West Hollywood, California. (Getty Images)
DeMark began his acting career in 2011, after being cast in a small role in the Will and Jaden Smith film "After Earth." While DeMark Thompson may not be a household name yet, he is no stranger to the business having racked up several film, television and commercial credits in the last four years. In his endeavor to be cast as Green Lantern his relative newcomer status could even be an advantage, as many superhero characters have been cast with virtually unknown actors. Stephen Amell, Grant Gustin and even Christopher Reeve were all very much under the Hollywood radar before being cast in their respective superhero roles.
DeMark Thompson definitely understands this advantage.
"I believe I would bring a fresh look to the Green Lantern," Thompson said. "Meaning, no one would look at me and say, 'I remember him from another film' which could take away from the character all together. That's the one advantage I would say I have for this role. Also, the comic reading community has stated a few times that I look just like John Stewart which is definitely a plus."
The upcoming Green Lantern film - currently slated for a 2020 theatrical release and being called "Green Lantern Corps" - won't be the first time the character has been seen on movie screens. Ryan Reynolds already starred in a mostly pannedGreen Lantern film in 2011.
"I did see the Ryan Reynolds movie and I liked it," Thompson admitted. "The comic fanatic in me loves to see these characters come to life on the big screen."
Of course, you can't have a discussion about comic books and superheroes without the ever-controversial question: is DC or Marvel better?
"It's extremely hard to compare the two because they're entertaining in their own respect," Thompson responded. "I always thought DC was darker and more gritty. Marvel made characters with outlandish powers that I've never seen before which drew me in as well."
Warner Bros. has announced that "Green Lantern Corps" would likely feature both the John Stewart and Hal Jordan characters. The prospect of taking on more of a secondary hero role - similar to Don Cheadle's War Machine in the Iron Man films - doesn't dissuade DeMark at all. DeMark said he would absolutely be game for a team-up film with the already established Green Lanter.
"Partnering with Hal Jordan in a film would bring a 'Wonder Twins' type of direction to the storyline. Those two together would make a great team and I would love to be a part of that production if Warner Brothers were to take the film in that direction," he said.
Of course, DeMark isn't the only candidate who has thrown his hat in the John Stewart ring.
Tyrese Gibson has expressed an interest, and Idris Elba seems to be a fan favorite. When asked why he would make a better Green Lantern than either of those actors DeMark said, "I wouldn't say I'm a better choice than Idris or Tyrese. They are both excellent actors. I'm the new face in the industry. The long shot when compared to the two. I believe I can bring this character to life if given the opportunity."
Being an African-American actor, DeMark was also asked to weigh in on the current trend of casting black actors for traditionally white characters, and whether or not he would still want to play the character if Warner Bros. decided to cast him as Hal Jordan instead of John Stewart.
"Casting black actors for roles that are traditionally white doesn't surprise me at all," Thompson said. "There have been many discussions by actors on the absence of blacks in film. We can go back as far as 'The Wiz' in 1978 with an all black cast, Quvenzhané Wallis who played Annie and Michael B. Jordan who played Johnny Storm in the latest rendition of the Fantastic Four. Each of these roles were traditionally white and someone saw something that warranted a change. If WB offered the role and stated the character name would be Hal Jordan, I would gladly accept it and work to be the best Hal Jordan I can possibly be for that production," he said.
One of the defining traits of the John Stewart character is that he's a military man who served in the United States Marine Corps. Thompson is no stranger to the military role - having played an Air Force major on "Veep" - even though he never served in the military himself.
"I'm often asked what branch of the military I served in," Thompson said. "I guess I have that look to warrant such a question. I was once told by an co-worker that it was the respect that I gave to others and the respect that my presence demanded without saying a word that led her to believe that I was former military. I thought that was one of the greatest compliments I've ever received."
After speaking with DeMark, he seems to have a strong grasp of who John Stewart is. "John Stewart is a leader," Thompson explained. "He's been through a lot but he's proven his commitment to his profession every time. I like that John has never waivered in his role of the Green Lantern."
One thing's for certain, DeMark seems genuinely passionate about the character, and there are definitely worse hands the Green Lantern mantle could fall into. We will, of course, continue to follow DeMark on his journey and wish to him the best of luck in his endeavor to become a superhero.
–
TheBlaze contributor channel supports an open discourse on a range of views. The opinions expressed in this channel are solely those of each individual author.