This year marks the 15th anniversary of the worst terrorist attacks on American soil. This period should have been a time of reflection on why these attacks happened and how to prevent them.
Instead, succeeding administrations have doubled down and made this country less safe and less free. Here are four lessons they should have learned instead.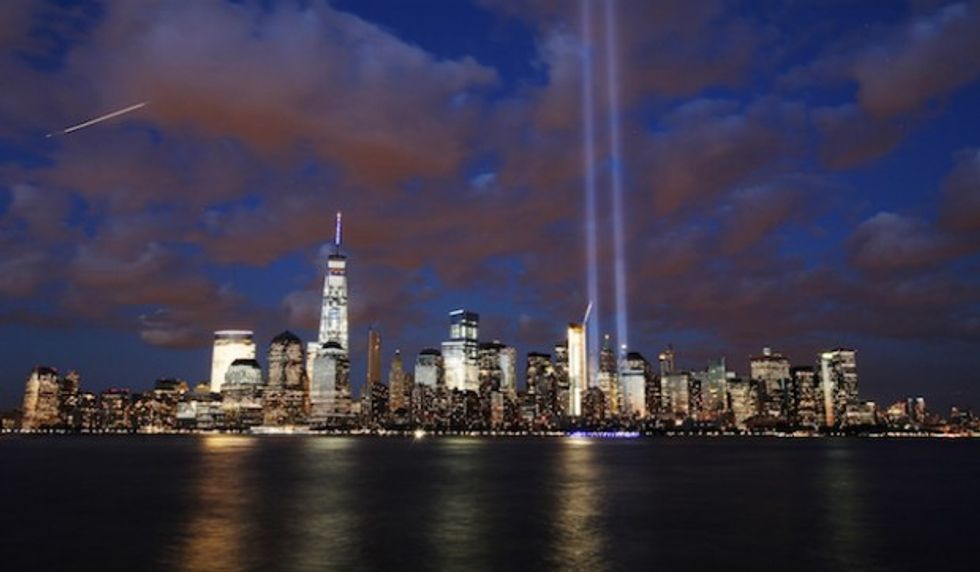 The Tribute in Light shines over the New York Skyline on September 11, 2015 in Jersey City, New Jersey . Today marks the fourteenth anniversary of the September 11, 2001 attacks when terroristists high jacked airliners and flew them in the World Trade Center and the Pentagon. (Photo by Kena Betancur/Getty Images)
1. Never Ally Yourself With the Enemy of Your Enemy
In order to combat the Soviet Union out of Afghanistan, the United States allied themselves with the Mujahidin and one of their leaders, Osama Bin Laden. He would later continue his jihad against the U.S. and sponsor attacks against the country or her interests.
Can you imagine how the world would look like if the U.S. had let the USSR fight its stupid – and impossible-to-win – war in Afghanistan? Instead, the Reagan administration looked at the short-term benefits of fighting off the "Empire of Evil" without thinking what sponsoring a group with a mentality stuck in the first millennium would do in the long run.
This lack of thinking has made the situation in Syria worse, where troops sponsored by the CIA and the Pentagon are fighting each other.
2. Stop Creating Terrorists
While sponsoring those who later became our enemies hasn't helped, American foreign policy since 2001 has basically been pouring gas on the fire in the Middle East.
The largest culprit is the Drone War, which has killed many civilians. The exact numbers are hard to come by since Barrack Obama's "most transparent administration in history" is anything but. Non-governmental organizations estimate the non-combatant casualties to be between 200 and 1,000. People affected by these acts of terrorism – there is no other word possible – are very likely to become terrorists themselves to seek out revenge.
Too bad satirical newspaper The Onion was serious in 2003 when it predicted that the Middle East would become unstable as a result of the Iraq invasion. "If you thought Osama bin Laden was bad, just wait until the countless children who become orphaned by U.S. bombs in the coming weeks are all grown up," they warned.
3. Stop Selling Weapons to Tyrannical Regimes
Hatred towards America is also fueled indirectly when she sells weapons to regimes whose only goal is to consolidate their iron grip over their country and their enemies.
By now we all know by now that Hillary Clinton's Clinton Foundation received millions of dollars for Islamic theocracies in the Middle East. In return her State Department authorized selling weapons to absolutist regimes like Saudi Arabia, who are waging a war in Yemen. U.S.-built tanks and planes are therefore murdering children, destroying hospitals and leveling cities for absolutely no good reason. No wonder Yemenis see the U.S. as an enemy.
4. Follow Ben Franklin's Words and Choose Liberty over Security
Furthermore, when the attacks happened George W Bush said that we were attacked "because they hate us for our freedoms." If such were the case, then this hatred should at least be mild love.
Since September 11, the Constitution has been torn and shredded at an unprecedented rate short of the World Wars. Among others we must now go through either a scanner that can expose you naked or go through a full-body groping that would otherwise be called sexual assault before boarding a plane. All these measures have caught a grand total of… ZERO terrorists.
And they couldn't even if they tried. In fact, 95 percent of all internal tests to verify the agency's capabilities have been a failure. And many of them have been caught stealing from passengers.
On the other side of the Atlantic, France has also taught of about the futility of security over freedom. Under a state of emergency since the Bataclan attacks in December 2015, the country of Molière has prolonged it until 2017 at least. And yet, it couldn't stop a terrorist trucker to hit and kill nearly 100 people in Nice.
So if we truly want to preserve freedom and the Western civilization, governments must radically change how they act. From leaving war as a means of self-defence – as was the case when going in Afghanistan at first in 2001 – to letting citizens defend themselves with guns; from stopping to directly and indirectly foment terrorism to finding more efficient ways to prevent terrorist attacks; in other words go back to the foundation of this country: life, liberty and the pursuit of happiness.
Such a thing will be impossible with Hillary Clinton, who has more blood on her hands than this country's blood reserves. And with her party's obsession with gun control, she would basically draw a target on all our backs. Don't let that happen.
–
TheBlaze contributor channel supports an open discourse on a range of views. The opinions expressed in this channel are solely those of each individual author.