Yesterday's mass murder in San Bernadino once again saddened and shocked the nation who, despite what you hear from the left, have not become numb or "used to" these types of tragedies. Though they have decided to deride anyone offering thoughts and prayers, I have little else to give outside of these thoughts and words.
The left, however, had plenty to offer up in the aftermath of this tragedy. Their immediate, Pavlovian response to almost any mass murder is to run to a camera or a twitter account, blame the National Rifle Association and the Republicans, call for more gun control and then apparently tell us all how useless thoughts and prayers are.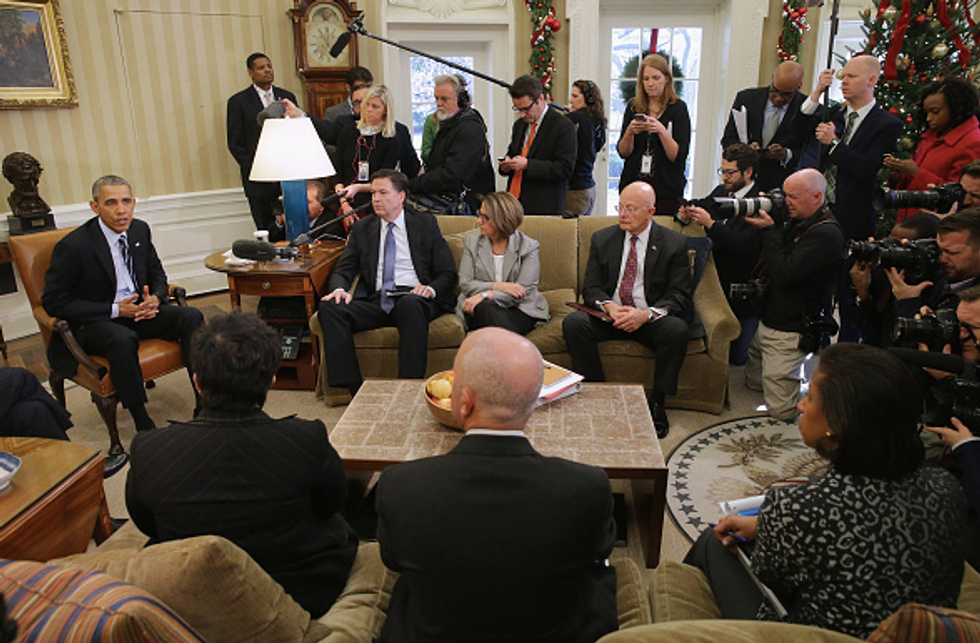 President Barack Obama (L) delivers a statement to the news media after receiving a briefing from his national security team, including (clockwise from top left) FBI Director James Comey, Homeland Security Advisor Lisa Monaco, Director of National Intelligence James Clapper, National Security Advisor Susan Rice, Deputy Secretary of Homeland Security Alejandro Mayorkas, Attorney General Loretta Lynch and others, in the Oval Office at the White House December 3, 2015 in Washington, DC. Obama talked about Wednesday's mass shooting in San Bernardino, California, that left 14 people dead and 17 others injured. (Photo by Chip Somodevilla/Getty Images) 
These immediate responses are sickening, if not ignorant and unhelpful, but it teaches us four things about them that are worth noting and reminding ourselves of:
1. Inanimate objects can be generalized based on tiny percentages, but not people, unless they're police, white or conservatives.
The logic is that all guns are bad because a tiny few of them are used illegally to murder people. Ninety-nine percent of guns will never be used in the commission of a crime, and even fewer will be used to murder anyone, but it doesn't matter. That minute percentage of guns that are used illegally means that all of them are bad and must be controlled if not banned outright.
So what happens if we switch all the words "gun" to "Muslim"? The logic is now that all Muslims are bad because a tiny few of them murder people. The vast majority of Muslims will never murder anyone, but that doesn't matter. That small percentage of Muslims who commit murder mean that all of them are bad and must be controlled or banned.
Clearly, we know the Democrats, or anyone else for that matter, would never say this, but if this is the logic used for guns, then it would be wholly consistent to carry that logic over to Muslims as well. For the left, it's the exact opposite. They will go to great lengths to defend and differentiate those within Islam to an incredible degree, even supposing themselves as scholars of Islam. They embrace the Muslim Brotherhood and Council on American-Islamic Relations, the NRA of the Western Muslim world.
It will be interesting to watch the dichotomy of these two polar opposites - blaming all guns because of a few while defending all of Islam despite more than a few.
2. This isn't about the victims or concern for them in any way.
It's a strong charge, I know, but if you actually had compassion for those who were murdered and their grieving families, would you immediately run to push your own political agenda while their bodies are still warm? Would you steal that moment of anguish and grief for your own political purpose to push an agenda of control? No! Of course not.
This isn't about the victims, it's not about the sadness we feel or anything of the sort. It's about them and their agenda of restriction. Notice one very important thing - the left has no other vehicle to push for gun control other than co-opting the tragedy of someone else's loss. It's ghoulish and disgusting and I, for one, am sick and tired of it.
3. The left has no interest in facts or truth surrounding these events.
Again, if you had any interest in knowing what really happened, would you run out to blame the NRA or the right for what happened when you knew jack squat about the situation? Would you rush to call for more gun control while we all literally knew nothing about what happened? Their knee-jerk response to call for more gun control presumes that the problem is with loose regulations or weak laws. Why else would you call for it if it's not to prevent what just happened?
Their push for gun control has nothing to do with facts or the truth of the situation. It is not based on an honest assessment and a sober reaction to the details on the ground. It is purely a rush to quickly harness the raw and visceral emotions of anguish and anger and to use the lost lives to promote themselves and their agenda.
4. Their urgency and immediate reaction is only reserved for special things.
I have noticed that the Democrats only snap to action this quickly on a couple things. This type of stampede to action only happens when it comes to demanding more gun control as soon as a mass murder occurs, and in defending abortions or Planned Parenthood.
Much like the first lesson outlined earlier, this bizarre dichotomy prevents any kind of consistency within their principles. On one hand, they immediately call for gun control in the name of protecting and saving lives, yet at the same time defend and promote abortions so that life, which has been deemed inconvenient, can be snuffed out. Those don't work together.
It's plain to see where their priorities lie based on the speed at which they react, even without knowing any of the information.
If only this urgency were used in Benghazi, perhaps lives could have been saved there. If only this stampede were present when the Veteran's Affairs scandal broke, our veterans could have been served far better and some may have been saved. If only this immediate reaction existed with the IRS and their corruption. If only this sense of critical desperation lived in the response of this administration to the Islamic State. Perhaps ISIS would no longer be as strong of a scourge on this earth who kill and enslave thousands upon thousands.
If only.
Perhaps the only things we need to exercise right now are patience, compassion and sympathy during this awful and outrage-inducing time after so many have been taken. This, however, is a lesson that I fear will never be learned.
–
TheBlaze contributor channel supports an open discourse on a range of views. The opinions expressed in this channel are solely those of each individual author.