Democrats are about to formally nominate a candidate whose beliefs on abortion are so radical, so extreme and so divisive that a significant majority of Americans consistently oppose those views.
In addition, the Democratic platform specifically included support for Planned Parenthood, the nation's largest abortion vendor, who has been caught on undercover camera conducting unsavory business practices that betray women by selling the body parts of their children for profit.
The blatant disregard for the sanctity of life, for the respect of healthcare and for the consistent betrayal of women and their families is evident in this new and updated platform from the Democratic Party, which accurately reflects their nominee.
Hillary Clinton will make history as the first woman nominated from a major political party. But the platform she represents also makes history.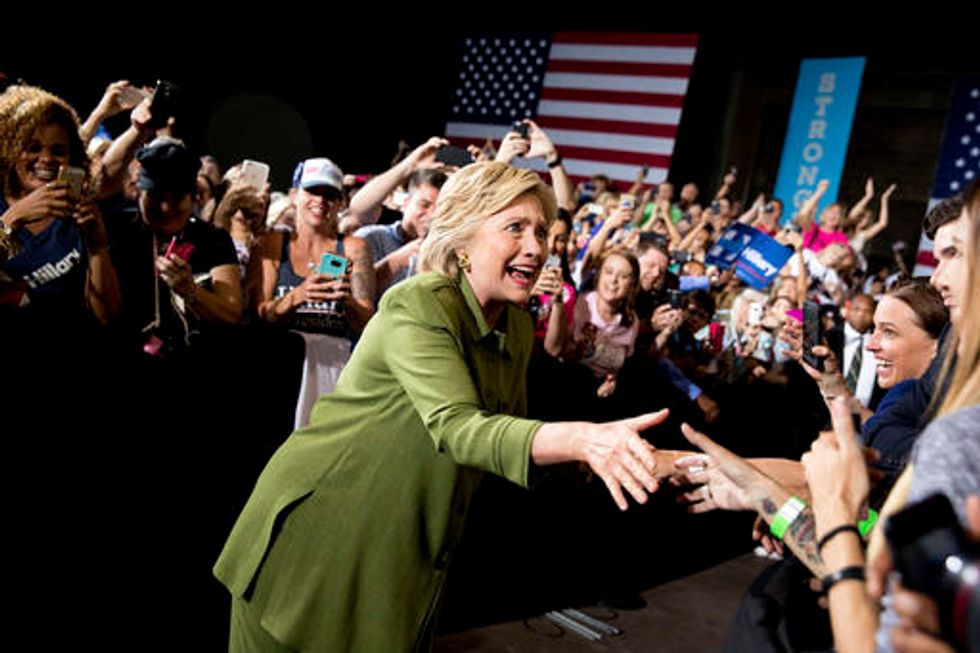 (AP Photo/Andrew Harnik)
If there was any doubt about the influence of Planned Parenthood among the Democratic party, let it be quelled with this platform. They are mentioned by name, perhaps to the surprise of no one given the tight relationship between their president Cecile Richards and Hillary Clinton. It was at a Planned Parenthood event where she chose to do her first speech after clinching the nomination. Hillary and Cecile also love to use Twitter to talk about pantsuit shopping. Adorable.
The abortion industry has made no qualms in recent years about their love of abortion so it makes sense that they would wield their influence into making the Democratic platform the most abortion-friendly ever.
Taxpayer-funded abortion? Love it. More money for Planned Parenthood? Definitely. Safe, legal and rare abortions? Just legal abortions, thanks. They don't want abortion to be rare because they would lose dollars, and they clearly don't care about safe abortions because they consistently oppose any kind of safety regulations imposed on abortion facilities. See the Whole Woman's Health ruling and the massive abortion industry celebration.
But while the abortion industry and their buddies pal around in their bubble, Americans have a different view of these radical ideas. A CNN poll in 2014 showed that 56 percent of Americans oppose taxpayer funding of abortion. In 2016, a Marist poll revealed that number was 68 percent.
In a poll released by the Institute of Pro-Life Advancement last month, only 17 percent of Millennials agree with Hillary Clinton's view of abortion that it should be legal for any reason throughout all nine months of pregnancy.
Americans don't want an Oprah-inspired platform where "you get a free abortion!" and "you get a free abortion!" and "you get a free abortion!"
The platform specifically states that abortion should be accessible no matter the woman's financial situation and all obstacles to abortion should be removed. To do that, they want to repeal the Hyde Amendment, which bans tax dollars from funding abortion through Medicaid. This has to be renewed every year in Congress, and it has been in place for the past 40 years, through both Republican and Democrat administrations.
There are no other words for these ideas other than radical, extreme, and plainly evil. It is estimated that the Hyde Amendment has saved over one million children from abortion. A poll earlier this year showed six in ten Americans – including a third of pro-choice respondents - believe that abortion is "morally wrong". Gallup also showed that 47 percent of Americans agree that abortion is morally wrong as well.
Even some in the Democratic party are horrified by their own party's platform. The Democrat Senator from West Virginia, Joe Manchin, said his constituents would not be ok with this and thinks this part of the platform is "crazy."
Pro-life groups have praised the Republican platform on abortion – that the New York Times editorial board ironically called "extreme" - which is centered on the protection of preborn children and their mothers, as well as respecting the will and moral views of taxpayers who aren't interested in paying for something they ardently disagree with and to which they are morally opposed.
The two parties have nothing in common on abortion in their platforms. Yet common ground does and can exist. The GOP platform rightly affirms the obligation to assist pregnant women facing unintended pregnancies. That's a great place to start. Americans need to come together to protect the most innocent among us and find ways to collaborate on empowering women to continue their education or careers or get back into the workforce after having a baby.
We need to tell women, yes, you can do this and we can help. Telling women they can't is disingenuous to feminism yet that's exactly what the nominee of the Democratic Party - who has broken all kinds of glass ceilings herself - and her BFFs at Planned Parenthood routinely tell pregnant women.
Kristan Hawkins is president of Students for Life of America.
–
TheBlaze contributor channel supports an open discourse on a range of views. The opinions expressed in this channel are solely those of each individual author.