Let's just get this out of the way: I'm leaving TheBlaze. This is one of my last days.
Whew. That feels good to get off my chest.
I'm sure there are plenty of questions. And there may be some assumptions in the days to come. So let me be clear: This isn't a Gawker-esque departure, where I'm resigning in protest of a business or editorial decision. I didn't have a falling out with my boss. I don't hate the people I work with. No, sometimes you find a great opportunity and also come to a point where you look around and realize it's time for a change. Maybe it's that the people you've trained up deserve a shot; maybe you catch yourself being more cynical than you know you should be; or maybe you just don't want to continue getting up between 4:30 and 5 a.m. for the rest of your life and fighting your body to stay up past 8 p.m.
I joined TheBlaze as Editor-in-Chief Scott Baker's first writing hire in 2010. I still remember pacing up and down Vanderbilt Aveune outside Grand Central in New York City talking through the details. But he wanted something first. He gave me an assignment to critique as many websites as I could and tell him what they were doing right and wrong. You know what? I found that document while looking through some old stuff. I apologize for anything that is wrong in hindsight (and if you belong to one of the sites mentioned, do not be offended -- this was five years ago). But, hey, it worked:
By the way, I looked a little different then: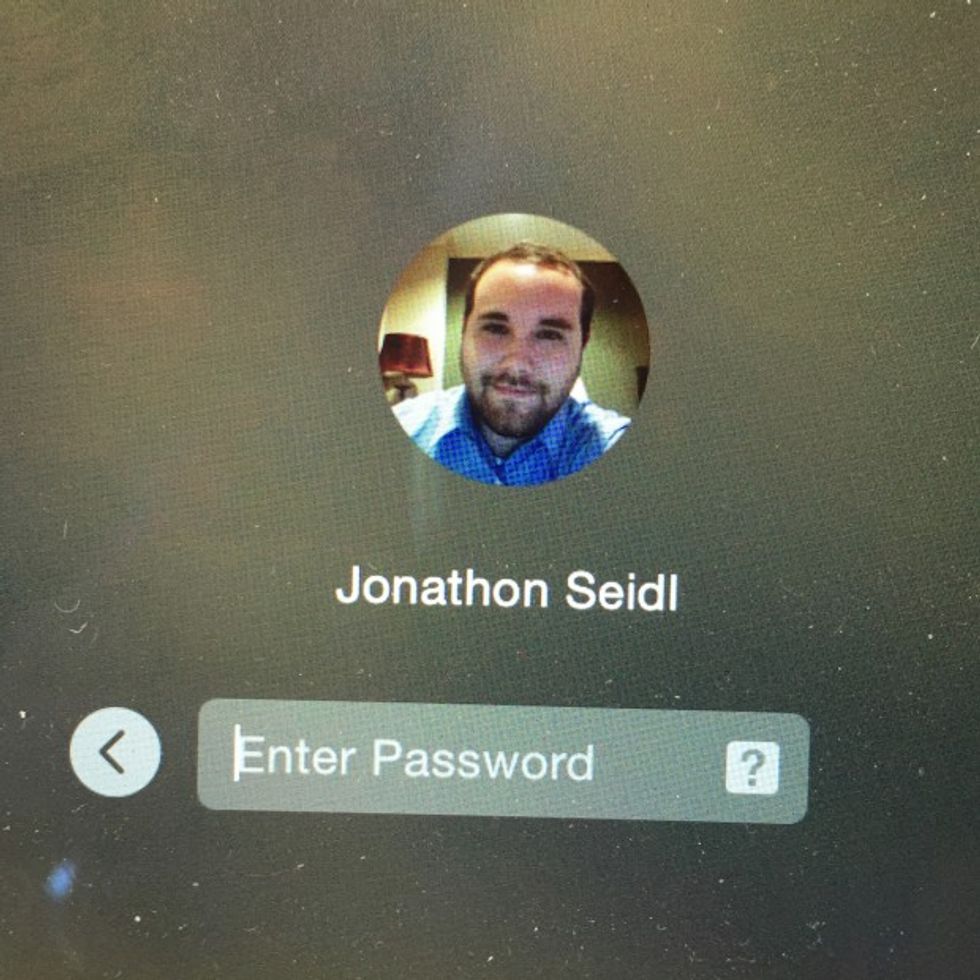 I took this picture the first day on the job. There were four of us hired, and we sat at a table at the Willard Hotel in D.C. and talked about what this would become. I got my computer from Scott and went to my room to set it up. This was the picture I took. I've never had the heart to change it. (Source: Jonathon M. Seidl)
Since then I've watched about 13,000 hours of cable news (give or take), put 6,327 posts in the back end of the site (yes, much to Scott's chagrin some of them are still unpublished drafts), and have probably only overslept twice. I've gone bald, become a dad, lost 50 pounds and then put it back on.
These have been some of the best years of my life. For starters, the people I've worked with are legendary. Yeah, they don't get a lot of screen time or recognition from other outlets. But they're doing incredible work, and we've made so many memories together while doing that work. This is from an email I sent the staff this week:
Whether it was driving from Houston with Benny and Billy after interviewing Joel Osteen (there are still things I can never reveal from that four-hour trip); Tiffany Gabbay getting into it with some snarky church leaders who relegated us to covering a GB event from a floor; mine, Liz's and Madeleine's secret fascination with popping videos that would cause some very long afternoon breaks; or having the rest of the company ask us what we did with our Christmas vacation time and every one of us chuckling and rolling our eyes because we all work every holiday, these were some amazing times. 
That's just a taste. There's also the video Billy Hallowell, Tiffany, and I made regarding a driving adventure. It involved the Restoring Love rally in Dallas during the summer of 2012:
And my trip to battle invasive carp on the Illinois River using a trident and some water skis:
See what I mean?
Then there was the time Erica Ritz, Billy and I got locked inside the amphitheater grounds in Salt Lake City late at night and couldn't find our way out. And some jerk decided to scare me so bad I screamed like I was in a horror movie:
I'm not done.
There are the Slack conversations, for example, with Liz Klimas, Madeleine Morgenstern and Sarah Rivette giving me parenting and essential oils advice and scolding me for not reading Harry Potter. There are the very unique story pitches from Mike Opelka as well as his ability to make everyone laugh, and the reaction of Madeleine whenever someone sends her a picture of snakes or makes a grammatical* error. There's Jason Howerton's hygiene habits that I got to learn about when we were on the road covering the NRA convention. Oh, did you know that besides being able to write some of the best, emotional prose, Dave Urbanski is a Johnny Cash expert? There's crashing Oliver Darcy and Josiah Ryan's apartment before the Christmas party and remembering what it looked like to be a bachelor. There's Erica's reaction every time a gruesome story comes on the news, and that one time she honestly told me my office singing sucked. And of course, Scott's ability to find the craziest stories and links -- and always paying for your meal no matter what (even when you take him to Buffalo Wild Wings).
But you, the audience, are really what has made everything happen. You came alongside us in 2010 when we thought 100,000 page views in a month would be good -- and we did that in a day. With the site crashing several times. Literally from day one we knew we had something special. Some of you have even become household names. (Pedro, I can always count on you to retweet or favorite anything I tweet. Thanks for making me feel like I actually had something to say.)
I also want to thank the silent majority. Sure, the people who regularly comment on posts get a lot of recognition (a special shoutout to our comment moderators who have to sift through all those). But the amount of people who actually take the time to leave a comment is minuscule compared to how many of you read our stories every day. And you vote with your clicks. That's why we do the stories we do, write the headlines we do, and don't do the stories we don't do.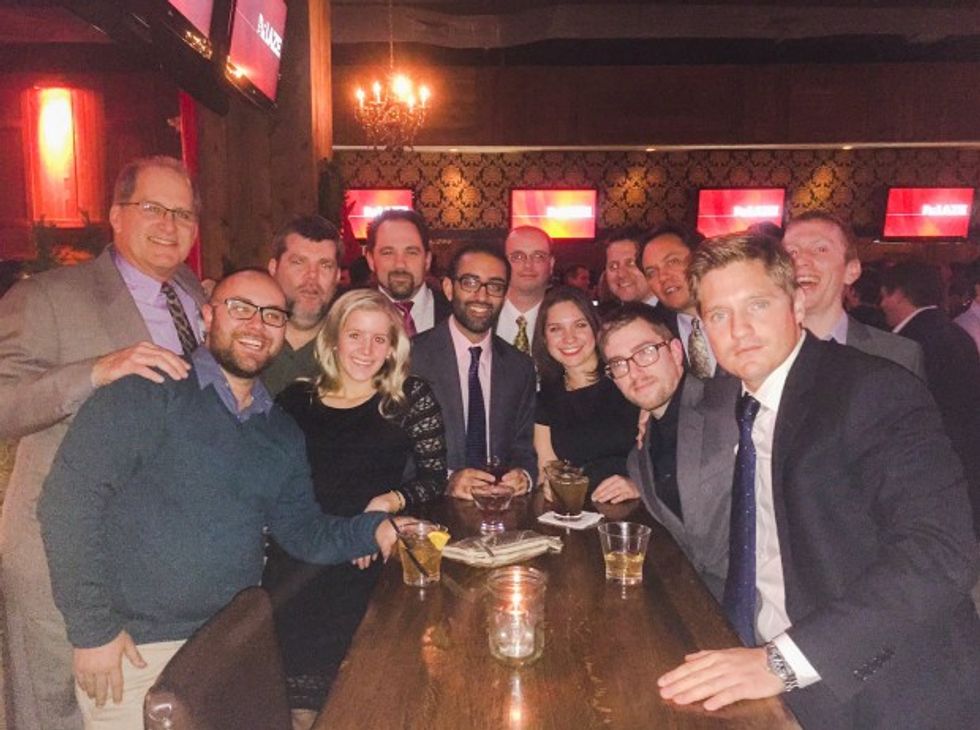 This is our writing team at this past year's Christmas party. (From left to right: Mike Opelka, me, Dave Urbanski, Erica Ritz, Chris Field, Oliver Darcy, Fred Lucas, Madeleine Morgenstern, Ben Weingarten, Jason Howerton, Pete Kasperowicz, Josiah Ryan, and Zach Noble.)
So why am I leaving? I think it's important to convey some of the best advice I ever received. It comes from my father-in-law, who has much more wisdom and just a little less hair than I do: "Whenever you leave a job, there has to be a push and a pull."
The logic goes something like this: All push and no pull means you could just be someone making a drastic decision. You're unhappy. And maybe you're making a poor life decision, leaving something before you have something else lined up. Still, not all "pushes" are bad. Maybe you've run your course. Maybe your project is up. But whatever it is, it has to be there. It can't just be uneasiness or disillusionment or boredom. It's sort of like the Ashton Kutcher principle: Never quit a job before you have another lined up.
All pull and no push: You're at risk of making "the grass is greener on the other side" mistake. Maybe you have a really good thing going where you're at. The sparkly, new thing is enticing, but is it the best? Remember, there's something to be said for not being nomadic, and not jumping for "the next thing" simply because it's "the next thing." And there is a temptation to see the new thing as much better than it is.
What you need is a push (maybe you're tired, maybe you've done all you can do for now) and a pull (a truly great opportunity).
I have the push and the pull.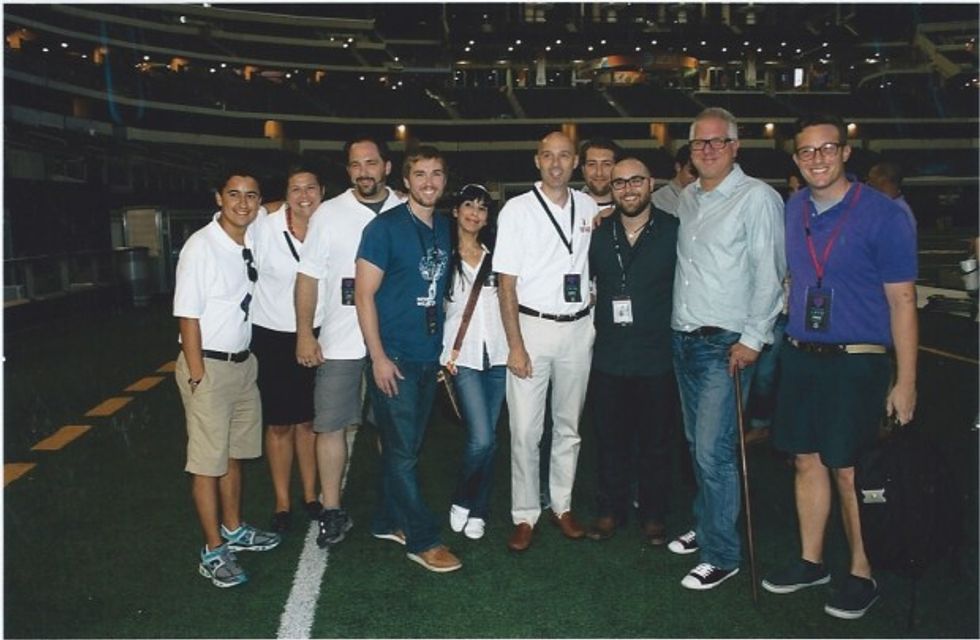 TheBlaze.com team on the field at AT&T Stadium after Glenn Beck's Restoring Love event. (From left to right: intern George, Jayci Field, Chris Field, Jason Howerton, Tiffany Gabbay, Glenn Hall, Billy Hallowell, me, Glenn Beck, and Benny Johnson.)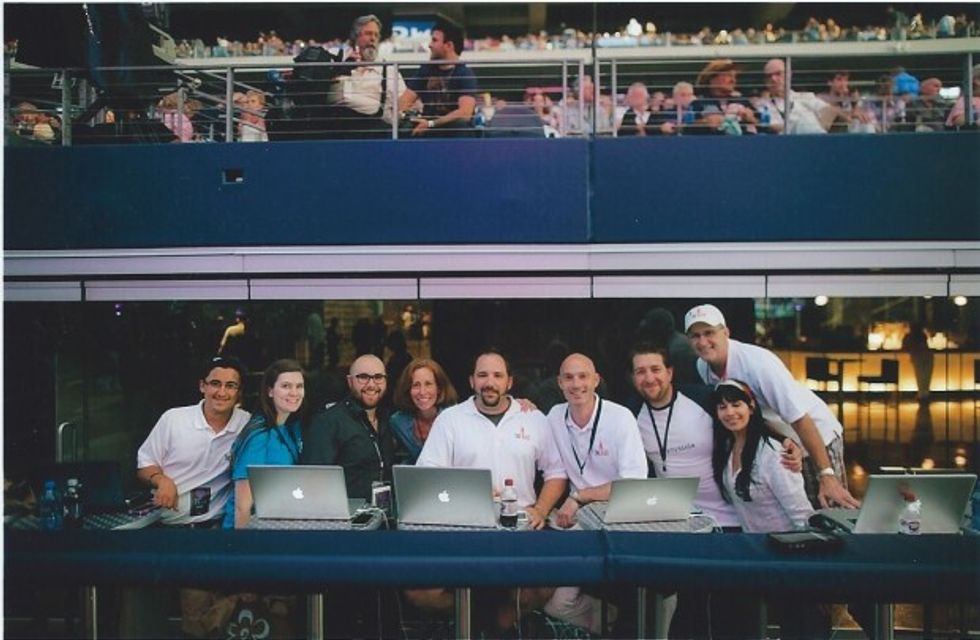 Some of the TheBlaze.com team covering the Restoring Love event. (From left to right: intern George, Erica Quist, me, Betsy Morgan, Chris Field, Glenn Hall, Billy Hallowell, Mike Opelka, and Tiffany Gabbay.)
The push? I alluded to it earlier. It's time. Living your life by the 24/7 news cycle takes its toll. And the news business requires you to be fully immersed. There's no lukewarm. It's time for those under me to use their fresh ideas to help catapult this site into the future, as I do the same at my new place. The people I love and trust, including Scott, are as enthusiastic as ever about the road ahead, and they care about the readers. They are fighting to give you the best product and experience. You are in good hands.
The pull? In the next few days, it will become public where I'm going. Suffice it to say I will be doing something I'm passionate about: I'll be doing some really cool storytelling. There is definitely that pull. I've turned down several jobs during my five years at TheBlaze, but this one I couldn't. I get to build again. And I get to do it for a cause I believe in strongly. And, no, it's not a competitor to TheBlaze.
(Side note: How could I go directly from TheBlaze to a competitor when I have a Blaze tattoo? Remember this?)
I have the old Blaze logo included in one of my tattoos. Veritas, by the way, means "truth" in Latin. (Source: Jonathon M. Seidl)
Still, I know I will miss this. News is like an addiction: You're always trying to get that high of finding a story no one has done or the angle no one has considered. It's intoxicating. But for now, it's time to step away.
If I've captured your attention up until now, let me leave you with a few charges: Don't fall into the normal, right-of-center news traps. Be skeptical (but not conspiratorial) -- especially of traditional conservative outlets. Be wary of people who just want to start fights, especially on Twitter. Think before you share that post or meme on Facebook. Stand for the truth, even if that means you have to admit you're wrong at times.
I will miss you. Please don't be a stranger. You can still find me on twitter (@jonseidl) and Facebook (Jonathon M. Seidl).
Thanks for everything.
*This used to be "grammar error," but in true Madeleine fashion she corrected it: "You want irony? It's 'grammatical error.'" 
–
TheBlaze contributor channel supports an open discourse on a range of views. The opinions expressed in this channel are solely those of each individual author.