The Republican Party had their last debate before the Iowa Caucus. Despite this close proximity to such an important vote, no one stood up to prove that they would correct the mess left by President Barack Obama.
That lack of distinction was obvious at the "kid's table." Sure, all three candidates strongly support gun rights, as they should. However, they all believe in the bankrupted policies that are sinking this country.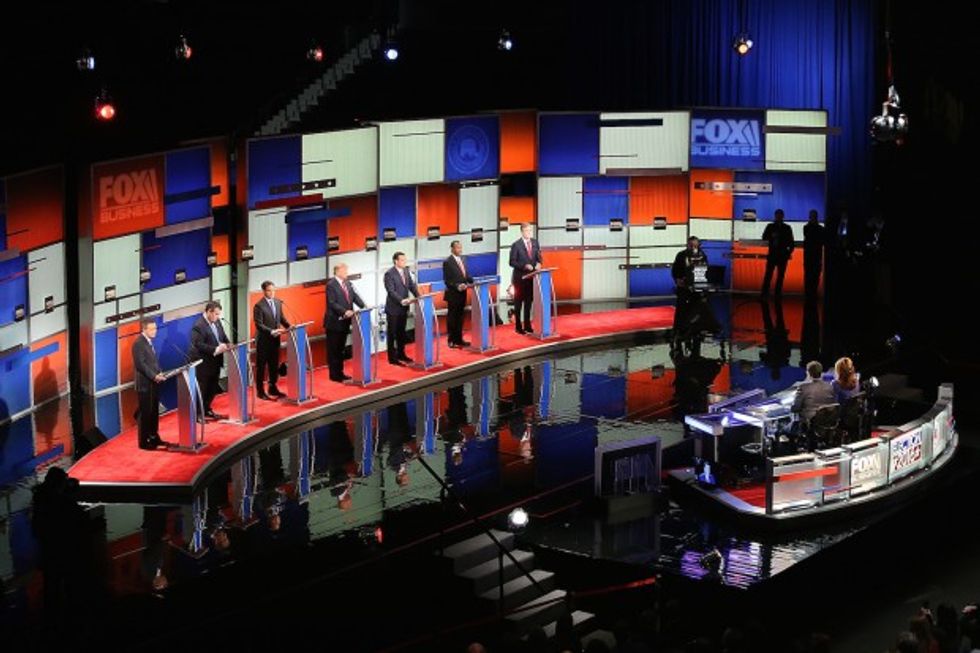 Republican presidential candidates (L-R) Ohio Governor John Kasich, New Jersey Governor Chris Christie, Sen. Marco Rubio (R-FL), Donald Trump, Sen. Ted Cruz (R-TX), Ben Carson and Jeb Bush participate in the Fox Business Network Republican presidential debate at the North Charleston Coliseum and Performing Arts Center on January 14, 2016 in North Charleston, South Carolina. The sixth Republican debate is held in two parts, one main debate for the top seven candidates, and another for three other candidates lower in the current polls. (Photo by Scott Olson/Getty Images)
Mike Huckabee, for example, believes that the Ponzi scheme called Social Security needs to stay alive. He wants this program with $14.6 trillion in liability (and counting) to remain intact and hopes that economic growth will be able to cover the increased expenditure. Even if the economy does grow, how will the federal government be able to pay Social Security when its liability will increase by $6 trillion just four years from now?
On his side, Rick Santorum is rightfully appalled by a statistic (quoted during the debate) that shows that 40 percent of children are born to single mothers. They will face incredibly negative odds of getting out of the poverty they were born into. But as a typical lip-service conservative, Santorum wants government to "do something about it." If government is to have a role in this dramatic situation, it should be to ban those ridiculous abstinence-only classes Santorum is a fan of. They are based on wishful thinking that teens are angels and will "resist temptation" until marriage. Most of the time, it miserably fails.
And on her side, Carly Fiorina did talk about creating jobs and wanting less government. But she made no mention of ways she would do it other than have three pages in the tax code. What about the ever-increasing red tape that is strangling the small businesses she supports? The rogue government agencies that are making all sorts of regulations without any oversight?
At the "adults' table," Chris Christie looked quite out of place with the other candidates. Like Bernie Sanders he wants to use infrastructure spending to create jobs. And like dictators he loves to revile – he compared Obama to one a few times – he wants federal law to prevail and continue the War on Drugs. In other words he wants a government as big as he is.
Donald Trump would see no problem starting a tariff war with China. Yes, that country is manipulating its currency and therefore favoring its exports. However Trump missed "the dragon" in the room. Taxes and regulations are choking Americans and are increasing costs. He should know a thing or two about this, being from tax-hungry New York City.
Fortunately many of his opponents took him back to reality. Jeb Bush reminded him about the escalation of a trade war should we increase tariffs on Chinese products.
Marco Rubio pointed out that tariffs are usually not paid by corporations as such. They are usually passed on to workers with decreased wages and / or higher prices for customers. He had an excellent solution to help us "fight" China: grow the economy.
But to grow the economy, only Ted Cruz seemed to have a clear fiscal plan that would work. He proposes a flat 10 percent personal income tax and a flat 16 percent business tax. Both would replace all the existing taxes, from payroll to Obamacare taxes.
However he failed to talk about regulatory reform, which only John Kasich mentioned. He vowed to freeze regulations except when safety and health are involved. He also talked about cutting taxes without giving numbers and agreed with Trump about trade with China. Both want "fair" trade, a terrible misnomer used to hide protectionist intentions. They should know better than to use liberal feel-good words…
So if last night's debate were held to determine who will be the GOP nominee, the party is screwed. They were highly capable to complain about the failed policies of Obama, most of which are supported by Hillary Clinton and Sanders. However, none of them actually have solutions to empower we, the people of America, to take control of our own lives as we see fit.
–
TheBlaze contributor channel supports an open discourse on a range of views. The opinions expressed in this channel are solely those of each individual author.