Wednesday evening's second Republican debate, hosted by CNN, gave the American people a better look at the 11 main candidates vying for the party's nomination. As the dust settles, polls and focus groups are beginning to give varying responses to the debate. Instead of deciding who "won" the debate and who outshined the other, it's important to take a step back and dissect each candidate's individual performance.
So I got to thinking – we grade NFL teams and players after Sunday brawls on the gridiron each week, why not do the same for the GOP candidates?
The criteria these candidates are being judged on is simple – their portrayal of themselves as candidates. That includes clearly discussing stances on past and future policies, connection with the audience, oral presentation and demeanor.
Let's begin with the big dogs in the race:
Donald Trump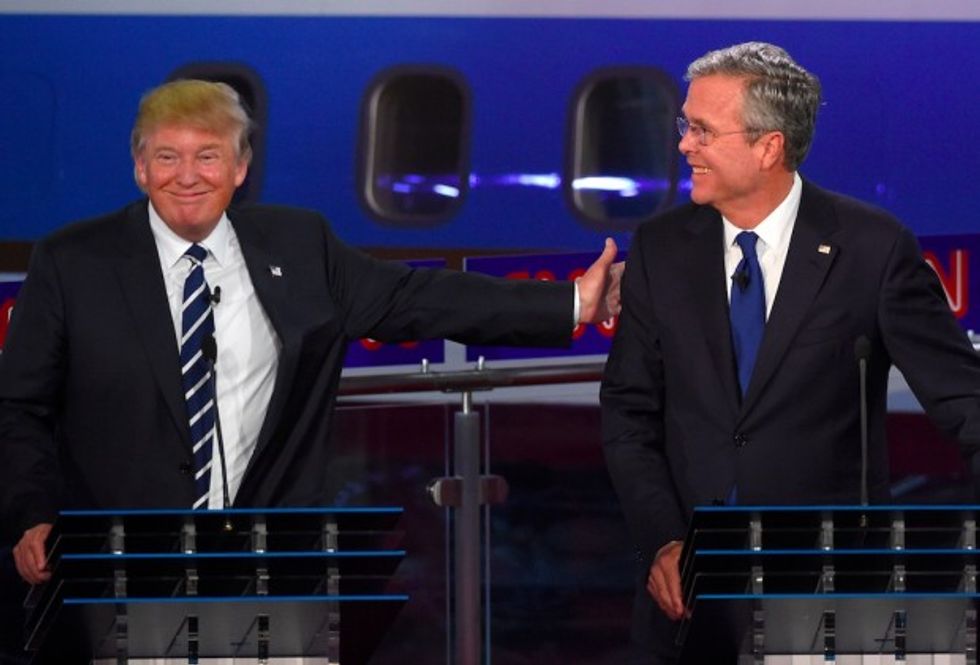 Former Florida Gov. Jeb Bush and Donald Trump joke during the CNN Republican presidential debate at the Ronald Reagan Presidential Library and Museum Sept. 16, 2015. (AP Photo/Mark J. Terrill)
Heading into this debate, Trump was in a class of his own atop every national GOP poll. His brashness and unpredictability was humorous and refreshing during the party's first debate. This time, however, it became clear that the plan of the remaining 10 candidates on stage was to attack the billionaire early and often. In doing so, Trump looked more uncomfortable than ever before.
While Trump was able to land his expected zingers, he found himself more on the defensive than he is accustomed to these days. Not only did Trump find himself spewing incorrect statements, but attacks by the likes of Carly Fiorina and Chris Christie landed without any quick-thinking remark by the front-runner. In fact, even Trump's trademarked bashing seemed to cross the line more so than usual on the national stage.
For Trump, it was going to be difficult to continue climbing in the polls, and last night showed that his campaign may have already peaked. It's hard to say Trump's showing was a disaster, but it is telling that while other candidates were discussing policies outside of immigration, the billionaire went uncharacteristically silent.
Grade: D+
Jeb Bush
Bush needed a rebound badly, and it was obvious he knew it. Not only was Bush more on the attack than ever before, but he did a great job of holding his ground when pitted against Trump.
While Bush successfully defended his record on women's rights, immigration, etc., it was his stern yet reserved responses to Trump that elevated his performance. In a moment that will be played over and over during the coming weeks, Bush found a way to be protective of his wife yet forceful with Trump in a respectful way.
This is the exact type of moment that we had yet to see from Bush during his campaign. We know that he is a career politician with success in Florida, but voters have not seen the personal side of Jeb as he struggled to connect with those watching. This interaction, combined with his discussion of his brother's protection of the country, gave an emotional connection that was much needed.
Grade: B
Carly Fiorina
Fiorina established herself as a prime candidate in this race. She defied the odds by garnering much publicity from the August "B Team" Fox News debate and carried that momentum over into the second debate.
She gave thorough answers with detailed plans on the change she would bring, specifically regarding the military. As the Military Times points out, she has a goal of "establishing 50 Army brigades, 36 Marine Corps battalions, up to 350 naval ships and sending several thousand more troops into Germany, insisting that doing so would create 'the strongest military on the face of the planet.'"
Fiorina also continued her dissection of Hillary Clinton, a talking point that has been consistent during her rise in the polls.
However, the former CEO of Hewlett Packard connected with viewers in unique ways when it came time to discuss her heartbreaking view on the legalization of marijuana and the topic of who she would place on the $10 bill.
Throughout the night, Fiorina was sharp, touching, firm and confident. She gave optimism to those watching, because she did a great job of differentiating herself from the career politicians while showing she had the experience and knowledge to move America forward.
Also, get used to seeing this clip because it was her shining moment. There are many ways to handle Donald Trump, and this is the classiest and more condemning way to do so.
Grade: A
Marco Rubio
We aren't talking "winners" and "losers" on this piece, but if we were, Rubio would be right there at the top. The Florida Senator was sensational and lived up to his hype for the first time in these primaries.
Rubio was not only thorough and detailed in his policy responses, but he was the most accomplished orator on the stage. He spoke in terms that were easy for citizens to understand, and he did a great job of explaining his approach.
During the asinine argument of whether candidates should be speaking English or Spanish, Rubio brought the topic back home – giving immigrants a true voice in the discussion as he recollected his immigrant grandfather's love for this country.
Rubio's five years in the senate have given him insight into affairs that others on the stage may not be privy to at the moment, and he used that advantage to his favor. His approach to Russia was a policy response that many viewers latched onto long after the debate.
Grade: A
Ben Carson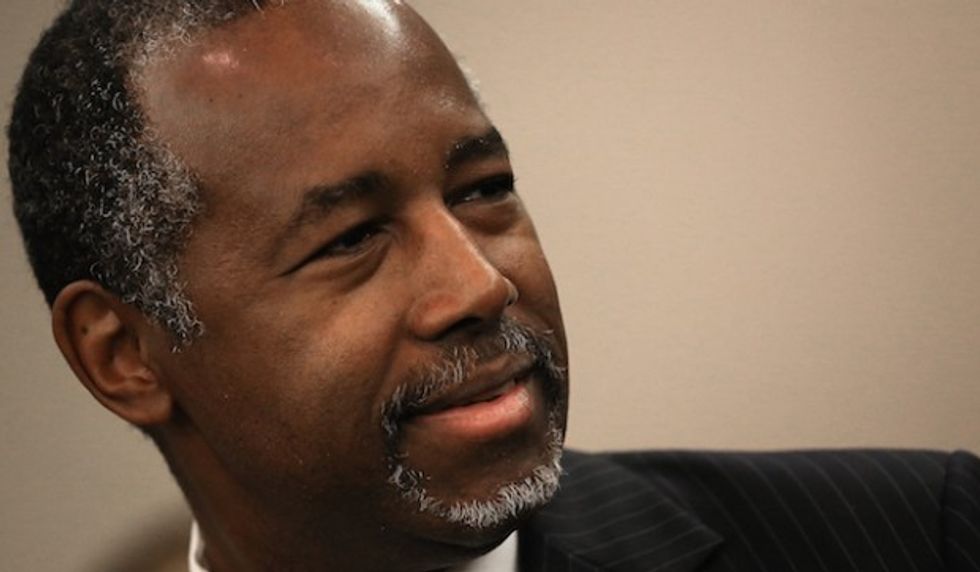 Republican presidential candidate Dr. Ben Carson speaks at the National Teen Age Republicans Leadership conference July 21, 2015, in Arlington, Virginia. (Win McNamee/Getty Images)
Considering his surge in the polls, the second debate was Carson's time to shine and overtake Trump in the polls. However, the famed neurosurgeon was rather forgettable. His unwillingness to embark in name calling and blaming regulated his time to be much less than the others. While that approach is respectable to many, on a night like Wednesday, it was detrimental to his campaign because he often was not heard from.
The biggest issue for Carson was his failure take advantage of opportunities – the biggest being on the issue of vaccines. As a pediatric neurosurgeon, this topic is right in Carson's wheelhouse. He and Trump disagreed on the correlation between vaccines and autism, yet the doctor sidestepped an opportunity to show how dangerous and unproven he believed Trump's claims were.
As a political outsider, Carson is held to a different standards by his supporters – acceptable or not. His calm demeanor and gentle approach endears him to many right-wing voters. There is no denying he is a brilliant man with an approach to leadership that the government hasn't seen in quite some time, but he will need to find ways to become more vocal in an overly saturated field.
Grade: C+
Chris Christie
Very quietly, Chris Christie has produced two impressive debate performances. While others were bickering back and forth, Christie continued touting his experience and willingness to get the job done if he were president.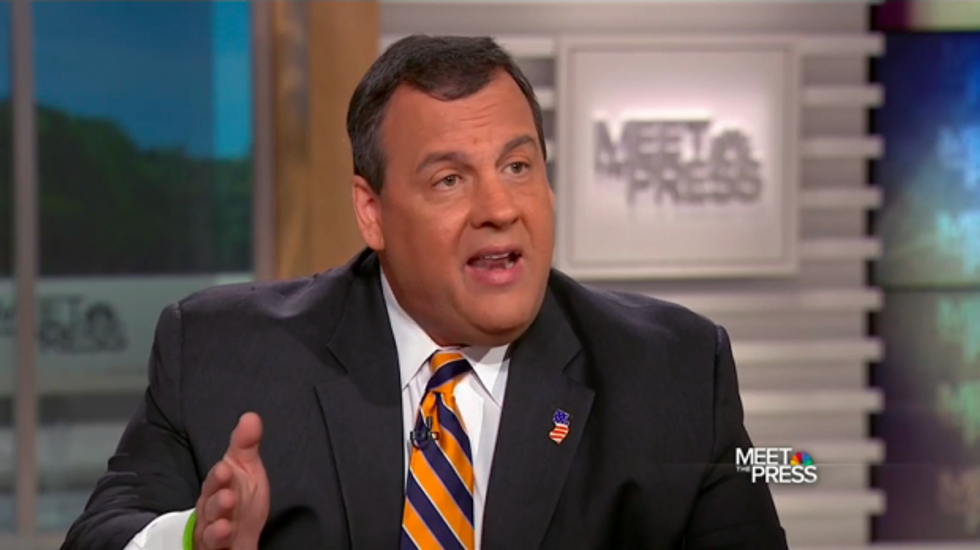 Image source: NBC News
On Wednesday, Christie had many great moments – from his opening remarks to the chastising of Trump and Fiorina. However, his most impactful moment was his discussion of the war following the events of Sept. 11, 2001.
Christie's recollection of his wife working two blocks from the towers that day and revelation that he was appointed district attorney just the day before immediately gave gravitas to his remarks. He went on to support President George W. Bush's decision for immediate action, calling it something the victims wanted and deserved.
While it may not be showing in the polls, Christie's debate performances have been arguably the most consistent in the field. He has been detailed, relatable and focused more on giving the American people answers to their questions as opposed to a thorough history of his accomplishments.
Grade: B+
The remaining candidates:
John Kasich - Grade: B+
Scott Walker - Grade: C
Ted Cruz - Grade: C-
Rand Paul - Grade: C+
Mike Huckabee - Grade: C-

–
TheBlaze contributor channel supports an open discourse on a range of views. The opinions expressed in this channel are solely those of each individual author.