The pilot navigated the jet safely around the turbulent thunderheads towering over Miami, delaying our landing by nearly an hour. Flying in from Seattle, I was simultaneously awed and unnerved by the dark clouds. As we landed I wondered whether our driver had given up waiting, but my concern proved short lived. He called just as I turned my phone on while our plane taxied toward the gate.
The south Florida heat and humidity took my breath away as I exited the terminal with luggage in tow, and squeezed into the waiting SUV along with two other mothers.
I soon learned that the woman sitting in the front passenger seat was Samaria Rice, mother of 12-year-old Tamir who had been shot by police in Cleveland last November. Sitting to my left was Dianne Harrell who had flown in from Colorado. Her son was shot and killed on Dianne's birthday while he was sitting at a stoplight nine years ago. His murder remains unsolved.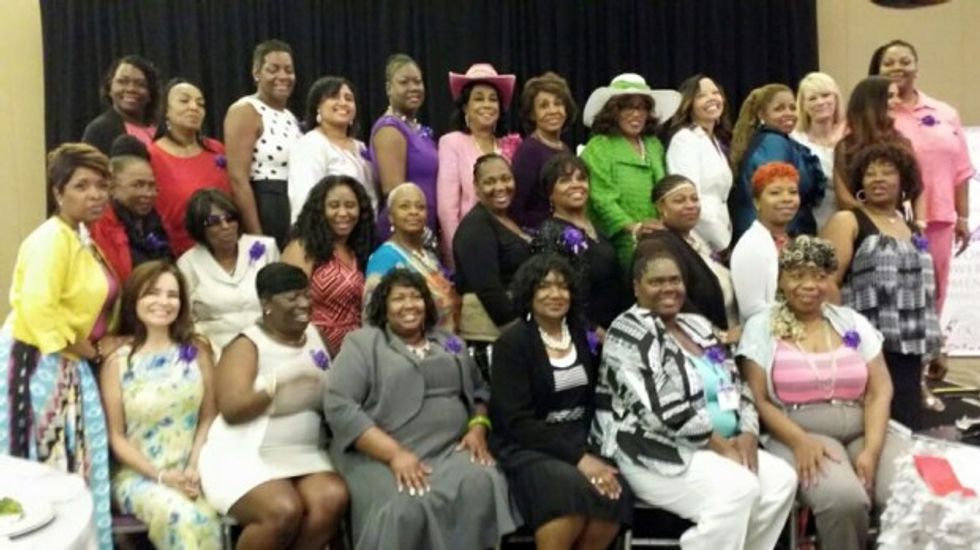 Circle of Mothers Retreat. (Queene Brown) 
Mark Fulton, Trayvon Martin's uncle, was our driver. Friendly and engaging, I was touched that he himself would come for us.
Traveling to Florida for the first time, I had come to attend the Circle of Mothers, a retreat sponsored by the Trayvon Martin Foundation designed to bring together mothers who have lost a child to gun violence. Spanning from Friday evening to Sunday noon, the retreat focused on healing, restoration and empowerment.
Although I had lost my daughter to nonviolent means, Trayvon's mother, Sybrina, had recently spoken at my own convention in Indianapolis and she invited me to Miami. I was launching a nationwide effort to promote healing and hope, and we discussed including my healing circle as a last minute addition to her retreat schedule.
Aside from Tamir's mother who came from Cleveland, Michael Brown's mother who had come from Ferguson, and Eric Garner's mother who had travelled down from New York, most of the other mothers lived in and around Miami.
Although the region is rich in diversity, I appeared to be the lone Caucasian. Given racial headlines haunting our nation and dominating the media, I wondered if they would hesitate to welcome me.
Saturday morning my jetlagged appetite was in no mood for breakfast, so with a cup of strong coffee I made my way into the conference room. Still unsure of the schedule, I was ready to lead my healing circle at the given cue.
The first session was led by award-winning motivational speaker Felicia Scott. Drawing from a master's in education and her own seven-year journey to overcome depression, Felicia encouraged us to allow our individual processes to guide future endeavors.
The next session was led by Miami-based clinical therapist Monique Edwards-Braddy. A tall, elegant woman of strong faith and a master's in social work, she led the group through a visual exercise designed to validate the importance of making our own well-being a priority.
Following a lunch break, the third session was a glam makeover designed to pamper and rejuvenate. Led by celebrity makeup artists Michelle Hargrove and Toni Acey, a small team stood armed with an arsenal of beauty items. Michelle asked who among us had never looked in the mirror and told ourselves we were beautiful. I expected to be among the majority when I raised my truthful hand. Very few hands went up, and Michelle's sharp eye noted my admission. She wasted no time inviting me to be the first to enjoy a bit of pampering in the makeup chair.
Next to take the makeup chair was Eric Garner's mother, Gwen Carr. A quiet lady with a head full of contrasting braids, an encouraging smile was never far from her lips. Despite the societal enrage surrounding her son's death, her soft demeanor revealed a kindhearted gentleness and genuine kindness.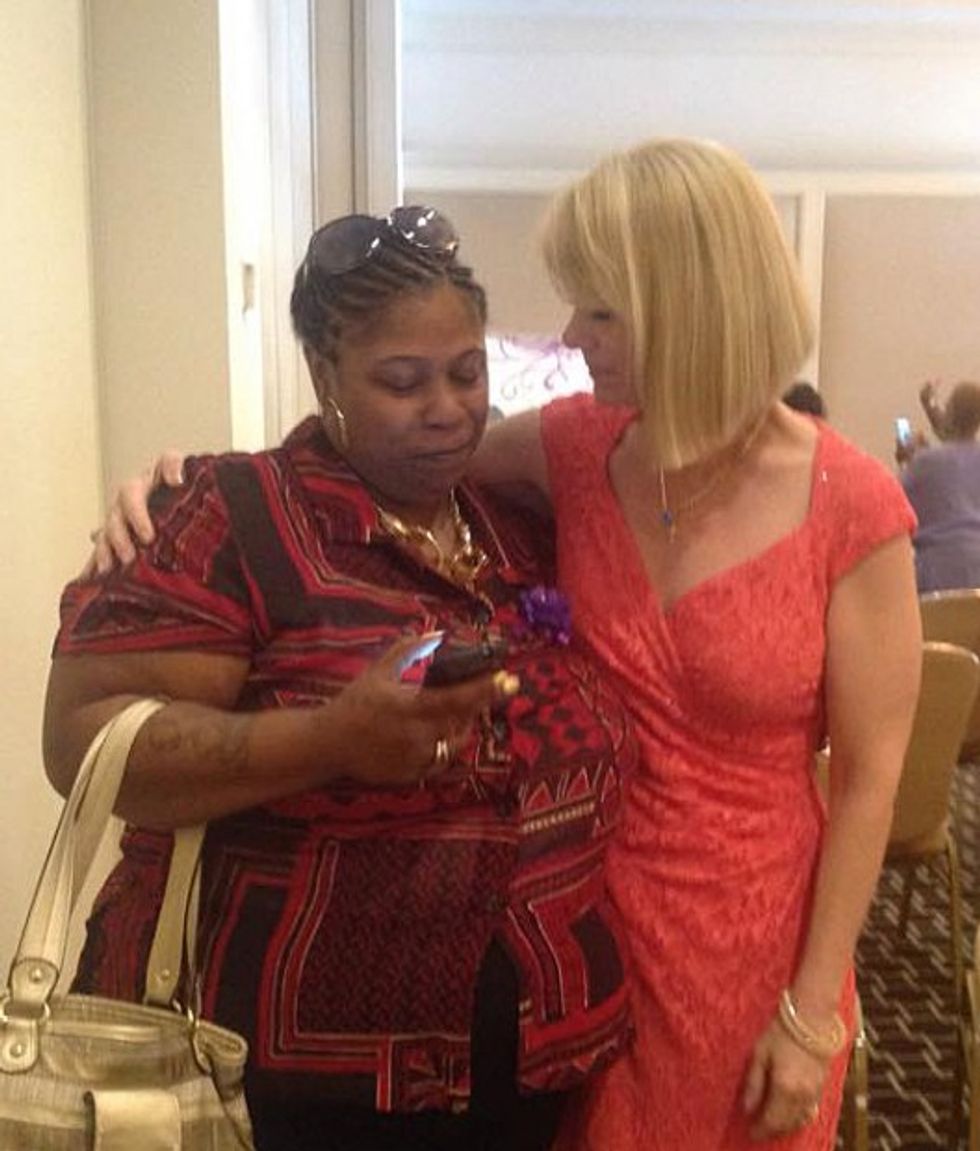 Samaria Rice, left, and Lynda Cheldelin Fell. (Lynda Cheldelin Fell) 
Other mothers took the makeover chair one by one. With 50 mothers to indulge, time ran over and my healing circle was bumped from the schedule.
But the pampering was rejuvenating as promised, and we wrapped up the session holding hands in a different kind of circle, one that was led by the power of compassion. Barring any social distinctions, our linked hands formed an uninterrupted conduit that allowed love to flow freely from heart to heart. It was a poignant ending to the long afternoon.
Saturday's dinner session was a semi-formal affair featuring a variety of regional personalities. Much of Trayvon's extended family was present, and the deep bond they shared was evident.
Following dinner, U.S. Reps. Corrine Brown, Frederica Wilson and Maxine Waters took the stage. Taking turns to inspire the crowd, they urged us to make changes within our own communities and to use our votes to address political issues.
Each congresswoman also individually touched on the national concern over gun violence. With the first National Gun Violence Awareness Day scheduled for June 2, their impassioned voices spoke not just for all the mothers who had lost a child to such brutal means, but for the millions of Americans demanding a call to action over gun safety.
Sunday's morning service was the final session of the weekend. The sermon was led by Durrell Davis-Knight, who proved a passionate storyteller as she was preacher. Her traditional black delivery elicited dancing and handraising from many.
Surveying the crowd from my chair, I felt enormous appreciation that over the weekend we weren't recognized by our skin color, language or education. Here, it wasn't "me" or "my." Rather, it was "we."
We were simply grieving mothers, united in a beautiful sisterhood that refused to be diluted by any differences.
Noticing the tear of liberation that escaped down my cheek, Sybrina's aunt reached out with a soft hand to take my own. She had been standing to my left throughout the sermon, her spirited body responding to the soulful preaching. Then in one swift movement she enveloped my pale body in her brown arms, cradling me against her bosom as she continued her spirited testament.
The acceptance and compassion that flowed from her body to mine was undeniable, and suddenly I understood why she was dancing: she was transforming grief into love.
Following the service as we began to say our final good-byes, Samaria Rice approached me. Having heard about my work, she shared that when Tamir was killed she was deeply touched by the diversity of young boys who came to pay their respects.
Asian, Hispanic, Caucasian and African American children all grieved because of her son's tragic death.
We discussed how grief is colorblind and unites us in our hunger for healing.
Leaving Florida behind as our jet ascended into the clear blue sky, my travel to Miami revealed that when hearts are united by loss and driven by collective goodwill, a natural sisterhood arises and differences disappear.
For the language of loss is universal. As is the language of hope.
–
TheBlaze contributor channel supports an open discourse on a range of views. The opinions expressed in this channel are solely those of each individual author.