Former First Lady Hillary Clinton, in a major speech last Saturday in New York, announced that she was running for president of the United States. Again. Yet. For sure this time. Whatever.
In another speech two weeks ago she foreshadowed her plan for winning. She supports more people voting and opposes any laws that would require voters to prove that they are who they say they are.
Speaking at Texas Southern University, a historically black college in Houston, Texas, Clinton came out swinging against voter ID laws. She also called for universal and automatic voter registration at least 20 days of voting.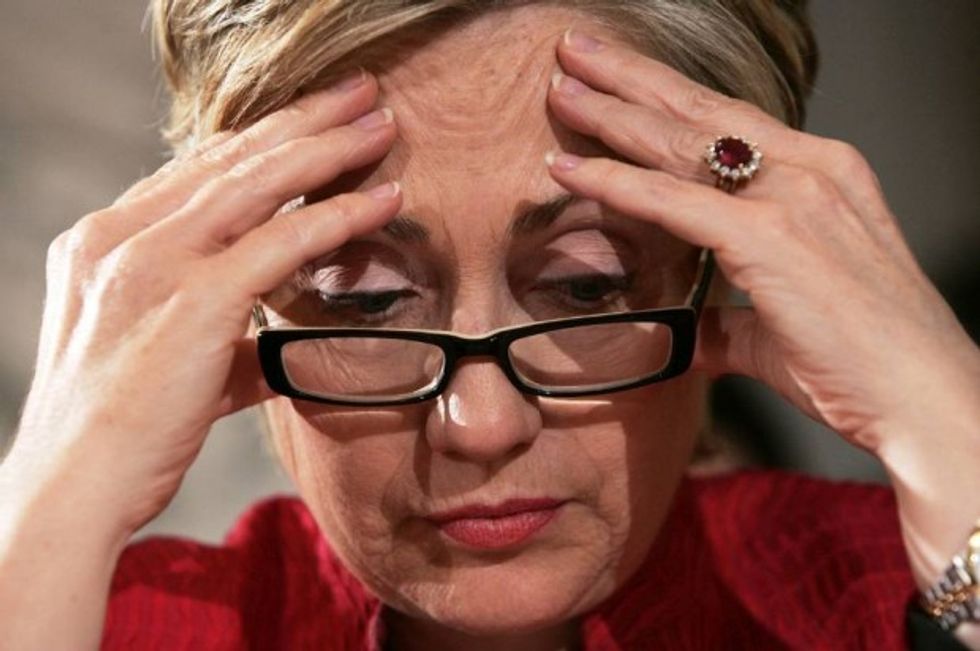 (Photo by Alex Wong/Getty Images)
Clinton insisted that requiring a photo ID to vote was particularly hard on African Americans. Why she chose to use an African American assembly to tell them that they are less competent than others in getting a photo ID is beyond me, but that seems to be her view.
Clinton must believe that African Americans are also unable to drive a car, use a bank, travel by air or participate in the "citizen meetings" she had over the last several months in Iowa, New Hampshire and South Carolina.
Democratic National Committee Chairwoman Debbie Wasserman Shultz added to the condescension of African Americans by referring to voter ID laws as a "full scale attack on minority voters."
The Department of Justice entered the fray in 2012 by rejecting Texas' request for preclearance of its photo ID law. The Supreme Court ended that preclearance requirement in 2013 thus allowing the law to proceed.
The DOJ has some difficulty on this issue since they require a photo ID to get into their building. And in 2012, a person claiming to be Eric Holder was allowed to vote in Washington, D.C. A photo ID would have stopped the 22-year-old white man from voting as the 62-year-old black attorney general.
In his 2008 re-election Minnesota's Sen. Norm Coleman was the leader on election night by more than 700 votes. After the recount, aided by the discovery of boxes of ballots that had no known source, Al Franken defeated Coleman by 312 votes.
Voting booths are set up for early voting at the Black Hawk County Courthouse on September 27, 2012 in Waterloo, Iowa. Early voting starts today in Iowa where in the 2008 election 36 percent of voters cast an early ballot. Credit: Getty Images
After the dust had settled it was discovered that convicted felons illegally cast 1,099 votes. Every one of the felons who could be reached by the media said they voted for Franken.
Clinton not only wants to tell states what requirements they may establish for voting, but also how many days must be allowed to cast ballots.
Lest you think her effort is noble she quickly used it as an opportunity to attack voting laws in states governed by Republicans she may face.
Ohio Gov. John Kasich responded to her charges against him by pointing out that Ohio has 28 days to vote while New York, the state Clinton represented in the Senate for eight years, has only one. He suggested that she should begin her efforts in her own back yard.
Not content with photo ID and number of voting days, she further demands that everyone reaching the age of 18 to be automatically registered to vote unless they choose to opt out.
People who care about the direction of our nation and want to help shape its future do not need help in registering to vote. They register, pay attention to the candidates and make informed choices. Why in the world would we ever want people to vote who lack the initiative to register?
Large voter registration drives are often described as efforts to improve election results. They are more often huge opportunities to put names on the voter rolls that can be used to cast fraudulent ballots.
The community-organizing group, ACORN, specialized in voter registration. In a 2008 investigation into suspicious voter registrations in Ohio, Cuyahoga County's ACORN admitted that a large number of the 1.3 million voter registration forms they gathered nationwide were fraudulent.
This past Monday Clinton reiterated her attack on Republican efforts to make voting more difficult. It is unclear how many potential supporters she is energizing since there are virtually none who have experienced this difficulty.
A 2006 survey of 36,000 voters found that only 23 were prevented from voting for not having an ID.
The changes that Hillary Clinton and the entire Democrat establishment are seeking will do nothing to produce more informed and discerning voters. It will, though, produce more opportunities for cheating.
–
TheBlaze contributor channel supports an open discourse on a range of views. The opinions expressed in this channel are solely those of each individual author.