Another day, another scandal—at least that's how it seems if you're Hillary Clinton. It becomes more clear every single day that Hillary Clinton cannot be trusted and that message is resonating with voters across the country.
Just last week the American public discovered that Hillary Clinton may be under investigation by the Department of Justice for her decision to use a "private" server while conducting official business as secretary of state. Since the discovery of the server and private email address, it has since been revealed that some of the emails that have been released contained classified information. If this is true, Hillary Clinton could have compromised the national security of the United States each time she fired off an email on her private account.
Regardless of political affiliation, I think the general public can agree that Hillary Clinton should not have been conducting official State Department business from a personal email account, unaffiliated with the federal government. Hillary Clinton played by her own rules while accepting a federal government paycheck, and that should have taxpayers up in arms ready to hold her accountable.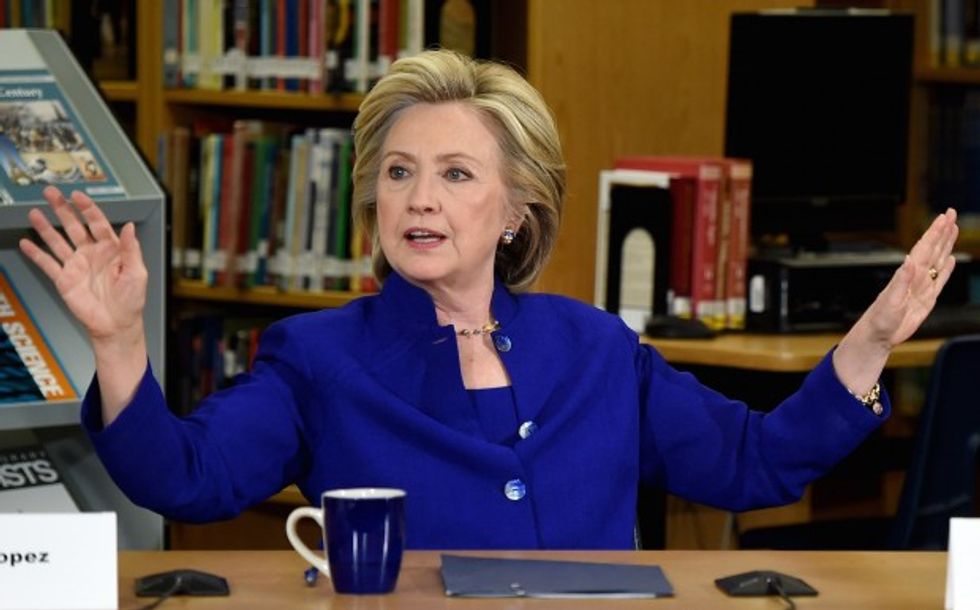 Democratic presidential candidate and former U.S. Secretary of State Hillary Clinton speaks at Rancho High School on May 5, 2015 in Las Vegas, Nevada. (Photo by Ethan Miller/Getty Images)
While, Clinton has stated that her private server was safe to use, that should be questioned. Just this month it was reported that the Office of Personnel Management hack affected over 21 million people. A federal government agency was susceptible to hacking and yet, a private server is safe?
It should be clear that when we live in a world with increased cyber security threats, our federal government officials should do all that they can to protect our personal as well as national security data. Initial reviews of Clinton's email correspondence shows that she did in fact risk the security of the United States when she conducted official business.
Of course, Hillary Clinton has continued to claim that she is innocent in all of this and that she has complied with every regulation, yet she refuses to turn over her private email server. If in fact, she never jeopardized our national security and she was strictly conducting official business, why can't she disclose her emails and turn server over to an independent third party for review?
The bigger issue at hand here is that if Hillary Clinton was unable to play by the rules and regulations set forward during her time at the State Department, what makes her capable of following them as president of the United States? According to a recent Quinnipiac poll, 57 percent of Americans don't view Hillary Clinton as honest or trustworthy and it's not hard to see why given the continuing scandals that surround her.
For far too long Hillary Clinton has not been held accountable for her actions and it's high time that the public hears the truth. It is time for the Department of Justice to investigate Hillary Clinton and the Obama administration have relentlessly said that their priority is transparency, yet at the end of the day there appears to be none.
Ashley Pratte is a communications consultant in Washington, D.C.
–
TheBlaze contributor channel supports an open discourse on a range of views. The opinions expressed in this channel are solely those of each individual author.