This weekend Hillary Clinton spoke to a conference of fast food workers in a move that was both politically calculated and self-serving. Clinton went so far as to express her wish to be the "champion" of the so-called "Fight for 15" campaign.
Of course Clinton will be the champion for just about anything that serves her political aspirations. In this case, she sees potential in the arbitrary wage hikes sought by the SEIU in states and metropolitan cities across the country.
The SEIU has invested nearly $50 million on its smear campaign targeting quick service restaurants and the franchisees of these respective brands. Through nonprofit workers centers like Good Jobs Now and Fight for 15, the union has propagated a faux grassroots campaign that is more about union coffers than workers' rights. It's no secret that the SEIU and big labor also direct millions of dollars to liberal allies, including Clinton, that promote the interests of unions.
[sharequote align="center"]There is one striking similarity between big labor and Hillary Clinton: Self-interest[/sharequote]
At the end of the day there is one striking similarity between big labor and Hillary Clinton: Self-interest. Both promote their own agenda at the expense of hard working Americans. At the same time, both seem to ignore the fact that thousands of small business owners (franchisees of fast food brands) offer jobs and opportunity to countless employees who may lack an advanced degree or training.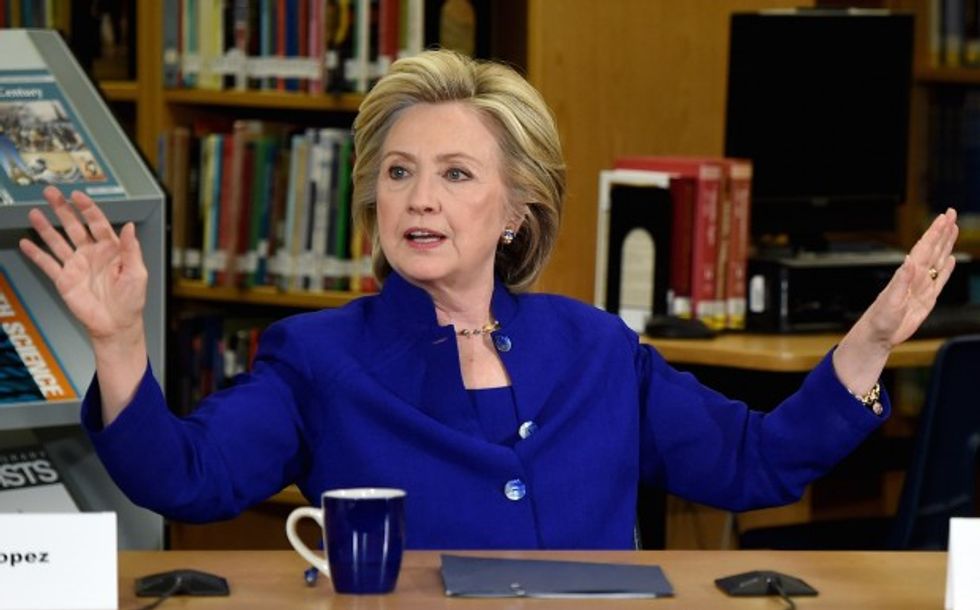 Democratic presidential candidate and former U.S. Secretary of State Hillary Clinton speaks at Rancho High School on May 5, 2015 in Las Vegas, Nevada. (Photo by Ethan Miller/Getty Images)
Nothing about the SEIU's campaign against corporate brands like McDonald's can be taken at face value, just like Clinton's newfound focus on helping workers. The SEIU is less interested in increasing workers' wages than it is unionizing fast food employees. It's not that unions don't recognize their organizing campaign will costs workers their jobs -- they simply don't care. The SEIU has poured millions of dollars into worker centers that were solely created to propel the myth that fast food protests are worker-led actions, when in fact they aren't.
The SEIU isn't interested in the negative impacts of its "Fight for 15" campaign because it has one goal in mind: Add new members. New members mean new revenue for the union. Despite its purported altruism, nearly everything the SEIU does can be boiled down to organizing new workers to collect more dollars. The SEIU continues to invest in its organizing campaign against fast food companies. The campaign itself is a costly charade fueled by union greed and not interests of the workers' the SEIU proclaims it is defending.
If Clinton really cared about hard-working Americans she shouldn't be so quick to sell-them out to big union bosses who will ultimately take their jobs. As more businesses and companies are being forced to adopt arbitrary wage increases, many are closing their doors or cutting down their workforce.
By now most Americans and members of the media are aware that these protests are a desperate and deceptive ploy funded by the SEIU. Most people also realize that the union is hardly the champion of any cause but its own, just like Hillary Clinton is only a champion for herself and her interests.
Ashley Pratte is a communications consultant in Washington, D.C. and a senior adviser for Worker Center Watch.
–
TheBlaze contributor channel supports an open discourse on a range of views. The opinions expressed in this channel are solely those of each individual author.