As America increases its global ties and interacts with foreign ways and cultures, it imports the good, the bad and the ugly.
A Turkish Muslim cleric named Fethullah Gülen, who resides in Pennsylvania, appears to have brought an unhealthy mix of politics and religion to his country of asylum.
Gülen has built a global religious movement, which has attracted some 5 to 8 million followers worldwide (the exact number is unknown). In the process, some of his followers have apparently amassed tremendous wealth – the Gülen-affiliated net business worth exceeds $25 billion.
AP
The myriad of organizations affiliated with the Gülen movement include banks, newspapers, universities, charities, research institutes, and the largest network of private Muslim schools in the world. The school curriculum is not overtly Islamist, and claims to focus on science, technology, engineering and math (also known as STEM).
Unfortunately, it appears that these operations are being used like a giant vacuum cleaner to syphon off hundreds of millions of U.S. taxpayer dollars, with the leading role in these activities being played by the Gülen-inspired U.S. network of charter schools, the largest in the country. Taken together, they receive approximately $150 million a year in tax breaks and subsidies.
Some say the Gülenist organization is a combination of cult, cabal and corporation. Most concerning, it appears to be busy buying, using and abusing political power.
The web reaches up to the corridors of the U.S. Congress and down to local schools from Texas to Tahoe. According to a USA TODAY investigation, over 200 trips for congressmen and congressional staff have been sponsored by Gülenist entities.
Hillary Clinton's campaign and the Clinton Foundation have taken in hundreds of thousands of dollars from Gülen's followers, including from Recep Ozkan, former president of the Gülen-connected Turkish Cultural Center.
Mr. Ozkan has been identified as a key Gülen operative in New York. According to the Clinton Foundation website, he contributed between $500,000 and $1 million. Unsurprisingly, former President Bill Clinton has appeared at Gülen movement events and praised the founder's contributions to world peace and inter-religious understanding.
The ties also go directly to the Democratic presidential candidate. The same Mr. Ozkan hosted then-Sen. Hillary Clinton at Ramadan dinners in 2006 and 2007. He contributed $25,000 to her 2008 presidential campaign. As an executive of JIG Corp, Everglobel Partners and Baharu Inc., he gave $25,000 to the pro-Clinton Ready PAC in 2014 and topped it with extra $5,400 last year.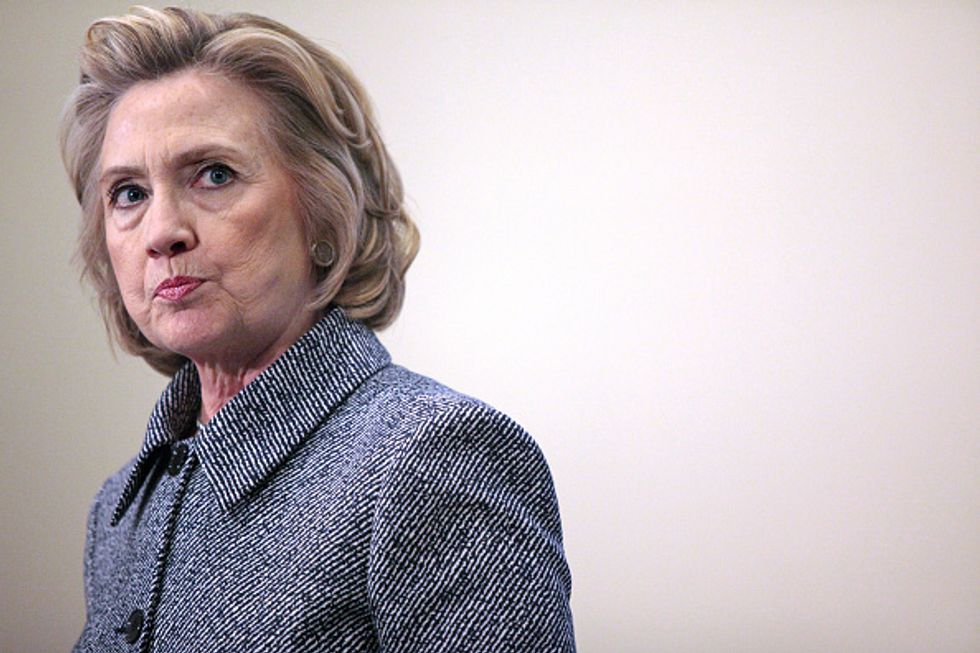 (Photo by Yana Paskova/Getty Images)
And not only Democrats have benefited. Numerous other Gülen-affiliated Turkish Americans, including Gokhan Ozkok, who is connected to the Turkish Cultural Center, Sema Education, Apple Education Services, the Turkic-American Business Network, the Istanbul Center, Peace Islands Institute, Global Spectrum Foundation and the Turkish American Business Council, have contributed hundreds of thousands of dollars to the Clinton, Jeb Bush, and other campaigns, Republican and Democrat.
Some of the Gülenist money to Rep. Henry Cuellar (D-Texas) came from out of state and despite donations in thousands of dollars, the supposed donors reported incomes below $40,000 and no home ownership.
Other Gülenist donors did not know candidates to whom they donated. They had no idea that Sen. Kelly Ayotte (R-N.H.), is a woman, not a man. In the segregated and misogynistic culture promoted by the Gülen movement, a woman apparently cannot be conceived of as a Senator.
Sen. Ayotte has returned $43,000 of Gülen donations – however the Clinton campaign is procrastinating, and so are other beneficiaries.
Currently, the FBI is engaged in a massive probe of Gülenist activities in this country. However, the investigation is limited to the Gülen-linked schools.
The political ambition of the global movement is obvious. It is the task of law enforcement to protect our politics, our country, and most importantly our children, from illicit external influences. Therefore, as FBI investigates the network, it can also look into the political donations by the members of the movement.
In a speech to an inner circles of supporters, Gülen is quoted as saying:
You must move in the arteries of the system without anyone noticing your existence until you reach all the power centers. . . . Until the conditions are ripe, they [the followers] must continue like this. If they do something prematurely, the world will crush our heads, and Muslims will suffer everywhere. . . . The time is not yet right. You must wait for the time when you are complete and conditions are ripe, until we can shoulder the entire world and carry it. . . . You must wait until you have gotten all the state power, until you have brought to your side all the power of the constitutional institutions in Turkey . . . . Now, I have expressed my feelings and thoughts to you all—in confidence . . . trusting your loyalty and secrecy. I know that when you leave here, [just] as you discard your empty juice boxes, you must discard the thoughts and the feelings that I expressed here.
While he was talking about Turkey, it is not unreasonable to question whether the same paradigm is now being applied to the US. Turkey, by the way, has taken steps to protect itself from the fugitive cleric and his followers by cracking down on their organizations and issuing a warrant for Gülen's arrest.
Turkey is an important American ally, a bridge between Europe and Asia, sitting astride the Middle East, the Black Sea, and the Caucasus. However, until matters are completely cleared, it is time for political candidates to return the Gülen network campaign and charity money while the FBI does its job and carries on the painstaking work of investigations. It is also the time for the U.S. Congress to get to the bottom of this web of money, power and influence, and shine the light of justice on it – once and for all.
Ariel Cohen, PhD, is Director, Center for Energy, Natural Resources and Geopolitics and Senior Fellow at the Institute for the Analysis of Global Security (www.iags.org)
–
TheBlaze contributor channel supports an open discourse on a range of views. The opinions expressed in this channel are solely those of each individual author.