What do Denmark, France, and other Islamic State-targeted European nations have in common?
They are among the most permissive, liberal, Socialist states in the world -- yet they were the first countries to be attacked by Islamic State-inspired terrorists.
Why?
Decades of Socialist policies on immigration, the economy, and gun control have backfired terribly.
As a result, those policies have brought blood to the doorstep of Europe.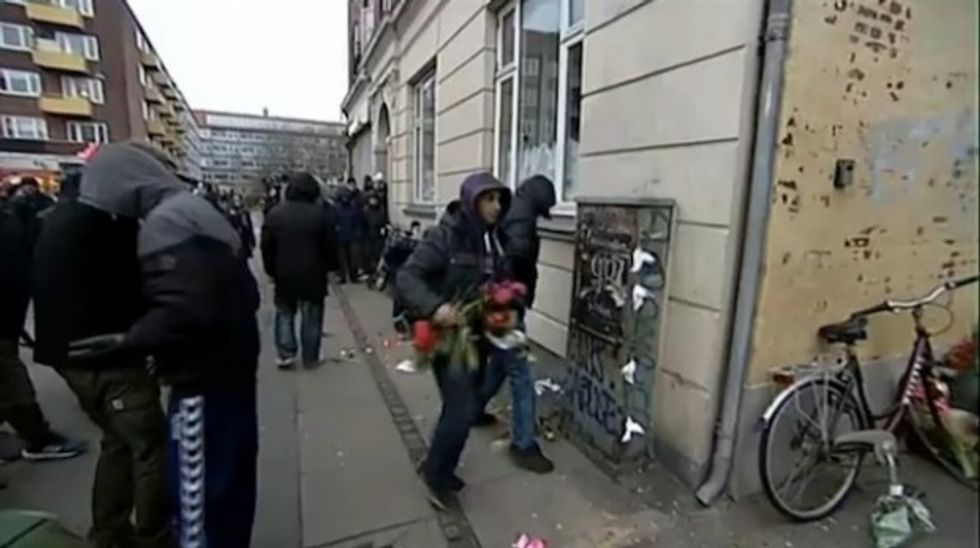 After tossing away the flowers, the men shouted "Allahu Akbar." (Screenshot: TV2)
For starters, their immigration systems have failed.
In France, permissive immigration policies have allowed 6 million Muslims to make their home there and to change the physical, cultural, and religious landscape of France by building 2,000 mosques (1,000 of those in just the last 10 years.) Even the country's Catholic heritage has been overtaken by Islam. France's leading Muslim figure recently called for a doubling of Mosque construction, for a total of 4,000 mosques in order to keep up with demand.
In places like Denmark, the overwhelming Muslim influx has become such a problem to Denmark's nationality that leaders there have been attempting to stem the tide but it appears to be too little, too late in light of the recent attacks.
A Danish political party spokeswoman, Inger Stojberg, said:
To say it directly, it is primarily Muslim immigrants who do not value democracy and freedom. In certain environments, they directly oppose it... Too many non-Western immigrants with Muslim backgrounds do not want our freedom-orientated society model.
She points to violent statements from radical Imams and suggests that such a great number of Muslims follow the Medieval interpretation of the Koran that it is nearly impossible for them to assimilate into modern Danish society.
Undoubtedly, it is difficult to maintain a sense of country when 10 percent of your population (and growing) is vehemently opposed to the very foundation upon which it was built.
It is a cautionary tale for America as we debate the future of our own immigration policy.
As for Europe's Socialist economic policies, those have failed as well.
Economic policies among the European Union have led to poorer countries and fewer jobs over the last decade that in turn have left disgruntled young men, particularly in Denmark, plenty of spare time to metamorphose into extremists. (That whole #JobsForISIS thing, you know.)
According to the BBC, unemployment in France is at an all-time high. Ten percent of the country is unemployed. Denmark's unemployment is not as high (at 7 percent) but its government has had to make deep cuts in previously-promised social welfare programs because the country can no longer afford them.
Naturally, these factors have led to unrest and agitation among the most volatile and impressionable young men.
As if that weren't enough, gun control policies in France and Denmark have also proven to be fatal.
While it has gone unnoticed by the mainstream media, Islamic terrorists have been hitting the weakest targets first - places where they know the citizenry is not armed.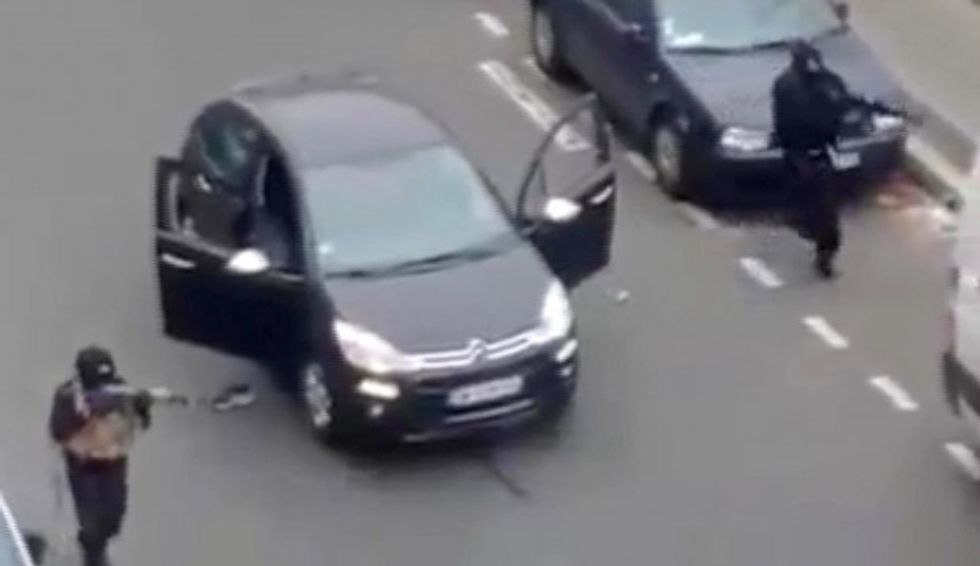 Masked gunman fire their weapons outside the French satirical newspaper Charlie Hebdo's office, in Paris, Wednesday, Jan. 7, 2015. Paris residents captured chilling video images of two masked gunmen shooting a police officer after an attack at a French satirical newspaper. (AP Photo)
Warrior Sun Tzu once said, "You can be sure of succeeding in your attacks if you only attack places which are undefended."
Nowhere is that more true than France and Denmark.
Regarding some of the tightest regulations in the world, experts call the gun laws in France "restrictive" at best. There is no comparable right such as the United States' Second Amendment. Regular citizens can own guns only in rare cases and only after completing mental health and other exams.
In Denmark, the figures are more of the same. Yet somehow, the gun control policies failed to keep guns out of the hands of terrorists.
All the while, strict gun control policies in both nations have left the "good guys" without the weapons to properly defend themselves. While terrorists shed blood on their streets, sure enough France and Denmark were able to do little to save themselves.
That is not to say the countries deserved the attacks -- they did not. No one deserves what happened at the offices of Charlie Hebdo, or at the free speech symposium in Denmark.
However, the recent attacks on France and Denmark prove that appeasement doesn't work. Neither do Socialist economic policies that purport to take care of everyone, open borders that promise to allow entry for all, and strict gun control measures which fail the police as well as the people.
As for the slain bodies from the Charlie Hebdo offices that have now been buried, or for those attacked in Denmark it is, sadly, too late for them. However, one can hope that the reign of terror perpetrated against France and Denmark will illustrate once again that no manner of Europe's appeasement can keep the region safe. In fact, only outright rejection and a repeal of their failed, fatal, Socialist policies may save future lives.
Feature Image: AP Photo
–
TheBlaze contributor channel supports an open discourse on a range of views. The opinions expressed in this channel are solely those of each individual author.