Ever watch professional athletes on draft night? After years of hard work and struggle, they've made it - wealth, fame, adulation. And who do they thank in their big speech? Usually their mother, of course.
But after that? It's probably a teacher who went above and beyond, or the coach who was like a father to them, and taught them the importance of rules and discipline, and instilled in them the notion of hard work, respect, and decency as the foundation for success.
Now, if your idea of a retirement plan is to have rich and famous kids, forget about draft night. That's a one-in-a-million lottery ticket. It takes a long time, and it requires talent and demands hard work. If you really want overnight wealth and fame, all you have to do is follow this simple gameplan:
First of all, you obviously need kids. It helps if they're a minority (but not Asian). Bonus points if they're also female. They're not? No problem. They don't actually have to be a minority, they can just pretend to be one like Shaun King. And since gender is a "social construct," your kids can self-identify as whatever gender they want.
Now find one of those teachers or coaches - that sweet, but not overly bright English teacher. She's a stickler for the rules, but her intentions are generally good. Or that "tough, but fair" coach who genuinely cares about the kids, and considers himself to be "old school" on matters of discipine and respect for authority.
Good. Now, here's all you need to tell your kids to make your dreams come true:
Go to EBay and purchase an old alarm clock. Break it and put it into a small case that resembles any of the bombs you've ever seen in a Bruce Willis movie. That sounds like too much work? Nah, it takes 20 seconds.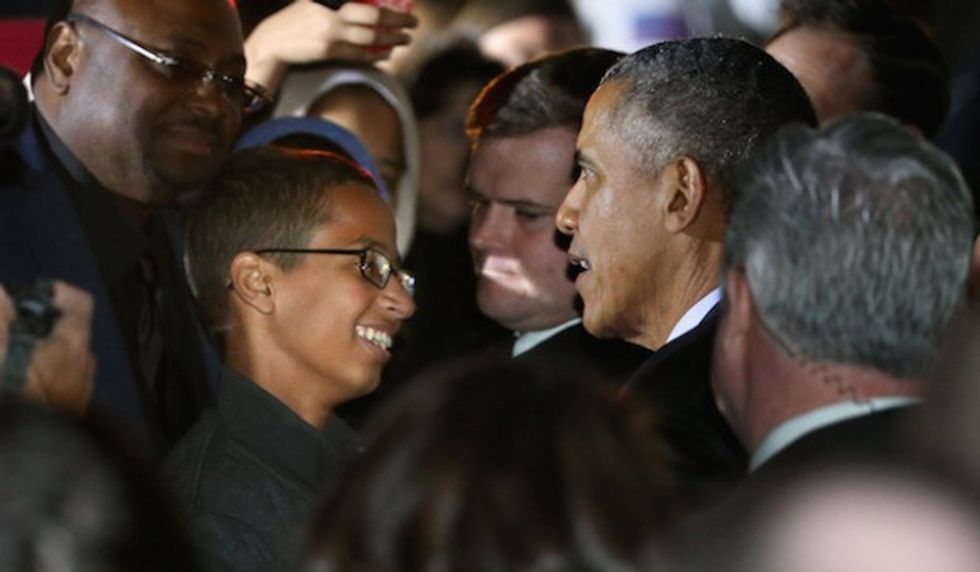 U.S. President Barack Obama (2nd R) talks with 14-year-old Ahmed Mohamed (C) during the second Astronomy Night on the South Lawn of the White House October 19, 2015 in Washington, DC. Invited to the White House for the science event, Mohamed was handcuffed and questioned by police last month when he brought a homemade electronic clock to class at MacArthur High School in Irving, TX, and officials mistook it for a bomb. (Photo by Chip Somodevilla/Getty Images)
Now bring the clock to school. You'll need some nerd cred for when the cameras come out, so make sure you wear something like a NASA t-shirt. Show the clock to your engineering teacher to legitimize a credible defense. If he tells you to keep it out of sight because it might confuse and frighten people, you know you're off to a great start. But don't start counting the money just yet. You still need to find that teacher - the one who takes seriously the Department of Homeland Security's national campaign: "If you see something [suspicious], say something."
Set the alarm to go off in the middle of her class. When she reacts, don't say a word. The more evasive you are, the more you'll fan the flames of her suspicion. So don't mention that it's a clock. Don't mention that you already showed it to your engineering teacher. Don't volunteer any information at all. Be patient; it'll work. You don't even need to have a father with a history of outrageous Islamic publicity stunts or a sister who had already been suspended for threatening to blow up the school. All you have to do is find that teacher who cares about her kids.
We all know what's going to happen next. These cautious, protocol-minded simpletons will escalate the incident from teacher to administrator to law enforcement. The cops! LOL, amirite? Even if they handle the situation professionally and quickly ascertain that your clock is not a bomb, all you have to do is evade their questions and they'll still arrest you for a bomb hoax. Jackpot!
As soon are you are released, start a media friendly Twitter account. Don't worry, Twitter is so desperate to stay relevant that they'll verify you immediately and ban any of your naysayers. Then, sit back and wait. You probably remember Barack Obama weighing in on Ferguson before any of the facts were known, so you know it won't take long.
Before you know it, you'll be hobnobbing with billionaires, and maybe a genocidal dictator, but whatevs. Who are we to judge other cultures, right? You'll get to meet similar teens like yourself – the one's curing Alzheimer's, solving the mysteries of the universe, and creating water filtration systems from corn cobs. You know, people just as accomplished as you. The only difference is you've got Zuck in your corner and an invite to the White House.
Soon some oil-rich oligarchs who like to undermine the interests of the United States will offer your entire family an all-expenses-paid relocation and education package worth millions. You'll love Qatar; it's a desert paradise. Just ignore the thousands of Nepalese slaves dying trying to build some soccer stadiums for FIFA.
If you hate science or are too lazy to find an old clock, there might be an even easier path to front row seats at the next State of The Union. Don't worry, it doesn't involve destroying some poor college student's life by accusing him of rape. Unfortunately, Rolling Stone's sloppiness ruined that one for us.
For this to work, all you have to do is show up in class. Teachers are so easy to mess with - frustrated by a lack of resources and overwhelmed by kids with no interest in learning. Start by taking out your cell phone and ignoring him when he asks you politely to put it away. You've just undermined his authority in front of the entire class; you own him now. If he confronts you, put the phone in your front pocket and dare him to touch you. Your lawyer will thank you later.
Although his union has made it impossible for him to get fired, he also knows that he's powerless to stand up to you. He has no choice but to escalate the confrontation to a school administrator. Be patient, you'll probably have to go through the same motions all over again with him or her. But be strong. Actually, be indignant and defiant. Think of yourself as the victim.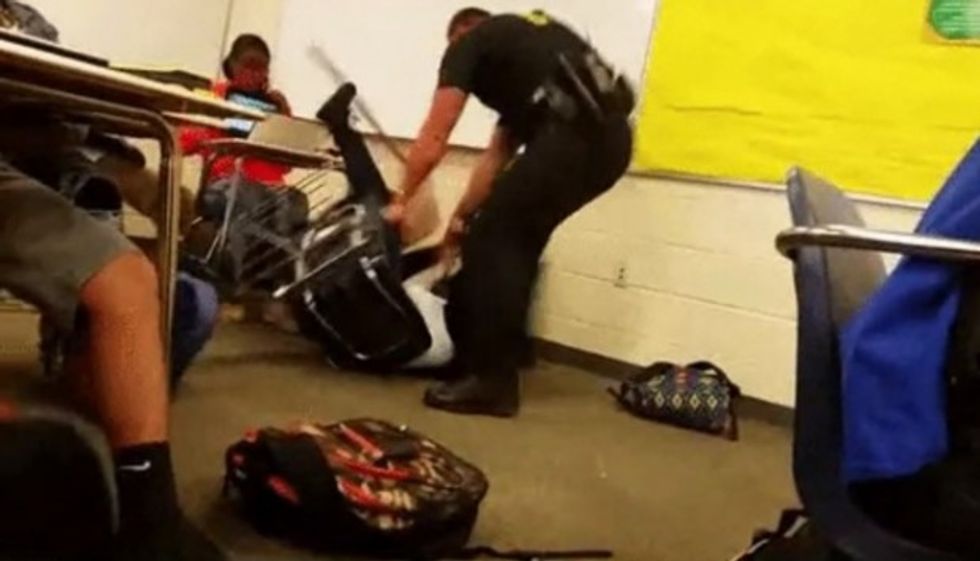 Screenshot
Once the administrator escalates this to the police, your hard work will have almost paid off. This cop is probably in no mood for you nonsense. In the last year or so, he's seen a huge increase in hatred and anger directed his way. You know he's an easy mark, and that's why you're already three steps ahead of him.
At this point, you don't actually want him to diffuse the situation. It will have wasted all of your efforts thus far. You need to do anything you can think of to make him forget everything that he was taught. Don't stop at angry and unruly. You can be unlawful; it doesn't matter. Facts don't matter. Failure to comply? So what. Resisting arrest? They won't charge you. Bait him until he cracks. And he will.
Who cares if he has kids to feed. You gotta get paid.
And there you have it. You're trending on Twitter. You've got an invitation from MSNBC and Good Morning America. Yale University's Deray is leaping to your defense. Lawyers you might recognize from billboards are calling your house. The only thing you have to consider now is what to do with all that cash.
–
TheBlaze contributor channel supports an open discourse on a range of views. The opinions expressed in this channel are solely those of each individual author.