Should we stop calling Islamic State fighters "jihadis" and "militants"? Why don't we just sum them up with the word "rapists"?
The same way that anti-Semitism and anti-Jewish violence was an essential feature of Germany's Nazi Party, rape and sexual violence are a centerpiece of what the Islamic State offers as a way of life.
Three Syrian Christian women are being held as potential sex slaves unless a ransom is paid; the Koran is being used to justify the rape of captured non-Muslim women and girls as young as 12; a sex slave trade has been developed for Yazidi and other women, with price lists ranging from $43 to $172; and American aid worker Kayla Mueller was apparently forced to marry Islamic State's religious leader Abu Bakr al-Baghdadi, and then repeatedly raped by him before she died earlier this year.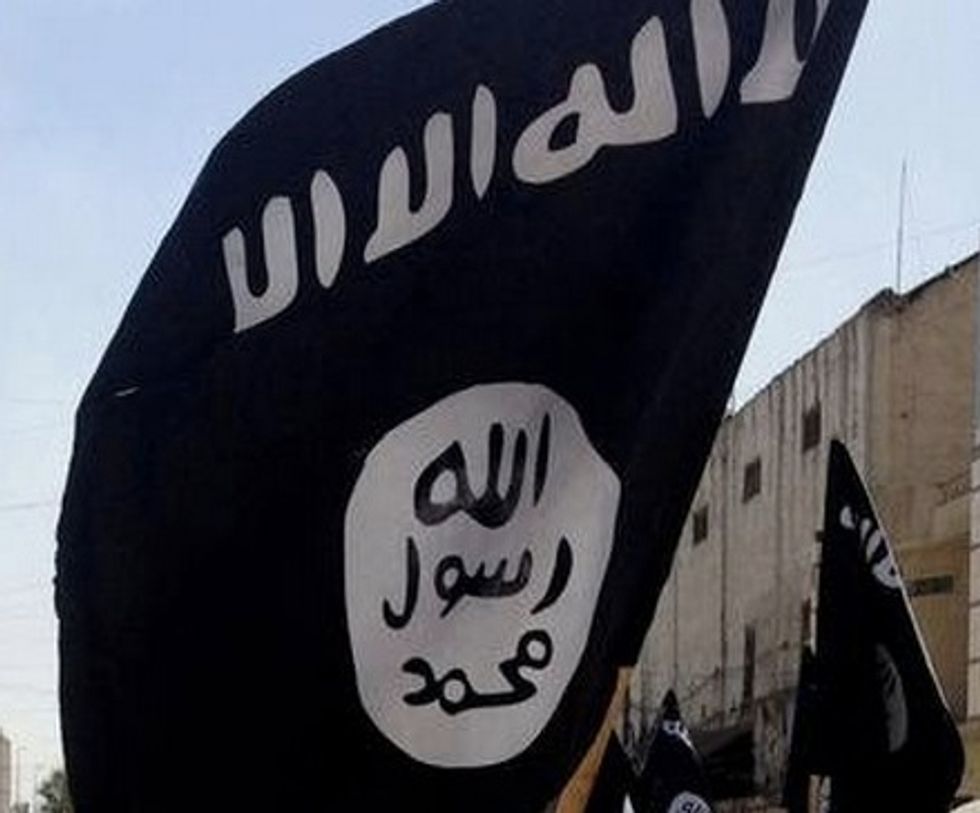 Image source: AP
It's disgusting and infuriating. But there's good news: Islamic State is losing.
It's a slow process – far too slow for all of us who want a swift end to the Islamic State and its adherents, both as a matter of retribution and to protect more innocent people from falling victim to the Rapist State of Iraq and Syria. It's natural to push for U.S. troops to finish the job quickly.
And this is just what some presidential candidates are suggesting. But what they fail to mention is that U.S. troops in Syria and especially Iraq wouldn't have the luxury of choosing who they fight. They might go there with the goal of fighting Islamic State – rather, Rapist State – but they'd have to worry about being attacked by the Iran-backed Shiite militias that killed (and nearly kidnapped) so many U.S. soldiers during the Iraq War. Maybe 20,000 troops are enough to destroy the Rapist State, but are they enough to fend off the Shiite Popular Mobilization Forces at the same time? Probably not.
Meanwhile, Iraqi forces – along with the paramilitary "mobilization" groups – are cutting off the routes of supply to (and escape from) Ramadi, and are moving to take the city. With Ramadi back in the hands of Iraq, Fallujah and Mosul should soon follow.
This depends on Ramadi actually being taken back, which is no sure thing. Probably, an ugly urban battle is about to commence. But there's a chance that the tide could turn quickly. Rapist State's usual battlefield tactics of truck bomb blitzkrieg aren't working they way they used to. They're not gaining territory anymore – in fact, they've lost a huge chunk. No longer riding high on a series of victories, they're facing a siege. Many may lose their "victory in death" bravado and simply retreat.
We shouldn't overlook the profound weaknesses of the Rapist State. Their appeal is limited. They've mostly succeeded in areas that are Sunni Arab, places with open flatlands. Once they hit different terrain and heavily Shiite populations, they've stalled.
A man from the displaced Iraqi Yazidi community holds the hand of a child as they cross the Iraqi-Syrian border at the Fishkhabur crossing, in northern Iraq, on August 11, 2014. At least 20,000 civilians, most of whom are from the Yazidi community, who had been besieged by jihadists on a mountain in northern Iraq have safely escaped to Syria and been escorted by Kurdish forces back into Iraq, officials said.  AHMAD AL-RUBAYE/AFP/Getty Images
And in the areas they have taken over, they've created far more refugees than recruits. Their fighting force has always been small compared to other countries' active duty rosters, maybe half of it coming from outside of Syria and Iraq. It says something that they can't pull the vast majority of their fighting force from the utopian caliphate that they're now administering.
And that caliphate hasn't supplanted a single existing government. It has no air force, no navy, and its pitiful economy has mostly survived by feeding off the edges of two countries weakened by civil war. Yet Syria and Iraq are still standing, so what hope does the Rapist State have of collapsing a tougher military contender, such as Turkey, Iran, or Egypt? None.
Rapist State is less like James Bond and more like Omar Gonzalez, the White House intruder who managed to slip past the Secret Service. Gonzalez got as far as he did largely because of the laxness of his opposition, not because of any ninja-like prowess. Rapist State, too, has benefitted from picking on weak opponents.
But the Iraqi military response continues to move forward. Turkey has clamped down on the border, hampering supply lines. The Kurds are coordinating with U.S. air power, which is effectively providing air support. The rapists continue to lose territory.
It's a slow war of attrition. Like the Fabian Strategy that defeated Hannibal in Italy, it's a process of gradually depleting the resources and manpower of a smaller force. It's an effective strategy, but its weakness is that it takes time. When it comes to the Rapist State of Syria and Iraq – really, let's rebrand them the way Fox News sought to call suicide bombers "homicide bombers" – it's understandable we want it stamped out in an instant.
But Rome threw away whole armies while trying to find a quick solution to Hannibal. Let's not make the same mistake.
–
TheBlaze contributor channel supports an open discourse on a range of views. The opinions expressed in this channel are solely those of each individual author.